Jesse Kenney lives for Georgia basketball.
Anyone who attends home games would know this because Kenney is easy to spot — He's the man doing jumping jacks in the stands wearing a red and black chevron sweater.
The COVID-19 pandemic caused Kenney, affectionately known around Athens as "Sweater Man," to miss this basketball season, but he hasn't left his signature sweater in the back of the closet.
On April 16, Kenney went around town donating 7,000 chocolate bars to health care workers and first responders in Athens-Clarke and Oconee counties — wearing the red and black sweater, though this time also sporting a face mask.
In tribute to his famed basketball persona, Kenney owns Sweater Man Fundraising, where he contracts with Clarke County schools to sell different companies' products.
World's Finest Chocolate, a Chicago-based company that provides chocolate bars for students to sell for fundraisers, dropped off the candy to Clarke County schools at the beginning of March. However, schools closed shortly after and Kenney said the chocolate couldn't go back to the company.
The company suggested fundraising representatives donate the chocolate to health care workers and first responders and have 1 million donations so far.
Kenney gave 3,000 to Piedmont Athens Regional Medical Center, which was enough for everyone working to have one, he said.
"It's so sad to see what they're dealing with," Kenney said. "But they've got their spirits up."
He also gave chocolate to the Athens-Clarke County Fire and Emergency Services, Oconee County Fire Rescue, Watkinsville City Police Department and the Oconee Sheriff's Office.
Watkinsville police said they received three boxes of chocolate bars, which they distributed to officers and City Hall staff.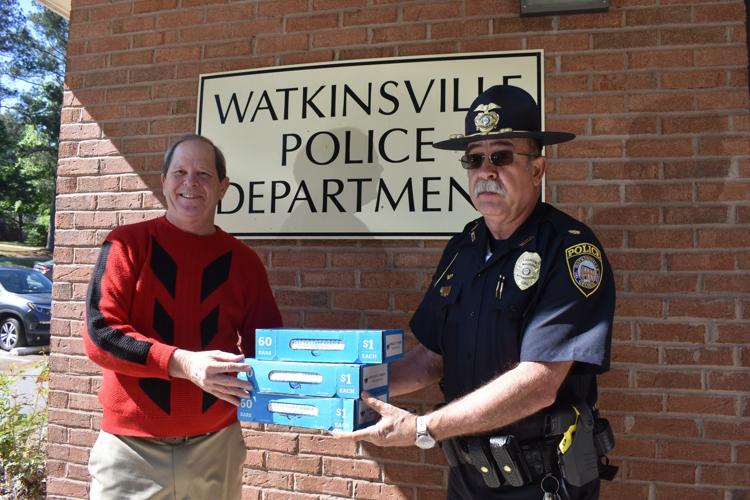 While on his delivery runs, Kenney drove through downtown Athens, somewhere he hasn't been since the beginning of March.
"I had tears in my eyes driving through town," Kenney said. "It's a ghost town."
The 69-year-old doesn't just miss the basketball games. He's just as disappointed about the quiet weekends and lack of spring parties as the University of Georgia students.
Kenney usually spends his weekends as an Uber driver, taking students around the city in the "Sweater Man Van," where the conversation usually turns to basketball.
"Uber gives me a chance to talk up the basketball program," Kenney said. "When I pull up, a lot of times students will be doing jumping jacks because that's what I do at the games, and they'll ask me questions about the team."
Kenney loves chatting with the students and being a part of their weekend nights out, and he can't wait for the campus to be bustling again.
In the meantime, Kenney and his wife have been staying home, where he's been catching up on Netflix and working outside.
"My yard has never looked better," he laughed.