Out of family traditions and signature sandwiches, Uncle Ernie's Pub n' Grub was born. The new, locally-owned sandwich shop and bar in downtown Athens boasts a welcoming atmosphere where customers can dine for under $10.
Restaurant owner Daniel Battinelli said the menu features a wide selection of cold and hot specialty sandwiches, wraps and burgers. Customers can fill out sandwich order tickets for personalized creations. 
Located at 235 W. Washington St., Uncle Ernie's has been in "soft opening" since the AthFest Music & Arts Festival this summer, only open during limited hours.
Battinelli and his staff will plan the grand opening of Uncle Ernie's for Aug. 31, the day of Georgia's opening football game at Vanderbilt in Nashville. 
Runs in the family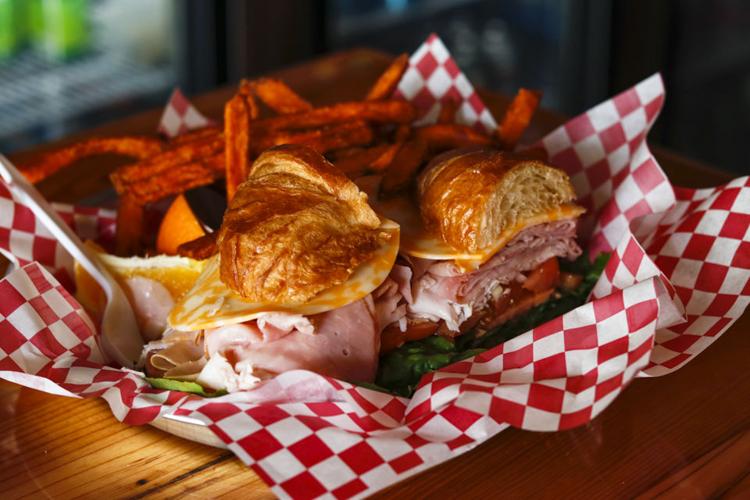 Battinelli was born in Winchester, Massachusetts, but moved to Athens with his family in 1994. That year, his father, Ernest Battinelli, opened his first sandwich shop in downtown Athens — the Clayton Street Deli. The building has since been torn down and a parking deck now stands in its place.
Ernest, also known as Ernie, was known for massive New England-style sandwiches unfamiliar to Athens residents.
On top of serving great food, Battinelli remembers how his dad provided a welcoming and comforting atmosphere for every customer who visited. 
"After a while, people just started calling him Uncle Ernie," Battinelli said. "So he just let it fly."
Since the restaurant closed about 15 years ago, Battinelli and his father have worked together in catering. Along the way, Ernie had groomed his son to open a business of his own, Battinelli said. The duo started discussing the idea of opening a new restaurant similar to the old Clayton Street Deli about four years ago, but with Battinelli's own personal twist.
Several large and small TVs are mounted around the restaurant. Exposed-brick walls make up the interior,
decorated with an array of collegiate flags. The restaurant even showcases a piece of Athens history — the tabletops and the bartop were produced with reclaimed wood from the rafters of a 1930s Greyhound bus station, Battinelli said.
In naming his new restaurant Uncle Ernie's Pub n' Grub, Battinelli decided to stick with the spirit of his father's sandwich shop. Plus, most of the sandwich recipes come from the 1994 menu his father originally put together. 
"My dad taught me how to make a sandwich and I think he's the best sandwich maker in the world," Battinelli said. 
What's on the menu?
Most sandwiches are served cold but there are also various wraps, hot sandwiches, specialty sandwiches, burgers, Reubens, quesadillas, veggie options and salads. Everything includes a side and a drink. 
The $10 Junkman is featured as one of the restaurant's signature sandwiches and boasts a combination of sliced turkey, ham, roast beef, bacon and the customer's choice of cheese. 
Another favorite is the $9 C.R.A.C. Wrap, which has chicken, ranch, avocado, cheddar cheese and lettuce. Although meant as a joke, Battinelli said, the wrap has been true to its name, popular among customers. 
Andrew Gross, Uncle Ernie's director of operations, said his favorite menu item is the Italian sub because of its massive meat-to-bread ratio. 
Decades of determination
Battinelli is considering hosting theme nights, such as a Star Wars night where customers could dress up and order red and green drinks. Movies could be played on all the TVs with the surround sound cranked up.
Gross, who previously spent nearly a decade working for Chick-fil-A, believes on top of being served great food, consistently quick and friendly service is what will separate Uncle Ernie's from other restaurants.
"Even though we're just starting off, we're wanting to build something really big from this, and we think we have the potential to do that," Gross said.
Athens has Battinelli's heart and soul, he said, and everything he has done in creating his restaurant has been an effort to reflect that spirit, and his love for the city.