Since his childhood, local historian and Classic City Tour Guide Jeff Clarke has loved two things: history and ghost stories. Clarke found the perfect combination of the two in The Athens Welcome Center's Athens History and Hauntings Tour, which will start the season with its first tour at 5:30 p.m. on Oct. 11.
The tour is an annual series hosted by Classic City Tours, a component of the Athens Welcome Center. The welcome center is under the Athens-Clarke Heritage Foundation, which is the local historical preservation nonprofit.
Clarke has led tours for Classic City Tours for about three years.
"I love history," Clarke said. "Even when I was a little child, I loved a good ghost story. I still do. This was a combination of the two."
The walking tour will begin at the Athens Welcome Center downtown. Participants will be led through downtown Athens and the University of Georgia's North Campus, where they will learn about documentations of paranormal activity.
Tickets for the three upcoming tours are currently sold out, but interested participants are invited to call the Athens Welcome Center to put their names on a waiting list for either a second tour group or an additional tour date, said Director of the Athens Welcome Center Evelyn Reece.
"The more people call, the more people we have to build a second group," she said.
If made available, tickets will cost $15 per person.
Reece said this is the fourth annual History and Hauntings Tour.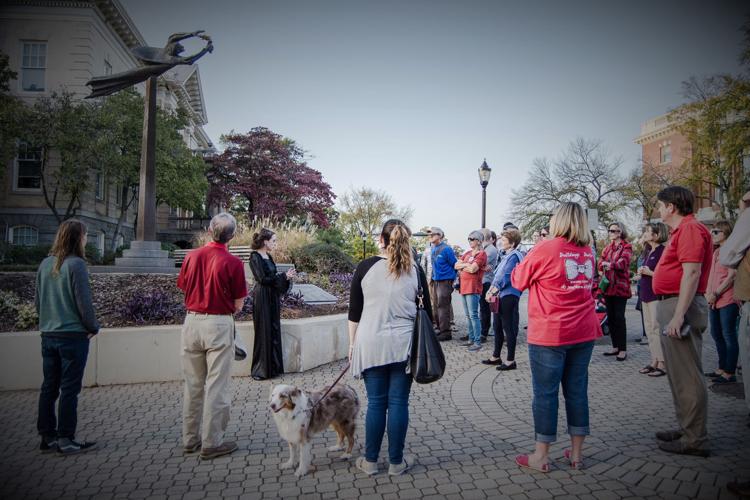 "We primarily focus on tours that are focused on architectural history — the stories with the people associated with the places and the buildings that we see when we take groups out," Reece said. "Our ghost tour isn't just sort of a goofy thing. We usually relay the history of these places first and then layer [a story] on top of it."
Clarke said he first starts the tour with a discussion of what a ghost actually is and what a haunting encompasses.
"People come onto this tour for a variety of reasons," Clarke said. "Some are believers. They've had interactions with ghosts and they love the stories. [But] we try to make it interesting for everybody."
Clarke said he discusses the structural history of many of the buildings downtown, including multiple bars, and encourages tour attendees to research the ghost stories further.
"As I started researching possible [ghost] stories for Athens, I discovered that Athens not only has a vibrant nightlife, but it also has a vibrant afterlife,"Clarke said.
The tour is about 90 minutes long and will take place 4:30 on Oct. 11 and 5:30 on Oct. 18 and 25. It ends at Creature Comforts.
At 4:30 on Oct. 18 and 25, the tour will be preceded by a book signing from Tracy Adkins, author of "Ghosts of Athens." Many of the tour stops are featured in Atkins' book.
According to the Athens Welcome Center, the tour has added a new ghost story to this year's schedule.  
"We hope that by combining the history and the fun stories, we engage people with a broader interest in the heritage of Athens and Athens history in general," Reece said.