This election year has brought with it political turmoil of a high caliber. Recent events have driven the wedge deeper into America's political divide, and with the Thanksgiving holiday only 16 days after election day, it is probable that tensions at the table may rise as high as grandma's dinner rolls.
Thanksgiving, though, is traditionally one of the holidays that inspires peace and camaraderie in family, friends and neighbors. Most seek to keep the peace, abiding by the age old saying, "Don't bring politics or religion to the table."
In fact, an NBC/Marist/NPR poll from 2017 reflects that most Americans dread the topic of politics at the Thanksgiving table.
Local artist Micaela Hobbs tackled these fears and intentions head on. Her exhibition "WE: American Thanksgiving Conflict and Communion," covers what its name entails. Hobbs lays out pivotal moments of political history on a Thanksgiving dinner spread.
The Watkinsville native was inspired by an artistic mishap on Thanksgiving in 2016.
"I pulled a plate from my kiln that had formed a spectacular crack down the middle," Hobbs said in her artist statement. "It looked as if a giant had tried to tear it in half but stopped at the last minute. It seemed to me, in that moment, that I was holding America in my hands."
The spread features an extensive table laden with plates and cups, each with the name and face of an important historical figure. One side is what Hobbs calls the "Cliff's notes version of history," featuring all the American presidents up to Barack Obama, as well as their families and coterie.
The opposite side represents "another perspective to the standard narrative," Hobbs said, and features figures such as Ida Tarbell, Rachel Carson, Martin Luther King Jr. and other historical figures both well known and near-forgotten.
Some of these individuals received such low regard historically that there are no photos or historical paintings that exist of them.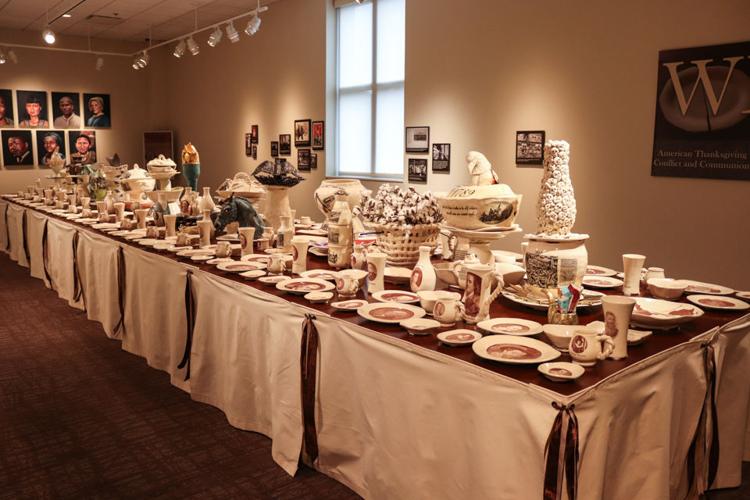 Hobbs employed her degree in cultural anthropology to allocate information about how these people looked and dressed and sought Jennifer Niswonger-Morris at the University of Georgia's own Lamar-Dodd School of Art to create appropriate portraiture for the figures in need.
There is more to the table than plates and cups, however. The middle is lined with large centerpieces that Hobbs intended to represent conflicts and events that these historical figures were a part of and would discuss, were they really at the table. These events range from Revolutionary America to the 2016 Election.
Hobbs not only wanted to illustrate a discourse but to start one as well. She implored spectators to ask themselves and others a handful of questions, such as: What if we had a table big enough to seat everyone who deserved a place? What would happen? What would it look like? What would it sound like?
Through this piece, Hobbs also made commentary about how this seemingly deep-seeded divide America currently faces is anything but new.
"Popular culture often parodies Thanksgiving as an annual day of thinly veiled warfare, as family members with clashing viewpoints are brought together," Hobbs said, "If we created a space where a diverse selection of exceptional historical people were seated together at a Thanksgiving table, it would become clear that we never truly turn a page on a conflict in history."
Hobbs also made note of how the nation's current political chaos can be likened to being stuck at a Thanksgiving table of complete strangers. Foster said this usually makes for an uncomfortable communion.
"The act of taking food into our bodies is so personal that we really only want to do it with people we're very comfortable with," Foster said in his book.
As a result, this makes the dread that Americans feel as Thanksgiving approaches.
Hobbs' exhibition is on display on the second floor at the Richard B. Russell Special Collections Library from Oct. 29-Dec. 22 for those who wish to observe and make their own reflections on the piece.
The exhibition will also be the centerpiece of several events throughout its display time on Nov. 3 and Nov. 29 and a reception on Nov. 15, which Hobbs will be attending.