After being met with hardships including losing a job and house, Tex Crawford remained positive.
Crawford, 48, born in Warner Robins, Georgia, was met with these circumstances six years ago. Instead of letting the loss of his job weigh him down, with the encouragement and support of his wife, Crawford turned to art.
Now, Crawford is a renown local artist. His show "On Loan from the Universe," is on display at the Athens-Clarke Library until March 24.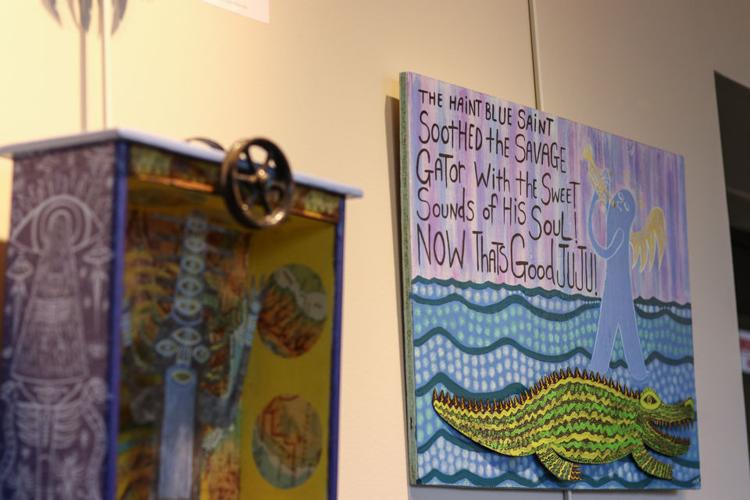 "[His art] is really remarkable stuff, and he's really set himself apart in that way," said Van Burns, adult programming coordinator of the ACC Library. "His work has really made a big leap in the last 12 months."
Ultimately, however, Crawford acknowledges his passion for art has been present since his childhood.
"He's the one you went to when you wanted your leather jacket painted," said Donna Marie Crawford, who's been married to Crawford for 17 years and has known him since his punk-rock days. "He's always been full of enthusiasm."
Crawford's art first debuted at the Lyndon House Art Center's Lickskillet Artist Market and Festival in 2013. It was the first time he tried to sell his work, and the budding artist was apprehensive.
By the end of the day, Crawford, who had walked in with six years worth of art, sold about 70 percent of it, by his estimate.
"I had no confidence and owe it all to my wife," Crawford said. "I remember sitting in my car afterwards (sic), and it was like the universe leaned down and said, 'It's going to be OK. Believe in yourself.'"
Saved by art
With his long beard, cabbie hat and infectious smile, it's difficult to picture the artist as anything different. The lines around his eyes speak to his good humor and seemingly endless positive energy.
---
"I'd look down at a pile of stuff and all of a sudden I'd see a pile of opportunity."
— Tex Crawford, artist
---
But before turning to art full-time, Crawford was a senior project manager in the tourism industry and weighed nearly 100 pounds more than he does now and was pre-diabetic.
"It was all stress," Crawford said. "Within a year and a half of following my dream, a little diet change and quitting drinking, here I am."
Donna Marie said art changed Crawford's life.
"It was like taking someone who was miserable out of misery and putting him into straight joy," Donna Marie said. "It totally saved him in so many ways."
Crawford's time in the tourism industry was also integral to his art. After visiting a town in Mexico, Crawford encountered children making their own art out of Coca-Cola cans, including a Vespa which Crawford remembers in vivid detail to this day.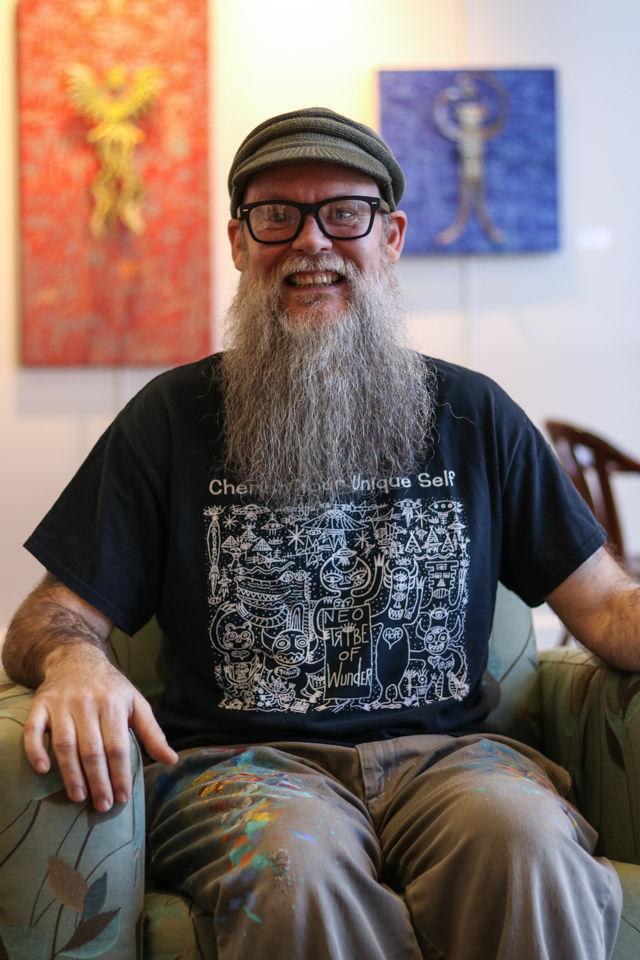 "I remember thinking, 'Wow, they did this with their creativity and imagination, this is amazing,'" Crawford said. "After that, I noticed a change, a shift in my paradigm. I'd look down at a pile of stuff and all of a sudden I'd see a pile of opportunity."
Beyond the paint
Speaking on his art, Crawford insists each of his creations is "on loan from the universe," giving rise to the title of his latest gallery at the ACC Library.
"It's all in his head — like a musician feels their music and hear their lyrics," Donna Marie said.
Crawford's experiences translate into the messages on his artwork. Burns, who also owns several pieces made by Crawford, attests to the spirituality of these paintings.
"He shares some imagery with folk artists, like depictions of animals, snakes, things like that," Burns said. "But he really goes beyond that in his depiction of it — it's so vivid and colorful."
Crawford appreciates connecting with the community through his art the most. His passion allowed the seasoned artist to meet new people who have been in similar situations as himself and find what drives him.
"For me, it's empowering others," Crawford said. "Some people don't believe in themselves for creating, and they look at [my art] and go, 'Well, gosh, he did it, let me find my voice, my place.'"
Crawford utilizes his art to spread not only positive and exciting messages and imagery but also to inspire and connect others through the expression of individuality.
"Don't let the world take away your individuality because that's what makes you shine different than every single person around you," Crawford said. "I believe that wholeheartedly."