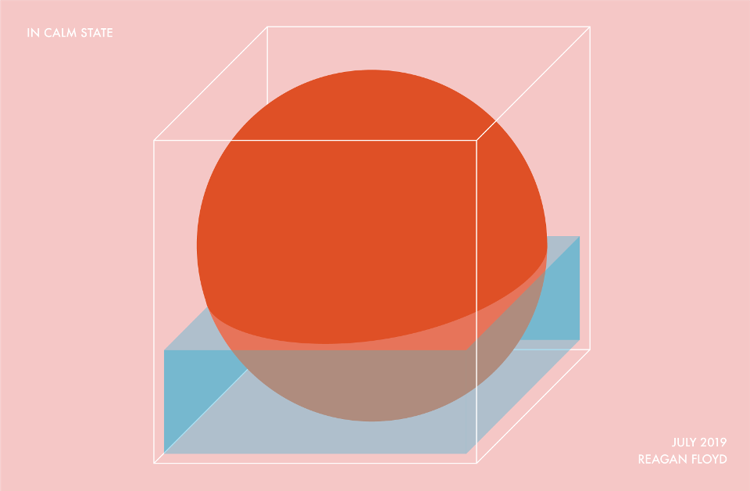 Simultaneously being two different people is a challenge,  Reagan Floyd, a fifth year graphic design student at the University of Georgia's Lamar Dodd School of Art, has wrestled with her whole life.
Growing up in the conservative South, Floyd's aspirations to pursue an artistic career weren't met with enthusiasm. Originally from Dahlonega, Georgia, the themes Floyd wanted to address in her work were controversial and perpetually hushed in favor of less adverse conversations.
Jobs related to art and design were regarded as illegitimate in favor of agricultural aspirations. Despite the backlash she faced for her creative endeavors, Floyd's passion for art remained resilient, even amidst the judgment of her friends and family.
"My parents and my parents' friends always scoffed at me, like 'what are you going to do with that?'" Floyd said. 
Despite their disapproval, Floyd decided to major in art marketing at the University of North Georgia where the business component was the sole aspect that won her parents over.
Even then, Floyd was pressured to censor her creativity, never fully at liberty to pursue the type of art she wanted to, nor the content, lest it be resented by those around her. While aligning herself with normative standards of her community may have been easier, Floyd remained loyal to herself and realized that her full potential could only be realized in an artistic field.
Floyd then transferred to the UGA and was accepted into the Graphic Design area program at the Lamar Dodd School of Art.
Passion to cultivate artwork
"Art is the one thing in my life that makes me truly happy," Floyd said, "I think my life would be very dull without it."
This intense dedication to her craft has caught the eye of non-artistic viewers and art professors alike. 
Having known Floyd for three years and teaching her in both video and graphic design systems, Brittainy Lauback, artist and professor at the Lamar Dodd School of Art, has seen the "introspective and interesting" content of Floyd's work. Lauback said Floyd's progress to encompass themes of body image, relationships and religion that stem from her personal experiences.
"She is the primary subject, and her vulnerability is the strength of the work," Lauback said, describing Floyd's pieces. 
In all her work, she prioritizes "inclusivity and accessibility" considering how her art would appear to the colorblind and visually impaired. More than anything, however, Floyd wants her design to be responsible to her viewers. 
This transparency is the gray area where she finds the existence of two versions of herself. 
"It's one of the biggest things that I struggle within my life. I have to be one way for my parents, one way for people at art school," Floyd said.
The tension that lies between the two relationships is the inspiration for much of her work. 
Two sides colliding 
Floyd wants her work to encourage the contemplation of heteronormativity, queerness and body inclusivity in the conservative south, enlightening viewers to how traditional ideals can negatively affect sexuality and young females. However, such blatant perusal of liberal topics is somewhat repellent to those she loves at home. 
Floyd is currently putting together a piece of art which will be the ultimate collision of both selves — an exhibition that she hopes can be viewed by her creative peers and family alike. Entitled "Turn Me Loose," she will use mediums such as sculpture, paintings, video and photo, to express these challenging and somewhat controversial concepts.
"I want to make something that the people at the Dodd see and that my family sees so that I can finally be me in front of everybody," Floyd said.
Forest Kelley, assistant professor of photography at the Lamar Dodd of School of Art, applauds the clearness of Floyd's vision for her pieces, saying that she is one of the rare emerging artists who is "gifted with talent." After teaching her in his color photography class, Kelly sensed that Floyd had a true desire to express her ideas with intelligence and vulnerability.
Possessing such characteristics is impressive, especially in artistic and design-related fields where failure is seemingly always imminent. 
"My greatest success as an artist has been understanding the concept of failing faster and making more," Floyd said. 
Floyd deems the acceptance of failure as the strongest means of revolutionizing her work and finds the ability to continuously grow, get rid of and edit her work to be on of the most amazing components of her life. 
While her greatest joy lies in photography and film, Floyd is currently active in a wide variety of mediums, specifically including digital art such as Adobe Illustrator, Photoshop and most recently, 3D modeling, coding and web building. 
"If I had not gone to school for art, that would be a huge waste," Floyd said. "It would have been really sad to see me miss my potential."
After completing an internship in Washington, D.C. this past summer, Floyd will graduate in the spring of 2020 with plans to get a design job. While she really loves all aspects of design, she can see herself diverging from it in order to pursue the more artistic aspects of film and photography.