As the seasons change from summer to fall, Athens Area Pagans will come together to present Athens Pagan Pride Day, an event that allows the Athens community to explore pagan culture and appreciate the individualistic nature of the pagan beliefs.
Athens Pagan Pride Day will take place on Saturday, Oct. 7 from 5 to 10 p.m. in College Square off of College Avenue. It is sponsored by Pagan Pride Project, an international non-profit organization who hosts public Pagan Pride events worldwide, as well as The UGA Pagan Student Association.
"Athens, to me, has always been about inclusion and diversity. I think that it is good for people to see that there are other paths that one can take," Chris Dial, President of The UGA Pagan Student Association said. "It is not just linear. Not everyone believes in just the more mainstream religions."
The event is open to all ages and beliefs. Live entertainment, food, workshops and artisans come from all around the Southeast for this weekend.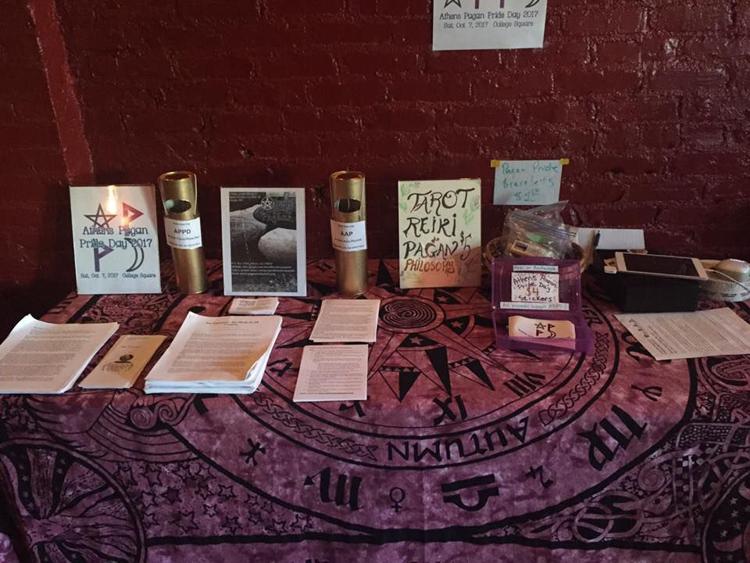 "Come talk to us, see what we are about. That is the point of the Pride Day," said Angela Warren, Athens Pagan Pride Day President and non-theistic pagan resident.
Paganism is a widely-used term that encompasses a variety of related theological and spiritual traditions and practices. From eclectic pagans who blend theology and practices from several different sources, to Traditional Wiccans or Norse Heathens, the pagan community as a whole is a diverse, largely accepting group.
"There is a belief that whatever is divine or meaningful about the world is found within the world, it is not separate from the world," said Robert Warren, vendor coordinator for Athens Pagan Pride Day and eclectic witch. "This can be taking an interest in nature, an interest in feminist issues, an interest in LGBT issues. There's an active impulse to not only build community but to help others as well."
Robert continued to explain the central themes of paganism.
"In paganism, there is a very strong belief that there are many different ways of understanding whatever is divine or meaningful about our world and that there is no one true way that is right for everyone," Robert said.
The event also focuses on giving back to the community. This year, Pagan Pride will be collecting canned goods and non-perishable food items for Project SAFE. While entry to the event is free, an initiative to help the community and collect as much food as possible is an end goal.
"We are all about taking care of each other," Angela said.
Athens Area Pagans also host fundraisers throughout the year that promote education of the community while working to expel common misconceptions surrounding the pagan practice. At these events, called Psychic Fairs, there are $5 tarot readings and $5 runes readings to help raise both money and awareness for the pagan community.
"This event lets people know that we are actually in their community. It lets them know that there are people out there, that if they have similar beliefs, that they are not alone," Dial said.
At both Athens Pagan Pride Day and other events throughout the year, the pagan community welcomes all members of the Athens area to share in this opportunity of cultural education and spiritual enlightenment.
"We are not looking to convince or convert anyone from whatever their path in life is, so if people are pagan-friendly, interested in paganism, curious about paganism, they are welcome to come out," Robert said. "Even if they just want to find out who we are, they are welcome as well. We are hoping to have a big crowd, it's going to be real fun."