George Floyd, Ahmaud Arbery and Breonna Taylor are all names that have been plastered on posters and shouted in the streets after their killings by police and white people. Their deaths have called for recent protests and planted a seed for artists to contribute their works to the cause.
Local artists are representing their activism through their talents, whether it's donating commissions to Black Lives Matter fundraisers or creating artwork that sends a message of empowerment.
Sa'Derrick Smith, a black artist from Athens, has focused his reflection on the injustice toward the black community through his paintings. In one of his paintings, Smith depicts a victim of police violence. This piece shows a gun being pointed to a black man's head while a phone is recording it all on the other side, showing how both sides of the situation are viewed, whether they are doing the killing or witnessing it.
"Everyone who's protesting chooses their way to protest," Smith said. "I support the cause, but I decided to put my opinions, thoughts and voice on the canvas."
The motivation behind Smith's art is to shed light on a problem in a way his generation will understand it. He does so by including situations that are being faced by black Americans today rather than in history, Smith said. Painting tends to "drain him and diminish hope" as it reminds him of the issues present in this world.
"I think about my son a lot whenever I'm making my art," Smith said. "I want him to grow up as a smart, intelligent and decent human being — not just seen as a black man, and all it takes is one person to change the world."
Ronnie B. Hull, owner of Ronnie B Art & Designz, uses his art as a form of ministry as he creates portraits of victims, such as Ahmaud Arbery, live on Facebook and gives them to the victims' families for free. Hull runs a Christian business with the sole purpose of spreading art with love, and he has a passion for helping those suffering from tragedy, he said.
"I'm a huge believer that my talent is a gift from God," Hull said. "While doing my art, I've been able to experience the comfort and peace of these family members when they see my art."
Hull contributes his talents to the current events of racial injustice due to the belief that art is the universal language anyone can understand, he said. He believes it is something anyone can relate to, understand and interpret how they'd like.
"I feel that us artists of the world need to use our gifts and talents to bring awareness to what is wrong and need to change," Hull said. "If your art can reach someone in a way so they can reconsider their current perceptions, then you've done your job."
Nikki Codiniera is a rising senior psychology major and microbiology minor at the University of Georgia. She has refocused her talents by donating 100% of the commission money she makes from her art to the George Floyd Memorial Fund, the Minnesota Freedom Fund and the Athens Freedom Fund.
While Codiniera only started her art Instagram on May 16, she received many requests from friends and followers for her to recreate their pictures into digital creations. This led to her taking requests and donations from $5 to over $100 for a single art piece and all of the money to be donated to a fundraiser, such as the George Floyd Memorial Fund and the Athens Freedom Fund, Codiniera said.
"I think creating the Instagram account was a sign," Codiniera said. "Making it in the time that I did gave me the opportunity to step out of my comfort zone to empower communities and not allow me to be stagnant in a time of need."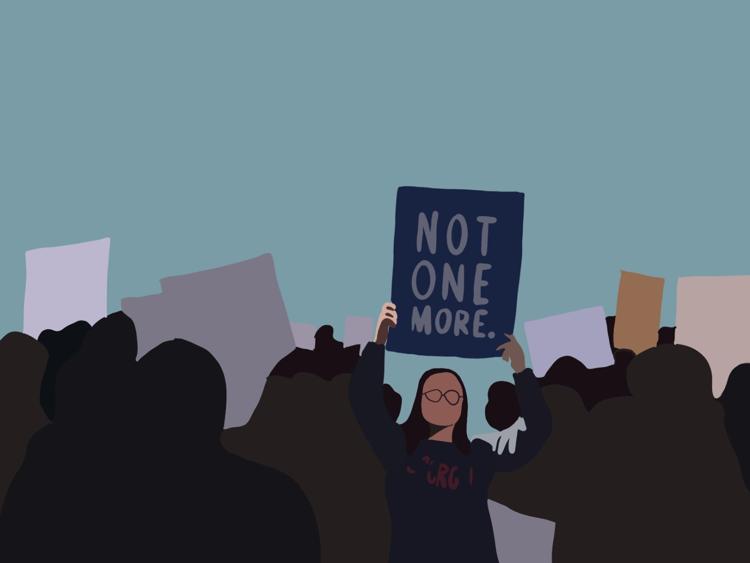 Broderick Flanigan has created artwork centered around systems of oppression as it relates to black people through his informative approach to art. The deaths of Michael Brown, Philando Castile and Trayvon Martin pushed him into this direction of art, Flanigan said.
"These cases led me to focus more on raising awareness and solving issues that are plaguing these communities," Flanigan said. "I speak on the systems of oppression and the value in money and profits over people's well-being. Some of being about exploited labor, going back to systems of slavery."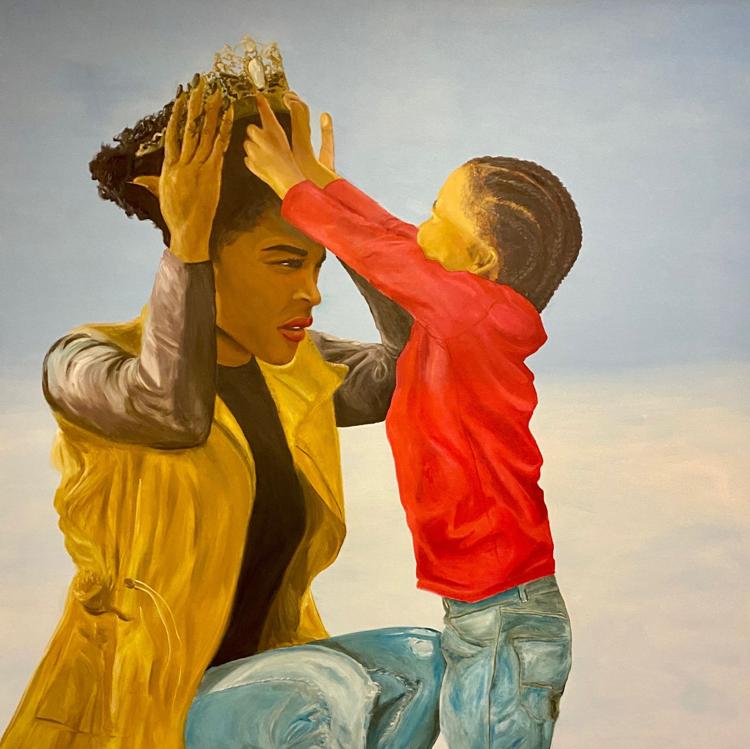 His work is intended to speak to avenues of oppression, specifically economic and financial oppression, Flanigan said. He creates portraits centered around a black figure while showing how the system "values profit, production, expansion and economic development over taking care of the people," Flanigan said.
Flanigan's artwork is not meant to solely be propaganda. His intention for his art is to be up to interpretation by the consumer. Some may view it as powerful, but others may not see it as powerful in the same way that another person views it, Flanigan said.
"I don't want my art to be strictly propaganda by saying 'do this' or 'this is what you should think,'" Flanigan said. "I want the art to make people think and think about these issues in substantial ways."
Jennifer Pham, a rising senior and animation major at UGA, uses an Asian motif in her art to represent Asian Americans' role in the Black Lives Matter movement.
Pham's art includes print symbols of Asian culture which she "manipulated in order to bring awareness to BLM and the victims of police brutality," she said on her website.
Her portrait of George Floyd was to honor him, Pham said. She later decided to make multiple monotype prints of Asian motifs in support of the Black Lives Matter movement and to promote awareness and activism, she said.
Pham is taking donations for her art that are given to fundraisers of the donor's choice, such as the Atlanta Solidarity Fund and Black Visions Collective.
"I want to make content that I feel like would be appealing imagery wise," Pham said. "But I also want to juxtapose it with a message about Black Lives Matter to get more Asian Americans involved in the movement."
Self-proclaimed "informal mascot of Athens," the Pink Flamingo has taken a stand in the Black Lives Matter movement through physical art forms, themself being one of them. Morgan King, the face behind the pink bodysuit, is an artist who has silenced their own content and platform to raise awareness for the Black Lives Matter movement.
A sign hangs over the Pink Flamingo's famous 1926 Ford Model T that reads, "the fun times are over until black lives matter." King also intends on tying their current art works in with the Black Lives Matter movement with their signature abstract design.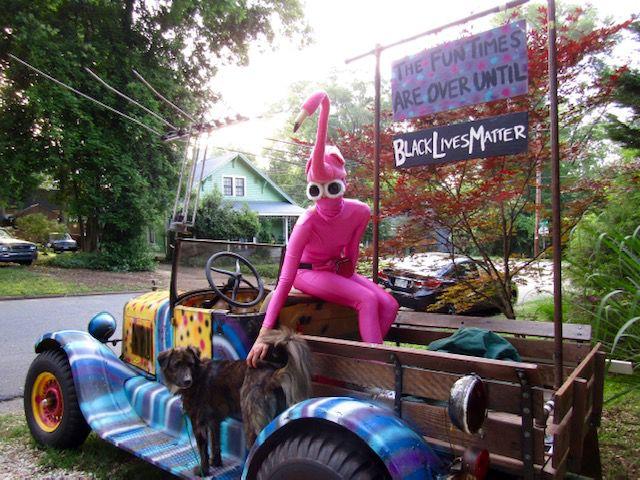 King continues to create new designs and ideas to contribute to the Black Lives Matter movement, they said.
With their platform, King intends to spread the message with other local artists that this is a time to silence their voices in order to raise the voices of the black community, they said.
---
Correction: A previous version of this article stated Pham created a portrait of George Floyd to make a statement about "anti-black sentiment and prejudices in Asian culture." This was misstated, and in actuality, Pham made the portrait to honor Floyd, and her other pieces  used Asian motifs to promote Asian American support of the Black Lives Matter movement. The Red & Black regrets this error and it has since been changed.