It's almost something out of a movie — a local band enters a "Battle of the Bands" competition, wins and is catapulted to fame and success. While it's obviously not quite that easy or fast, Athens-based band Jester has had a taste of what can happen when opportunities like these present themselves, and is taking full advantage of what a great head start can do.
Let's back up just a little.
Tommy Trautwein, a University of Georgia junior majoring in psychology, participated in baseball in high school, playing in a band on the side. He met Andrew Wilson, a junior management information systems major, playing the sport. Wilson was in a different band with Hayden Busch, also a junior, majoring in management.
The three students started to perform shows together and soon they discovered they were all headed to UGA for college.
"We ended up on the top floor of Creswell all together, so we'd just be jamming every once and a while," Trautwein said.
In May 2017, the three musicians got together with Clay Milling, a senior political science major, and decided to start a band: Jester.
"Basically we decided that May, 'Let's just get together from like 10 a.m.–2 p.m. every day over [the] summer, and let's just see what happens,'" Trautwein said.
The four UGA students wrote their first two singles, "Cool Off" and "Slip Back," within the first couple of times they got together over the summer. The chemistry didn't stop there — All of Jester's songs out now were written over that summer.
Once the Battle of the Bands rolled around in winter of 2017, Jester was prepared. The band won the grand prize, studio time with producer Jesse Mangum in Athens' The Glow Recording Studio.
"I'm so happy we got that opportunity," Trautwein said. "[Mangum] was, at that time, exactly what we were looking for."
Since recording and releasing their first two singles with Mangum, the band went back to record its debut EP, "Not Coming Home," released June 1.
Even though the EP has garnered a fair amount of attention, with "See You Tomorrow" amassing more than 140,000 streams on Spotify, Jester isn't slowing down just yet.
"We're always trying to progress and innovate, so we're always changing it up, coming up with new sounds," Milling said.
Specifically, a single is in the works, expected by the band members to come out relatively soon. An album is also in the works, but the members have no intention of rushing the process.
In the meantime, Jester will co-headline a show at the 40 Watt Club with fellow Athens band AFTM on Sept. 28.
The two bands got in contact with each other via their managers. Ever since the gig's inception, it's been an event both groups have looked forward to.
"From the very get-go, before we actually had met each other, we were like, 'Hey, let's schedule this show,'" Trautwein said.
Besides sharing the venue with each other, Busch, the bass player for Jester, is excited to see how the two bands' fans will come together.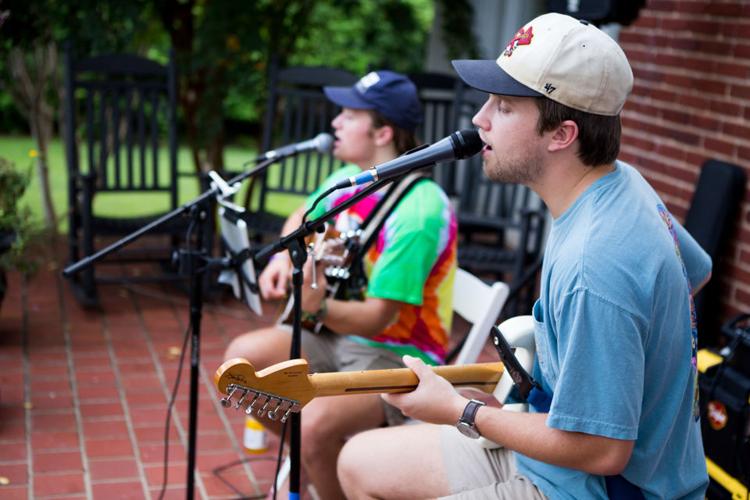 "I'm looking forward to the new fans they're gonna bring out, for sure," he said. "It's a different kind of crowd that they bring out — they know different people."
Guitarist and vocalist Wilson agreed, acknowledging AFTM and Jester have charted similar courses in the Classic City's music scene.
"We're both kind of at the same level in Athens — it's perfect," Wilson said.