A single spotlight shined against the red velvet curtain and a microphone stand stood center stage, ready for a speaker.  On Wednesday, Sept. 12, Rabbit Box hosted a storytelling series at The Foundry on the theme of "Living Positive," stories about living with a positive HIV diagnosis.
For this series, Rabbit Box, an Athens-based group that organizes monthly storytelling series including both amateur and experienced storytellers, partnered with Live Forward, an organization that provides stable housing, health management options and community outreach opportunities to the 10 counties in the Northeast Health District (District 10) of Georgia. 
The event began around 6 p.m. with an on-stage interview conducted by Betsy Bean, publisher of Boom Athens, a local lifestyle magazine targeted to people ages 50 and older. Bean interviewed Live Forward's lead case manager, Chris Richards, and asked about his work with people who are HIV positive.
Richards, originally from the United Kingdom, said he has worked professionally in the field of HIV prevention since 2015, but had a personal experience with the disease while traveling about 15 years ago.
"I went to Egypt," Richards said. "I developed [a] really bad chest infection. I could barely walk on the plane to fly home to the U.K."
Richards said when he returned to the U.K., his doctor told him he either had a chest infection or HIV. After waiting a week for the results of his blood test, Richards said he finally learned he did not have the disease.
"That was the worst week of my life," Richards said. "That was a very scary period for me."
---
"I know what stigma looks like, as a black woman living with HIV. You can and you will live."  
- Tammy Kinney, storyteller
---
Richards said Live Forward conducts tests that detect the antibodies that form to combat the HIV virus, meaning patients can find out the status of their sexual health within minutes.
 Bean also asked Richards about the best methods of prevention, particularly for people over the age of 50 who may not feel at-risk for transmission.
"Communication is a massive part of HIV prevention," Richards said. 
The storytelling portion of the event, hosted by Riley Kirkpatrick, began around 7 p.m. Kirkpatrick introduced each speaker by quoting "what makes them feel alive."
The series included seven storytellers who spoke for eight minutes each and one "Cracker Jack Surprise storyteller" whose name is pulled from a box of submitted names to tell a four-minute story after intermission.
Kirkpatrick said another rule for Rabbit Box stories is that they must be true and have a beginning, middle and end. Rabbit Box story coaches work with storytellers before the event to help them with the formulation and production of the stories.
"Some people come really ready with their stories, but other people lay out a lot of parts of their life and we find the story there," Rabbit Box board member and story coach Pat Priest said. "We find not an essay, not a presentation, but a story from their life."
The first storyteller was Rick Schott, who told the story of his diagnosis and the difficulty of taking his first pill. Schott said after he received his diagnosis, he thought he was going to die after six weeks because he has seen that happen to a friend.
"I'm happy to say that [was] two and a half years ago, and I'm still alive," Schott said.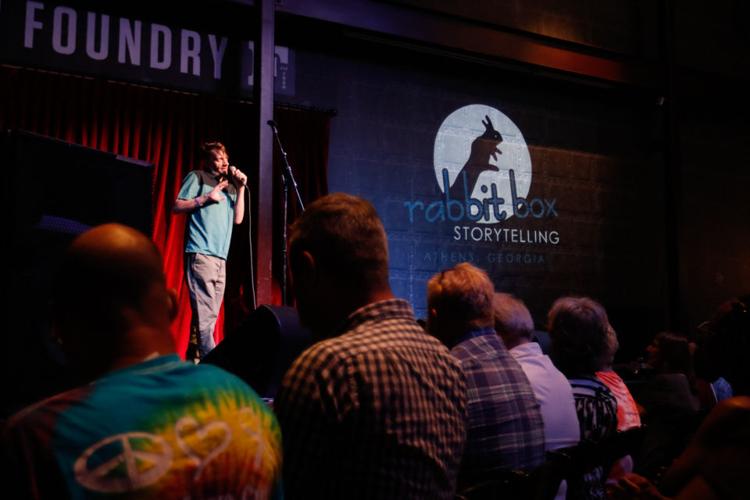 The next speaker was Paula Venable, who was diagnosed with HIV on July 16, 2004. Venable stood center stage and said the doctor who first diagnosed her said she had 6-8 weeks to live.
"It's 2018," she said. The audience cheered.
Venable said she's now an active member in her church and a grandmother to her grandchildren and the children in her community.
"A few months ago, I was asked to do a film [about my story]," Venable said. "That was my way of coming out to my grandchildren."
According to the Centers for Disease Control and Prevention, Southern states accounted for over half of new HIV diagnoses in 2016 and made up 38% of the national population.
Storyteller Asynaka Willis said he works as a volunteer and educator on HIV and AIDS.
"We need to talk about this [in the African-American community], and it needs to be a focal point of our community," Willis said.  
In his story, Willis said he dealt with "coming out" as HIV positive to his friends and family by posting a video on YouTube. Willis said he now uses his video as a preface to speeches he gives on HIV prevention and education.
"[The video] gives people a chance to react naturally without feeling like they need to protect my feelings, so that when I speak to them, I can get real questions," Willis said.
After a 15-minute intermission, the show reconvened and a name was drawn from the Cracker Jack Surprise storyteller box.
A tall man covered in tattoos walked onstage and said he was a Marine Corps veteran who was HIV positive. He said he had never "come out" to more than a few people in his life and received a standing ovation.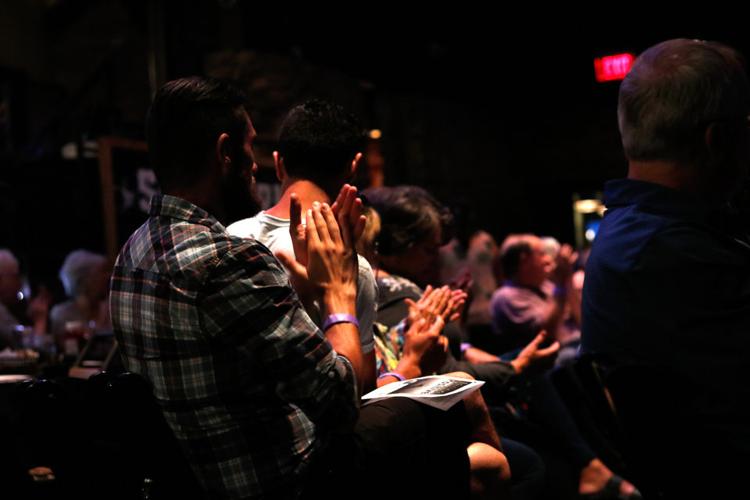 Other speakers included Phyllis Beard, who also spoke about life after her diagnosis, Tammy Kinney and Rob Hagwood. Olive Aneno spoke about her childhood in Uganda and watching her mother suffer, and eventually die from, HIV
"Nobody had told us that my mother was struggling with HIV/AIDS," Aneno said. "It was hush-hush."
Most speakers discussed the stigmatization of the disease.
"I know what stigma looks like as a black woman living with HIV," Kinney said. "You can and you will live."  
Rabbit Box director Heidi Ferreira organized the event and hopes to pursue more series with narrower themes like Living Positive.
---
"Some people come really ready with their stories, but other people lay out a lot of parts of their life and we find the story there."
- Pat Priest, Rabbit Box board member and story coach
---
 "I want to try to get into more niche groups, because if we're creating community one story at a time, just putting it out to the same group of people without doing outreach and going to different places, I feel like we're going to just keep hearing from the same people," Ferreira said.
The event finished around 9 p.m.
"I try to come [to the storytelling events] every month," said audience member Natalia Perez. "This is really interesting. I think the topic is going to help people … decrease judgement [about HIV]."