In 2019, Natalie Smith knew she wanted to do two things — find a new job and help people through music.
That was when the early conception of HEART Music, or Helping East Athens Rise Through Music, a nonprofit to bring free music education to east Athens schools, was born. Alongside her husband, Brian Smith, Natalie initially envisioned starting a standalone music studio on the eastside of Athens. They wanted to set up shop to teach music lessons with their talents as a flutist and guitarist, respectively.
The Athens couple specifically wanted to make music education free and accessible for kids attending east Athens schools, such as Cedar Shoals High School, Hilsman Middle School and Coile Middle School, where music education isn't widely affordable to all students.
"We wanted to be able to erase more than just the financial barrier. We wanted to be close to the schools, so kids could walk there after school," Natalie said. "So we started thinking, what if we did an afterschool program? That didn't really work out, so then we thought, let's just go straight into the classroom during the school day where the kids are."
That was when Natalie and Brian's plan came to fruition, and they started teaching music lessons and hiring musicians of other instruments to teach music in the classrooms of these public schools.
Early stages through the pandemic
Natalie and Brian are both professional musicians who have been in Athens since the late 1990s. During their time here, they've met other local musicians in town and musicians at the University of Georgia's Hugh Hodgson School of Music. With these connections, the couple has been able to hire talented musicians to teach lessons in classrooms through HEART Music.
"Here we are helping as many people as we can with one organization. We are helping the teachers who are actually teaching [music] at these schools," Natalie said. "We are supporting their program by offering high quality musicians to all of their students, not just the students who can afford music lessons."
Even before HEART Music became what it is now, in late 2019, Natalie was helping students at Hilsman Middle School with their district honor band auditions during music classes, while Brian helped the music director at Clarke Central High School by providing lessons to students in the guitar program.
After working in Hilsman, Natalie asked the music director if she could bring in more musicians to teach students, laying the foundation for an early, pilot program of HEART Music. For two months, Natalie, as the flute instructor, was able to bring in saxophone, clarinet and French horn instructors as well.
But then, the pandemic happened.
The pivot to online learning disrupted all aspects of children's school lives, including their lessons with musicians from HEART Music. Natalie and Brian decided not to continue HEART Music lessons for the rest of the spring 2020 semester, due to the confusing and unprecedented nature of the time.
"We brainstormed a lot about how we were going to re-approach going into schools," Brian said. "We said, you know, we're doing all these family meetups and things over Zoom, maybe we could set up something like that through the schools."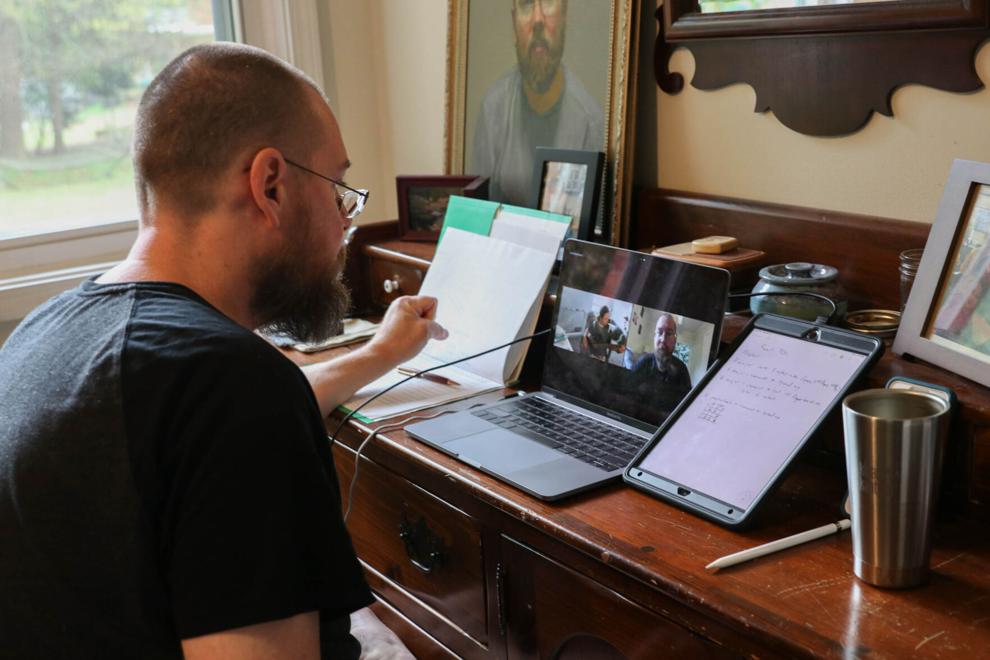 Like many other aspects of their daily lives, Natalie, Brian and all the other musicians with HEART Music began teaching lessons to students through their school's virtual class options.
"We've had all of our teachers come in that way, and it's actually worked really well," Brian said.
Getting deep
As it currently operates as a nonprofit, with Natalie as the executive director, HEART Music hires roughly 16 musicians to provide free, virtual music lessons in various instrument areas to students in four Athens public schools. HEART Music is able to pay the musicians through donations, grants and sponsorships from people and businesses in the community.
HEART Music has held fundraising events to support itself financially, such as having a jazz ensemble performance for a socially-distanced crowd at Hendershot's Coffee Bar in early February. There will also be a virtual silent auction in May, as well as an outdoor concert at White Tiger Gourmet, to raise money for the organization.
"It's pretty expensive to run our program, because it is important to us to pay our musicians well," Natalie said. "Almost 85% of our budget goes straight to the teachers."
Another expense, Natalie said, is the ability to pay the musicians well and to pay them consistently. Natalie and Brian, most importantly, want to provide consistent music lessons for the students of Athens public schools, and so they have to pay the musicians consistently to teach those lessons.
"A big thing for us is to have consistency and to build trust and a relationship with the students," Natalie said. "Providing one workshop at one school one time might be fun, but it's not deep learning, it's not deep support and it's not going to take kids where we want them to go."
Natalie said the reason HEART Music exists is definitely not to make money. She said she doesn't get paid for her work as the executive director, and she is mainly interested in emboldening the community as a whole.
"Donations from the community goes back into the community by elevating the levels of creativity and musicianship of the sixth grade through 12th grade," Natalie said. "Then those students are putting their talent back into the community through performances, creative endeavors and just being well-rounded citizens. That creates a real cycle of support, and that's the way to really have a thriving community."