With PRIDE flags lining the streets of downtown Athens in color from Washington Street to Pulaski Street, one could say the city had quite the view of the rainbow. The PRIDE festival on Sept. 9, which brought Athens PRIDE week to a close, was filled with booths not only supporting the Athens LGBTQ community, but also groups like the Moms Demand Action for Gun Sense in America and the Athens Area Humane Society.
There was awareness going on from place to place, with voter registration booths riddling the festival, and even campaign booths for local representatives who support the LGBTQ community's rights and minority rights.
"Georgia Equality is an advocacy organization — we advocate for legislation and policies that protect [LGBTQ] people all throughout the state of Georgia," said statewide outreach organizer for the group, Shannon Clawson. "What we are really about is getting Georgians, specifically [LGBTQ] Georgians, to advocate for themselves."
So, while music from the likes of Lady Gaga to Whitney Houston rang through the streets, people could learn more about organizations that create a safe haven for the LGBTQ community, while eating Kona Ice to withstand Georgia's heat.
---
"It's kind of nice to be recognized and seen as a community and feel like we have a place in this town." 
-Travis Cox, UGA alumni
---
There was an overall sense of a call to action by the people of Athens to get more involved in elections in order to voice their political opinions. There were sign-up sheets for residents to volunteer for organizations like the American Civil Liberties Union to the Athens Queer Collective.  
"We are looking for solutions, we are making it known that the criminal justice system is overpopulated here in Georgia," said ACLU Smart Justice field manager Rob Woods. "I insisted that we come to Athens PRIDE, one [reason being] because we are now working with the community [and] we have been received very well."
With this year being Athens PRIDE's 20th anniversary, many of those who ran the booths couldn't help but smile at the growth of the festival over the years.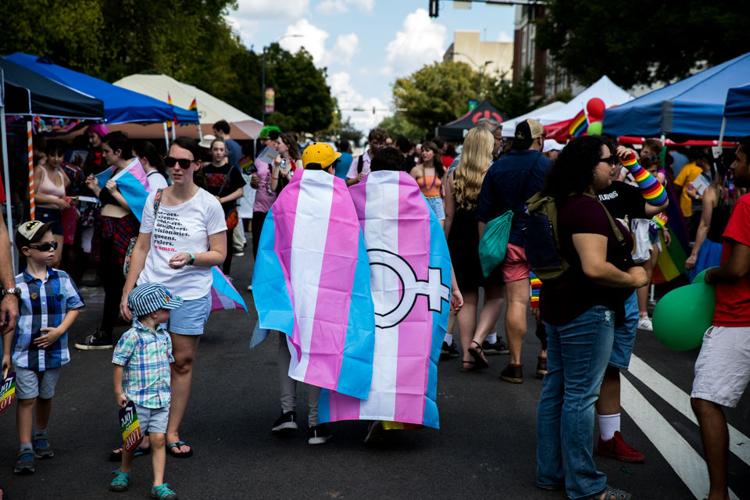 "I've been coming here about four years. The last few years that I've come played some kind of a role in [PRIDE]," said Athens Queer Collective representative Riley Kirkpatrick. "It has been absolutely incredible to watch it grow so fast. Last year there was only 35 booths and there [are] 60 now — the quickness has been incredible."
In the middle of the road in front of the 40 Watt Club and The Rook & Pawn, there was a stage set up, and a DJ blared music through the speakers. The happy and upbeat music added well to the easy-going vibe of the festival.
Pedro Torres, a freshman political science major from Atlanta, said he decided to go to PRIDE because he had friends who were part of the LGBTQ community who invited him to go with them. He had heard of the celebration that happens every year in Atlanta, but had never been to a pride festival before this year. Torres said he enjoyed the different events at his first ever Athens PRIDE, and also appreciated how original and diverse the crowd and their clothing were.
"It's pretty cool to look at. All the people are confident and walking around and they don't care. I always find that pretty inspiring," Torres said.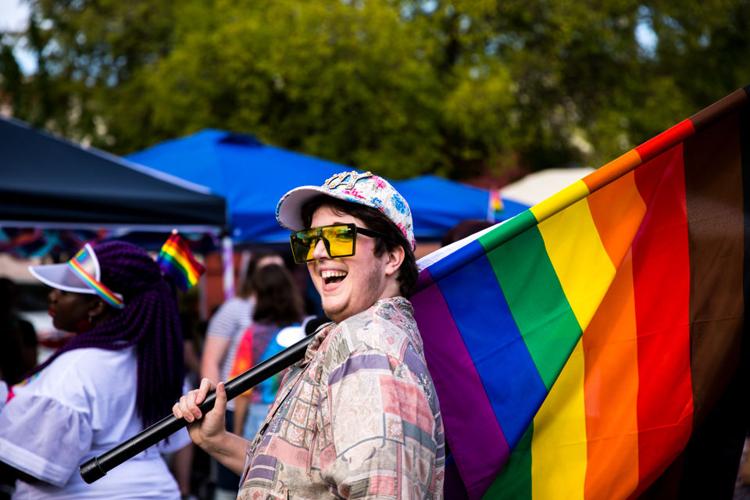 Many people at the festival embraced their true colors by wearing whatever their heart desired. Some participants of the festival wore pride flags around their shoulders. Others had rainbow tattoos on their faces. Pride-themed fans were handed out to attendees and many people were seen fanning their faces with the fans in the humid, Georgia heat.
Travis Cox, a UGA alumni, was rocking a fashionable, floppy black hat to PRIDE.
"Everyone is wearing everything they want to express themselves and to express who they are and how they identify. It's nice that people feel safe enough to identify themselves publicly," Cox said.  
One popular element of the PRIDE festival was the group of parents sporting T-shirts and signs offering free hugs to attendees.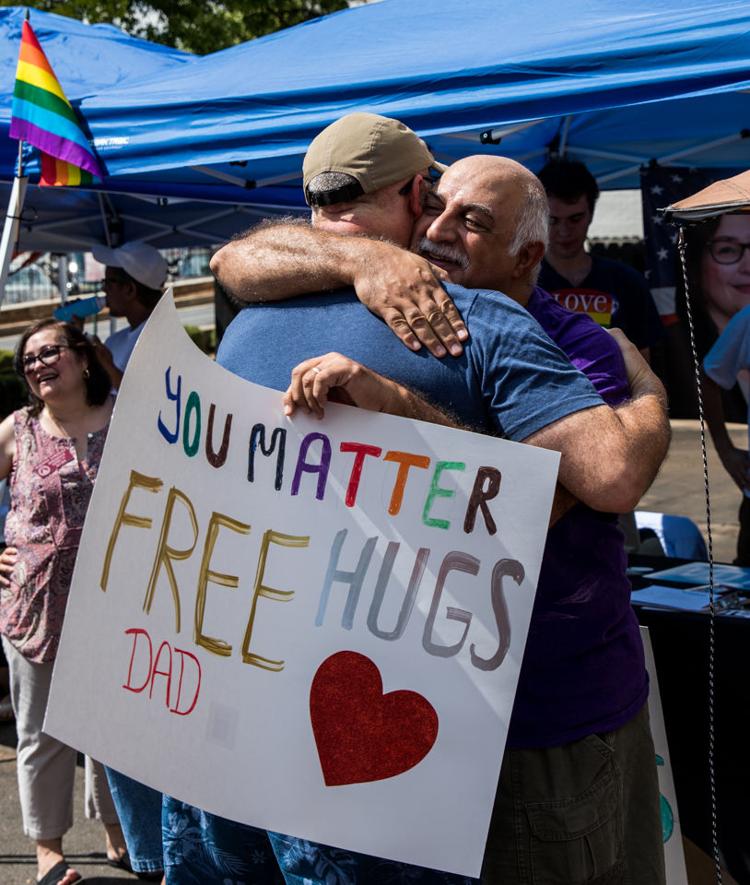 Kris Schultz was one of the moms giving out hugs at PRIDE.
"We have some people who will come barreling down the hill for [hugs] and then others that are very reluctant, and there's a little bit of emotion in there because you can tell that they [have] their own story," Schultz said.
The mothers gave out air hugs, high fives and real hugs to share the love to the Athens community.
"I think it's just to remind people that you are loved, you are needed — because some days, especially in this day and age, it's hard to remember that," Schultz said.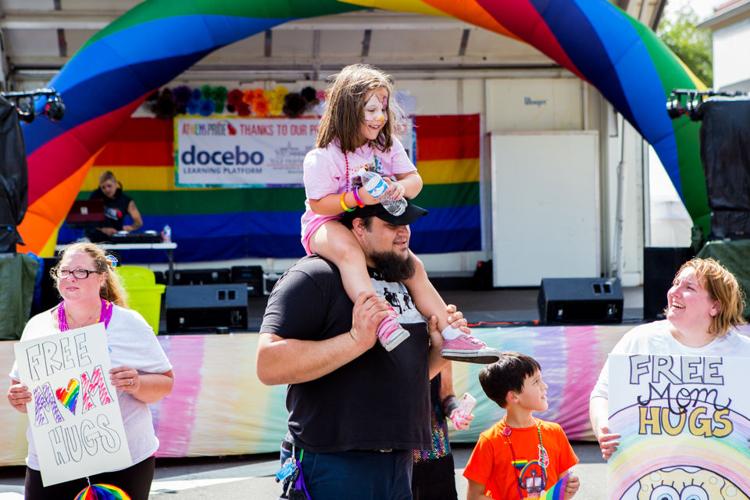 Cox said PRIDE has a big impact on the Athens community as a whole.
"PRIDE is a good event to be super inclusive, and there's only a few places in Athens that are super inclusive and safe and friendly to gay people. It's kind of nice to be recognized and seen as a community and feel like we have a place in this town," Cox said.