A celebratory yet solemn mood graced the intimate crowd at the Heidi Hensley art gallery on Friday, June 28, during Athens PRIDE's "Remembering Stonewall: 50 Years Later" event. The gathering was held on the 50th anniversary of the Stonewall Riots, what many regard to be a turning point in the LGBTQ community.
Athens PRIDE Events Director Cameron Harrelson said the event was created to remember the beginnings of the LGBTQ rights movements and to acknowledge how much was sacrificed for everyone to be gathered there that evening.
"We put this event together because we wanted people to be able to take a look back at history and see where we came from, where can acknowledge the work we still have left to do, and where we can plan to see where we're going," Harrelson said. "I think it's hard for us to truly appreciate how far we have come in this country without looking back at the fights that people, you know, started a long time ago."
Free rainbow-colored "Athens PRIDE" bracelets and pins graced tables — covered in silver garland — in the refreshment area of the room, where attendees mingled and talked before the event. Fiftieth anniversary Stonewall T-shirts were on sale as well, complete with a PRIDE logo.
Harrelson started off the event by summarizing the events that led to the riots in Greenwich Village in 1960. He focused on the importance of Marsha P. Johnson, a black trans woman, was allegedly the first person to fight back against the police during the bar raid.
"A lot of people miss out on that fact of history that Pride … started with a riot, led by a black trans woman," Harrelson said. "I think it's an important fact to utilize because of the attack we're seeing on trans people in our country."
Jim Taflinger, co-founder of the LGBTQ caucus in the Democratic Party of Georgia, spoke next about his experience in the LBGTQ community since the Stonewall riots 50 years ago. He cited the differences in culture and how far society has come in acceptance but also the supposed lack of political activism that occurred within the movement in the 1970s.
Robby Bailey then spoke aloud a new poem he wrote about life as a gay man, from difficult beginnings to becoming a thriving adult.
"This is for the young gay kid, praying to God that somehow he would wake up different so that his bullies would leave him alone," Baily wrote.
He came back to that topic later in the poem, saying, "Know that one of your high school bullies will tap you on Grindr."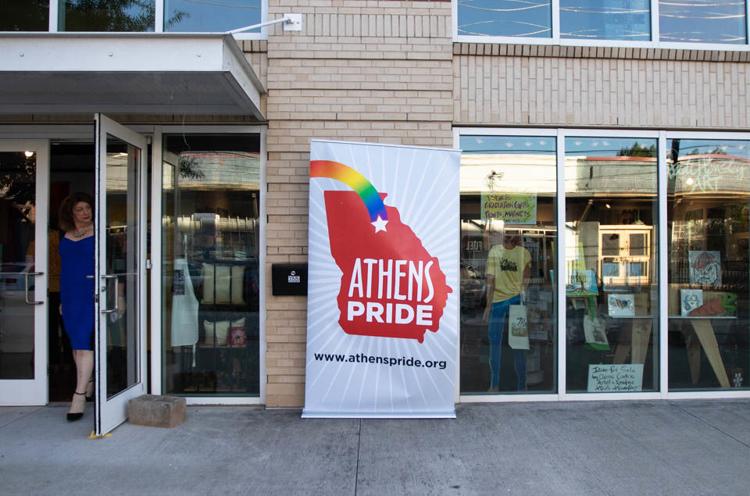 Cathleen Thomas Quigley, a singer-songwriter from Atlanta, was also at the event. Originally from Athens, she jumped at the opportunity to perform at an Athens PRIDE event.
Quigley sang "We Will Not Be Erased," a song about standing up for transgender rights, for the crowd to end the night at the gallery. As a trans woman, Quigley wrote the song for the Trans Day of Remembrance on November 20 this past fall in response to recent legislation proposed by the Trump administration that targets trans people.
"My existence is not the question," she sang. "It's how you treat your fellow human beings, and I won't be erased."
Harrelson ended the night with a personal tale about the difficulties he faced growing up in south Georgia knowing he was gay. Upon coming to Athens, Harrelson said he found a community of people that welcomed and embraced him for who he was.
"If you told me six years ago that I would be standing in an art gallery at an LGBTQ event, I would have been like, 'You're so mistaken, I don't know who you're talking about,'" Harrelson said. "But nevertheless I persisted in my journey of self-discovery and self-acceptance and self-love, and I am standing before you today to say that I am a proud gay man, I'm a proud Athenian."