Fastened tightly within the Bible Belt, Athens is home to at least 88 Christian churches. Within the religious congregation of Athens, there's a minority of religious LGBTQ members — 48% of LGBTQ people reported belonging to a "Christian faith group," according to the Pew Research Center.
Every other Wednesday, from 4:30-5:45 p.m. at the Presbyterian Student Center, a small group of individuals are bathed in the glow of a rainbow, from the sun streaming through stained glass windows.  Here, Coffee & Queeries members meet to discuss the intersection of faith and sexuality.
There are 260,000 reported LGBTQ adults who live in Georgia, according to a study by the Williams Institute at UCLA School of Law. Out of the 10.52 million people who reside in Georgia, according to the 2018 United States Census Bureau, 79% of Georgians are Christian, as per the PEW Research Center.
Annabel McSpadden, a queer first year counseling masters student from Bogart, Georgia, is the co-founder of Coffee & Queeries, a ministry within the PSC that creates an inclusive community of interfaith LGBTQ members.
"We wanted to make a space for people to explore their faith and sexuality as this beautiful intersection to be celebrated, instead of something to apologize for or hide," McSpadden said.
Opening the pews
McSpadden started Coffee & Queeries in September 2018 after going out for coffee with a friend who later helped with the formation of the organization.
As both co-founder's conversation ranged from queer film to gay pop culture, they thought it was a shame they didn't know other queer people of faith to engage in these barrier-breaking discussions.
"[Queer people of faith] are definitely here, quietly and dormant, because Athens is a pretty religious area," McSpadden said.
McSpadden said people are shocked to hear she's queer and Christian, which made her realize there's a lot of work to be done to help people understand that those two identities are not mutually exclusive.
Being both religious and queer usually doesn't coincide in Georgia, where only 52% support same-sex marriage, according to a 2017 Public Religion Research Institute study.
After formulating the idea of a queer interfaith ministry, McSpadden went to the campus minister and executive director of the PSC, Rev. Will Norman, to ask if they could use the building to conduct meetings.
Norman was enthusiastic and supportive about the project, even going out of his way to provide them with a Chemex coffee maker and Jittery Joe's coffee for the space.
"There is a need for those students to be religious and out safely and not be asked to change who they are or pretend they are not who they are in order to be religious or loved by God," Norman said.
---
"When I put in the work to marry queerness and faith ... my world kind of cracked open."
— Annabel McSpadden, Coffee & Queeries co-founder
---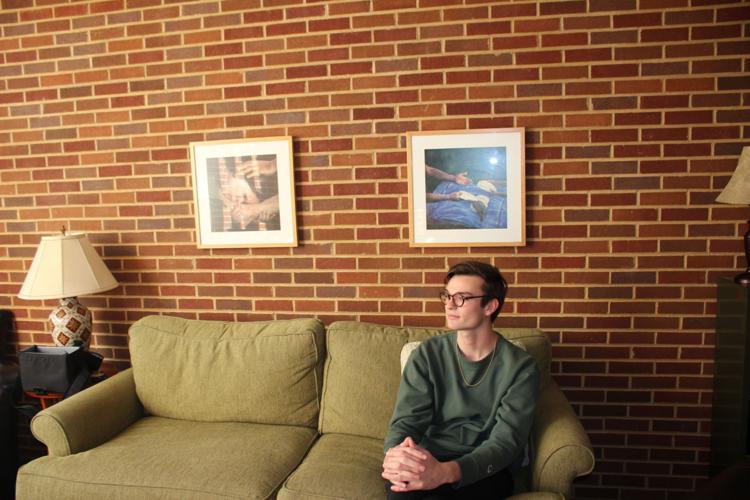 In the beginning, Coffee & Queeries consisted of two co-founders and a small group of people at the PSC. McSpadden reached out to UGA Hillel, the Episcopal Center at UGA and several other campus ministries. Some were eager to participate, while some never responded to her invitation to become involved. McSpadden said it was difficult to know who to reach out too, based on differentiating religious policies regarding homosexuality.
Each meeting starts with a guided meditation. Clark Henderson, a gay freshman international affairs major from Statesboro, Georgia, said he feels more open to talking about his feelings after the meditation. He was one of the first members to attend and has taken on the role of public relations for the group.
Flexibility in faith
One meeting a month is discussion based, while the other is content based. For discussion-based meetings, the co-founders ask a question to ignite conversations. The questions range from "How did your sexuality shape your image of God?" to "How do you know God loves you?"
Most people in Coffee & Queeries come from a Christian background and McSpadden hopes to offer flexibility with an approach to faith to those who attend.
"Within that flexibility is a celebration of the wholeness of who you are," McSpadden said.
Flexibility isn't usually a word associated with Protestantism. About one-third of white evangelical Protestants supported same-sex marriage in 2017, while nearly 58% are opposed, according to a PRRI 2017 American Values Atlas.
At the first meeting of the semester, the group members answered: "What is one thing that is beautiful about being queer and religious?" McSpadden said the best thing to hear about yourself is that you aren't going to hell, and she wanted to solicit actively beautiful remarks in the meeting.
McSpadden said listening to members' testimony is humbling and incredible. The responses were "profound theological truths [and] you could tell they were nurturing and thinking about it on their own."  
"When I put in the work to marry queerness and faith, and explore what it meant to be involved with both, my world kind of cracked open," McSpadden said.
For content-based meetings, Norman or another guest speaker will guide the group into scripture. The group will analyze verses in the Bible traditionally used to condemn sexuality, then provide more theologically and historically accurate interpretations.
Before Coffee & Queeries, Henderson would ignore the verses in the Bible commonly used against queer-identifying individuals. But after attending meetings, it forced him to face and talk about those areas of the Bible. The meetings helped Henderson understand the passages in another way, rather than just disregarding them as negative or refusing to think about it.
"We [at PSC] believe that God has created a beautiful diversity of people, that God intends love for all of us and that love ... is actually enhanced by love shared between people of the same sex," Norman said.
Those who regularly attend Coffee & Queeries are fully engaged and come ready to share, according to McSpadden. The members have a GroupMe chat and community Spotify playlist to keep engaged outside of the meetings. Every meeting brings new faces and the membership continues to grow, McSpadden said.
"I want everyone who needs something like this to know about it," Henderson said. "That is my main worry … that people who might need something like this and might need to talk about these things won't even know that this is here."