Michael Farfour leans out of the side of The Farm Cart's metal trailer parked in its spot at the Athens Farmers Market at 8 a.m. on Saturday and rings a copper bell. Its sound echoes in the relative quietness of the morning.
While the market has just opened, the tantalizing smell of sizzling biscuits coated in butter brings other vendors and patrons over, forming a line as they wait for their turn to order the iconic breakfast sandwich.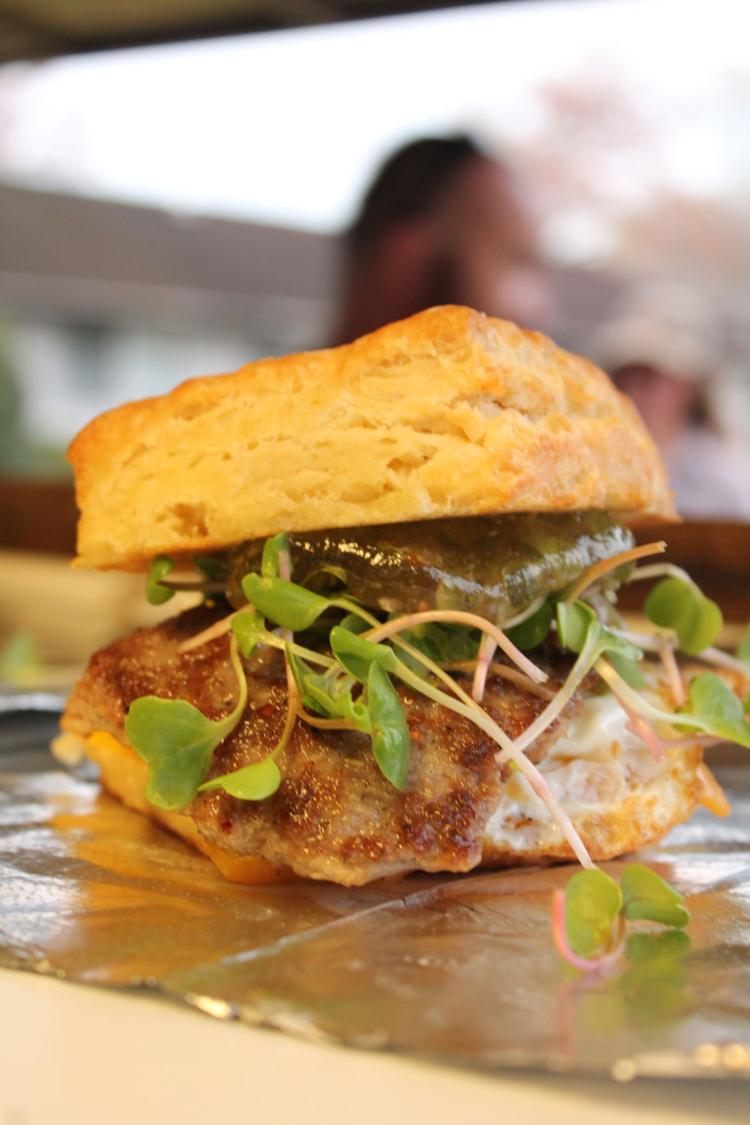 Soon, dedicated students and Athenians will be able to sit down and enjoy the locally-sourced breakfast sandwich six days of the week at The Farm Cart's new brick-and-mortar restaurant on Baxter Street.
Breaking ground and baking bread
Construction began on Jan. 1, 2019, according to owner and chef Michael Farfour. The Farm Cart restaurant will be located on 1074 Baxter St. in the building The Sultan once occupied. Nearby, D92 Korean BBQ and home.made occupy their own places on the slowly developing Baxter corridor.
"It was just time for us to transition into a new space to share what we have currently … and start creating new things as well," Michael Farfour said.
One of these changes is a larger, seasonal menu which will include lunch items such as focaccia sandwiches and other specials, as well as a rotating variety of baked goods.
Michael and his wife Iwalani Farfour, owner and operator of Full Moon Farms, opened The Farm Cart at the Athens Farmers Market in 2015.
While Michael Farfour always enjoyed cooking simple meals, he discovered a newfound love for "real food" while working at The Plantation, a hunting reserve in South Carolina at the age of 13. Now, farmers are the people who inspire his cooking.
"I love the process, but really, in the end, it's about creating something to share with the customers and with another person," Michael Farfour said.
For Kate Van Cantfort, owner of Lotta Mae's Supply Co, The Farm Cart's biscuits are "quality."
"The use of the Piedmont Provisions jams gives you a little bit of a different flavor than what you'd think of a classic Southern biscuit," Van Cantfort said. "I think [Michael's] a genius in his process for how he does his biscuits out of the cart the way he does."
With a half-hour wait time some Saturdays, the Farfours decided to open a restaurant to "relieve some of the pressure" they face each weekend and give patrons more choices and times to visit.  
"Farm Cart has grown over the last four years from a little food cart at the farmers market to a big deal," Iwalani said. "It's been awesome to see the growth and excitement in everybody."
'A baker, a cook and a farmer'
While opening a new restaurant will bring about changes for the business, Michael Farfour said maintaining the sense of community The Farm Cart currently exhibits is integral.
The Farm Cart is an embodiment of a family business as Carole Brucato, Michael Farfour's mother-in-law, Michael Farfour and Iwalani Farfour create the trifecta of talent and experience of  "a baker, a cook and a farmer."
---
"I'm really excited ... [to] continue that legacy and create a larger space for people to enjoy the food that we love making for the customers,"
— Michael Farfour, owner
---
Van Cantfort, who said she knows the Farfours personally, is a fan of their cooking and is looking forward to them expanding their menu beyond biscuits.
"I know at one time they had talked about possibly soup and sandwiches too and oh my gosh, if they do that, if they go that direction, I'll be tickled pink," Van Cantfort said.
The Farm Cart's famous biscuits, which will be served all day, will also be getting an upgrade as Michael said they'll be adding fried chicken to the list of proteins offered.
"We're trying to source everything with care from our organic flour to our house-made sauces and jams, and we look forward to sharing more biscuits," Michael Farfour said. "[The biscuit] is worth celebrating. It's not just a side to us."
As for the building itself, Michael Farfour said the couple is working on a few interior changes to create the family-friendly aesthetic he hopes their new restaurant will convey. An outdoor porch will create the casual dining experience of their new restaurant, The Farfours hope to not only build up the Baxter Street business scene but to become a "community pillar."
Michael still plans to be at the farmers market so those who frequent the Athens Farmers Market won't have to worry about missing breakfast from The Farm Cart.
"It's where we started and there's a lot of great food vendors that have been added the past two years, which is great but we would like to continue to be there for our base customers," Michael Farfour said.
Continuing the legacy
Michael Farfour hopes to open their new restaurant by the end of April, but don't have an exact date.
He said they haven't come across any challenges in the four months of construction they "haven't been able to handle." However, Iwalani Farfour said it's the unforeseen challenges — the ones that haven't even happened yet — that pose the biggest threat.
Between working and caring for their son Kai, the Farfours said they're ready to open the doors and share the space with customers.
"I'm really excited ... [to] continue that legacy and create a larger space for people to enjoy the food that we love making for the customers," Michael Farfour said.