When Athens native Broderick Flanigan first started learning how to paint, he was fortunate to receive a set of blank canvases as a gift, he said. If he started a painting and it didn't come out like he wanted it to, it didn't cost him "anything but time."
"That's a part of life, I guess," Flanigan said. "Starting that practice as an artist, putting in that time to develop a voice or a style or a technique."
The self-taught artist is now a prominent Black voice in Athens whose work can frequently be seen in gallery exhibitions and murals throughout the city. Through his outreach program, Helping Art Reach Public Spaces, Flanigan involves local youth in his public art-making process and teaches them how they can also amplify their voices through art.
Building community
Flanigan established HARPS as an outreach initiative in 2015. About a year later, he incorporated youth development into the initiative through a teen mural arts program. He said the mural program has helped teens realize the power they have through public art to use their voices, raise awareness for different issues and commemorate history.
"[HARPS] is a program that kind of was an avenue for me to plug myself into the art scene in Athens," Flanigan said. "It was a way for me to develop and contextualize the work that I do."
Flanigan said he has partnered with the Clarke County School District in the past and painted murals with students within the schools. When he's working on murals with students outside of school, however, Flanigan said he pays the students a stipend to show them their time, efforts and ideas have value. He gives them more ownership over their murals by letting them help plan the designs, he said.
Among the various murals brought to life through Flanigan's youth program are three which decorate the walls of buildings surrounding his studio in East Athens. One of these murals features the faces of Black Athens matriarchs including Jessie Barnett, Evelyn Neely, Miriam Moore and Virginia Walker.
PHOTOS: Flanigan's Portrait Studio creates community and captures history in Athens
In Athens' Triangle Plaza neighborhood, community activist and artist Broderick Flanigan's studio stands filled with art both inside and out. In addition to being a business owner and Athens native, Flanigan is involved in several community organizations and has placed an emphasis on documenting Black history through art. For the full story, click here. 
This story is part of The Red & Black photo desk's weekly series recognizing Black-owned businesses in Athens.
Flanigan said his youth program will complete two new murals in the coming weeks to commemorate these women for their activism, their leadership and their work to bring resources and public services to East Athens.
"I thought it was very fitting to pay homage to them and to pass that history down to future generations," Flanigan said.
Evolving as an artist
Although he's loved art since he started drawing as a young child, Flanigan didn't have access to the types of arts opportunities he's created for youth through HARPS when he was growing up, he said.
Flanigan grew up around the corner from the Lyndon House Arts Center, and his grandmother's house was so close to it "you could throw a rock" from her porch, he said. He would play basketball next door to the center, but he never knew what it was.
"There were a few programs at the Lyndon House when I was growing up, but I didn't even know the Lyndon House existed back then," Flanigan said. "I would go to the community center right next to the Lyndon House, but I never knew what that building was or what it was about."
Flanigan is a self-taught artist, and he was in his late 20s when he realized he wanted to pursue art as a serious career. He said his art journey started off as him trying to find his voice, and it was "wildly experimental."
---
"That's a part of life, I guess — starting that practice as an artist, putting in that time to develop a voice or a style or a technique."
- Broderick Flanigan
---
When he started teaching himself to paint, he said he checked out books from the library to learn from the masters — Leonardo da Vinci, Raphael, Edgar Degas, Claude Monet and more. He studied their techniques and incorporated those elements into his own work.
Over time, Flanigan realized he wanted to become a master portrait artist, he said. His work has evolved to become more detailed and more photorealistic, but he doesn't want his paintings to look like photographs — he now focuses more on compositional elements rather than just technical work, he said.
One of Flanigan's recent portraits features his cousin over a yellow background. Bottle caps are adhered to the canvas in a circle surrounding his head to "represent place" and "how people interact in that space," he said.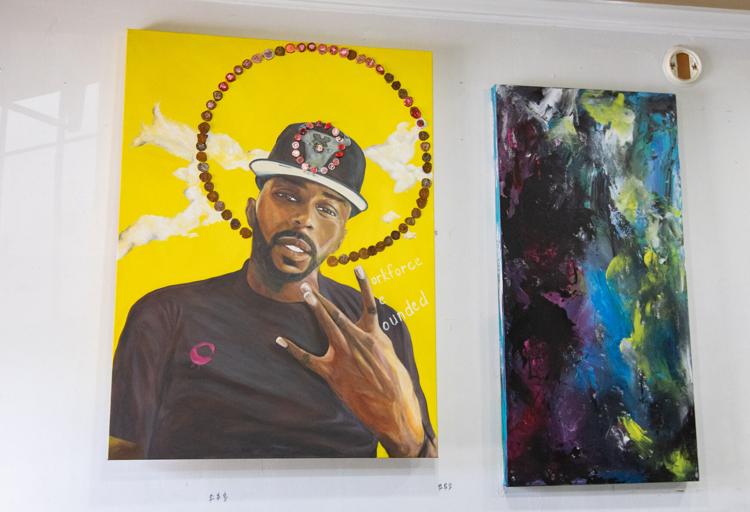 "I do want to be able to get to an aesthetic where I can create a nice portrait, but then also add other elements, like with the bottle caps, because in those ways I get to explore and expound upon ideas and people as they relate to environments," Flanigan said.
Documenting history
Flanigan tends to pursue cultural themes related to Black life and families, as well as themes of struggle and resilience, he said.
"In the face of all the oppression and terrorism that the Black community faced over the years, we're still here," Flanigan said. "We're still surviving, we're still thriving."
Flanigan also highlights historical Black figures through projects like his murals and his "Sitting with the Elders" exhibit. He said he believes the role of an artist in society is like that of a historian.
---
"I feel like artists have an important role in documenting history."
- Broderick Flanigan
---
Among his countless endeavors as an artist, Flanigan said his favorite project so far has been his "Sitting with the Elders" exhibit. He painted 25 portraits of prominent Black Athenians, including Mary Frances Early and Archibald Killian, through which he was able to document their stories. The collection was displayed in the Lyndon House last spring.
More recently, artists from Athens and around the country, including Flanigan, have created art in light of the Black Lives Matter movement. People will be able to look back on this point in history through their work, he said.
"They're creating murals about the tension between police and community, and doing murals about people that were murdered by corrupt police officers," Flanigan said. "I feel like artists have an important role in documenting history."
Flanigan also wants his art to spark conversations about the problems faced by Black Americans. Last year, his "Let Freedom Ring" showcase focused on equality and economic justice, he said.
"I wanted people to walk away from that recognizing that Black people in this country have a specific history and a way that we were excluded from wealth-building resources and mechanisms systematically," Flanigan said.
Flanigan said he wants his art to add to conversations which address and repair history, and he's confident in the way his creative process is growing and developing.