This summer, hundreds of books that would otherwise remain unopened will be delivered to young readers in the Athens area to promote literacy and empower young readers.
Bibliobike, the project of local school teacher Cameron Brooks, is designed to combat the "summer slide," a phenomenon in which children without access to books and other learning materials stall or fall behind in their academic levels.
For 10 years, Brooks has been teaching third grade at Chase Street Elementary, a Title I school in Athens categorized by a high number of students from low-income families. By working closely with students and comparing their reading levels throughout the year, Brooks has seen the effects of the summer slide first-hand.
"I noticed year after year, that there's a regression, sometimes one reading level, sometimes two," Brooks said. "I noticed that the kids for whom the summer slide was more significant were a lot of the same families who I end up doing home visits to. When I get to their homes, I see a lack of literature."
Access to books throughout the summer can be severely limited for families of lower socioeconomic statuses. Brooks said this is often accompanied by a lack of time for parents to sit and read with their children.
Janna Dresden has been a faculty member in the early childhood program since November of 2007. Dresden has coordinated a partnership between the College of Education and the Clarke County School District. She oversees Camp DIVE,  a summer program designed specifically to eliminate the summer slide.
This program, which started last year, aims to narrow what Dresden refers to as a gap between students that depends on what resources they can access throughout the summer.
"In general, what we find is that kids from middle-class or affluent families—in the summers—their academic skills continue or increase," Dresden said, referring to visits to museums, summer camps and access to literature throughout the break.
Dresden said this maintains or increases the academic achievements of these children, whereas kids from families with fewer financial resources cannot afford educational experiences during the summer.
"During the school year, the gap between the achievement levels of kids from homes with fewer economic resources and those with more diminishes from August to June," Dresden said. "School closes the gap, but in the summer it widens again."
Brooks said he took cues from a children's book featuring book delivery via horseback and a "biblioburro."
"The idea of sharing literature that would sit unopened on the shelves all summer long with families just made a lot of sense with me," Brooks said.
The response to Bibliobike has been overwhelmingly positive, as Brooks raised over $6,000 within 24 hours of opening his GoFundMe campaign in February, exceeding his monetary goal.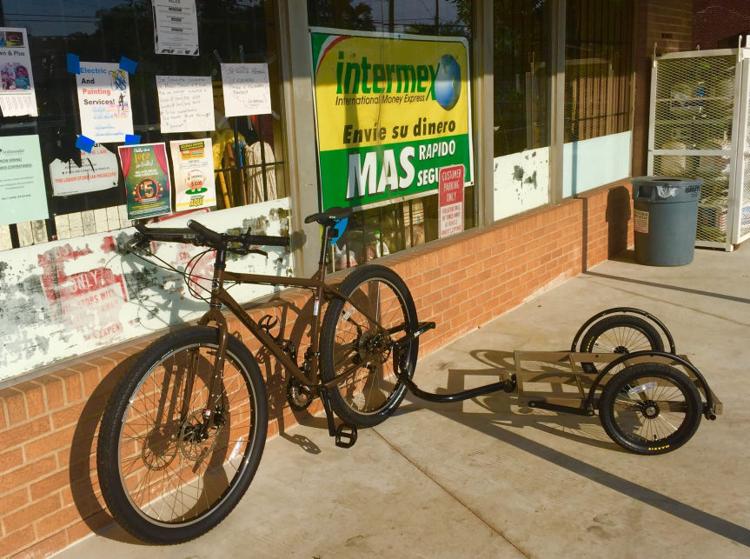 The Bibliobike, made here in Athens, will be a custom-made cart pulled by a bike. Brooks estimates it will be able to hold 100-200 books at a time. He said he plans to visit neighborhoods throughout the Athens area, taking special care to cater to the families of lower socioeconomic backgrounds whose children may not otherwise have access to books.
For the past four years, Tobie Bass has taught at Chase Street Elementary School. Bass works with students whose home language isn't English. For Bass, this mostly includes students whose primary language is Spanish, a demographic that often overlaps with families of lower socioeconomic backgrounds.
From the standpoint of both a parent—one whose daughter was in Brooks' class last year—and as an instructor of children that speak foreign languages, she sees the Bibliobike initiative as one that must be inclusive of all students.
"[Brooks and I] have talked about it being an important resource for the students I work with to have books not only in English, but also some bilingual resources as well," Bass said. "One of his goals is to empower students to take reading into their own hands during the summer."
Children will have a variety of fiction and nonfiction books to choose from, including picture books and historical fiction from Brooks' classroom library. They will be able to check books out using a software Brooks will make available via the Bibliobike's cart. The children will keep the books for a set period of time before returning them to the cart at a later date. This will encourage them to be independent and responsible.
Brooks has also partnered with Books for Keeps, a local nonprofit that has given more than 260,000 books to children from low-income families since 2009. Books are collected throughout the year and given to children in grades pre-kindergarten through 12 each May.
Leslie Hale, executive director of Books for Keeps, said the organization reached out to Brooks because its goal of reaching children who seldom have access to books in the summer are well-aligned.
"We said it would be simple to get some books into [Brooks'] hands and onto his bike that could go to these families," Hale said. "Because he is serving a need in a really distinct way but under a similar mission, it made sense to see how we could support his efforts."
Brooks will be given access to Books for Keeps' annually collected, gently-used books throughout the summer, and these will be given to students to keep rather than to borrow.
"Cameron is reaching families that have this need in a really unique way," Hale said. "We're excited to be helping him reach these families, as it will only help increase the way they see their families as readers and their homes as a place where reading is supported.
Brooks' goal was to begin delivering books by the beginning of the month,  but delays in making his custom cart have pushed back his starting date to mid-June. Still, he is excited to help every child find something they like, while also helping them improve their language and reading skills.
"I hope to spark a love of reading for kids who haven't found that special book yet," Brooks said.