University of Georgia junior Samantha Lee's tweet went viral after she shared how a meatball fell out of her sub sandwich and caused her to fail her online economics test.
Many of those who commented on Lee's tweet seemed to relate to, or were surprised by, how understanding her professor was when she asked him if she would be able to retake the exam.
Lee said she was eating the meatball sub during her test because her dad surprised her with it, and she didn't want to wait because her sub would get cold. While she was eating, a meatball dropped out of her sub and onto her laptop keyboard, exiting out of her browser and her test, Lee said. The result: a failing grade on her test.
When she first realized what had happened, Lee said she initially panicked but then switched to "cleaning mode" because she didn't want marinara sauce to ruin her laptop's keyboard.
Lee's friend Eileen Clark, a junior early education major from Marietta, Georgia, said when she saw what had happened via Snapchat, she thought it was very fitting for Lee's character because she is "a funny person."
Lee said she took several hours to draft and send an email to her professor, explaining the uniqueness of the situation which caused her to receive her extremely low test grade. Even though she didn't believe her professor would allow her to retake the test, Lee said she still wanted to explain to him why her test score was so "horrible."
To Lee's surprise, she said her professor responded the next day. In his email response, Lee's professor extended the deadline for her test and encouraged her to take it either before or after dinner.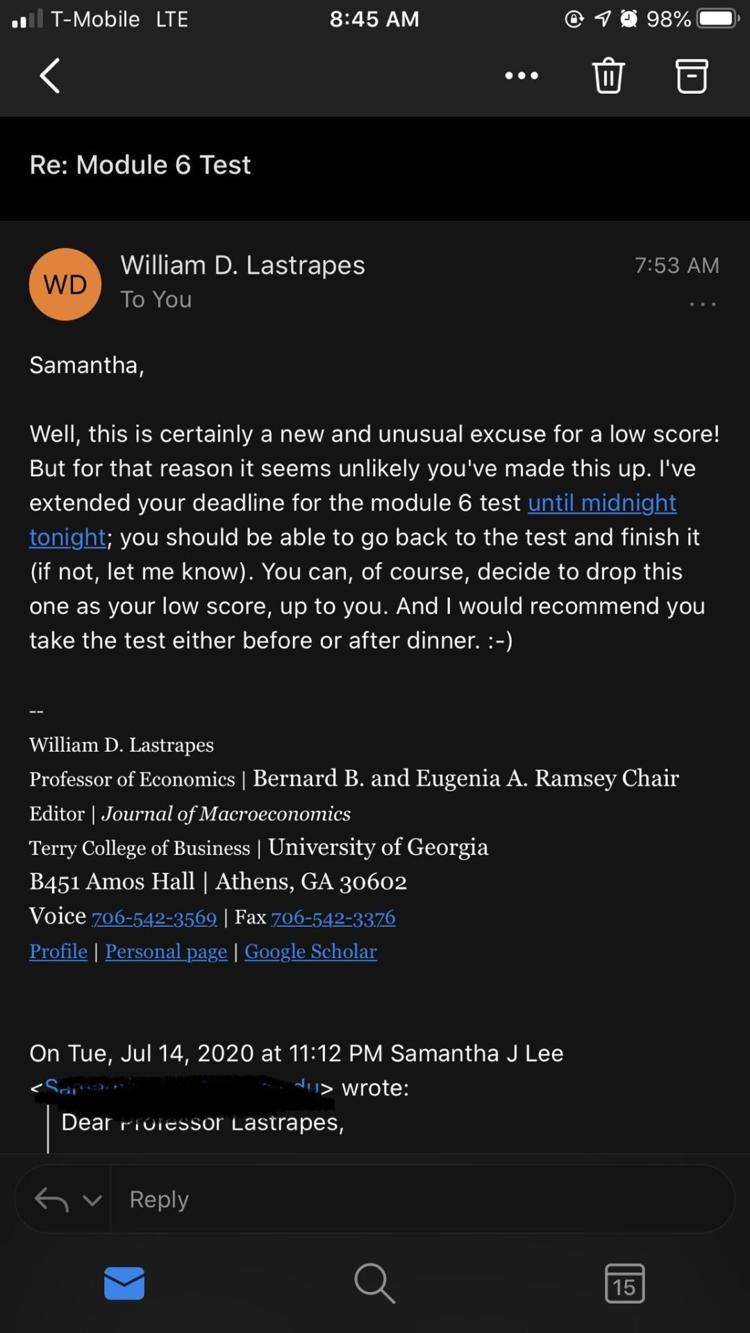 Despite her professor's advice, Lee said she won't completely stop eating during her tests, but said she will make the "sad transition" into not eating messy foods next to her laptop.
Lee's strange excuse and the overall weirdness of the situation, as well as her professor's understanding response, are what Lee attributes to her tweet going viral. Many people shared their own "ridiculous" emails with professors, Lee said.
Clark said she thinks some people's varying experiences with professors have a lot to do with the subject matter they teach. As an education major, Clark said her professors have been "lenient and understanding." Still, Clark said teachers being understanding and listening to their students should be normalized, especially because of the different situations people may be going through during the coronavirus pandemic.
"Teachers should be in a state of mind to trust their students and give them what they need, no matter how bizarre it may seem," Clark said.
Despite the overwhelmingly positive response, Lee said she did receive some hate for being "reckless." However, she said she liked these tweets as well because they are only trying to teach her "not to be be dumb anymore."
Clark said she completely disagrees with the people who said Lee was being reckless.
"They're going to say they've never had a snack while doing work. I'm sorry but that's bogus," Clark said.
Lee said incidents like hers are bound to happen more often because of the increase in online classes due to the coronavirus pandemic. In her own life, however, Lee said she hopes "nothing like this happens again."