Now that winter seems to have finally arrived here in Athens, there's no better time to start stocking up on recipes for dishes to bring to your holiday party. The Red and Black asked chefs in Athens to share recipes for some of their favorite seasonal dishes and how to recreate them. Here's what they had to recommend. 
Apple rustic tart
Debra Wright, the pastry chef at Big City Bread Cafe shared her recipe for an apple rustic tart — her favorite fall pastry item. Wright described the dish as "a blend of sweet and tart north Georgia apples warmly spiced with maple and ginger in a buttery peasant style crust."
Combine flour, sugar and salt in large bowl. Cut butter into flour using a pastry cutter or by rubbing butter into flour with fingertips (see note above) until no visible pieces of butter remain. Add 2 tablespoons of ice water and fold with a rubber spatula until just moistened, pressing dough against itself on the side of the bowl to form a mass of dough. Add up to one more tablespoon water if too dry. Do not over mix. Press dough into a five-inch disc and wrap in plastic wrap. Chill for one hour. 
Adjust oven rack to middle position and preheat to 325 degrees. Łay a sheet of parchment paper on a work surface. Roll dough into a 13-to-14-inch round using a lightly floured rolling pin. As you roll, press outer edges together to prevent them from cracking. Transfer parchment paper and dough to baking sheet and refrigerate until ready to use. 
Combine apples, cranberries, sugar, flour and cinnamon in a bowl and toss to combine. Pile fruit filling into center of dough, leaving a perimeter of about three inches. Fold dough up and around the filling, trying to avoid letting the dough crack. Dot the fruit with butter. Bake until crust is golden and fruit has softened. Let pie cool on pan. Slice and serve. Pie can be stored loosely covered at room temperature overnight. 
Squash casserole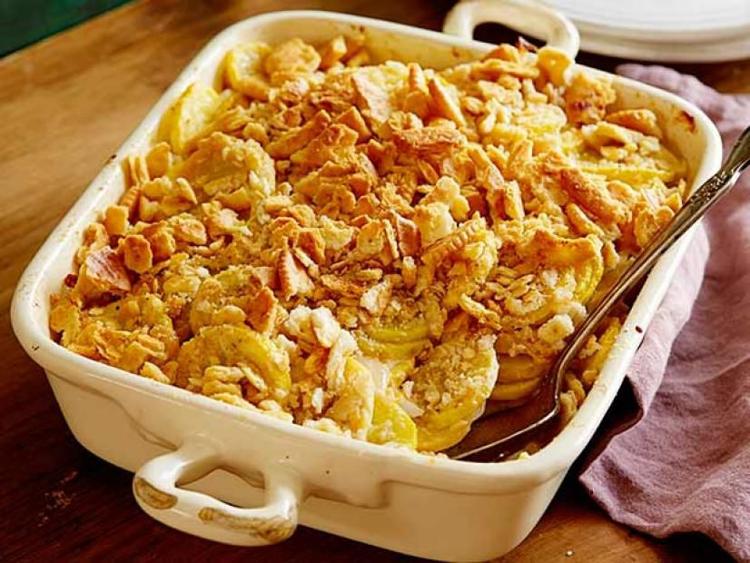 Marti Schimmel, owner of Marti's at Midday in Normaltown, shared the steps to make her grandmother's squash casserole, a dish she describes as perfect for any holiday table.
Schimmel acts as her grandmother, Martha Schimmel's namesake, and credits her with inspiring her passion for food.
"She taught me life lessons on sharing and caring for others," Schimmel said. "Most importantly she taught me how to cook from the heart and to serve every single meal with generosity, gratitude, and love. 
Those who are less culinary inclined but who still want to test their taste buds out on this dish can order it for pickup at Marti's at Midday for the Christmas season.  
Bring one large pot of water to boil with Kosher salt. Boil squash and onions until squash is very tender (about 15-20 minutes). Drain and cool. Squeeze out all the excess water (this step is very important). Squeeze first in a colander and then blot it in a pan lined with paper towels. If you don't get all the liquid out from your squash casserole will be watery.  
Preheat oven to 375 degrees
Spray a 9x13 casserole pan with baking spray
Combine all the above ingredients. Stir in the squash. Pour into prepared casserole dish. 
Top casserole dish with first cheese, then crackers, then sprinkle with green onions and then drizzle with melted butter. 
Bake casserole for 40-45 minutes in pre-heated oven. Let sit 10 minutes before serving.  
Sweet potato pie
Mama Jewel's Kitchen owner Kelley Padgitt is also reminded of her family when the fall season comes around.
"As a child, you knew you were 'home' when you walked in her house and could smell the sweet potatoes roasting. You knew you were in for something special," Padgitt said. "I love to recreated that smell and that feeling of biting into a slice of pie that was made with love, just for you."  
Although Padgitt's grandmother never baked with a recipe, Padgitt adapted one of her own based on her grandmother's teachings. 
Roast sweet potatoes in oven at 350 degrees until soft in the center.  Cool and peel. (You can peel and boil them, but I love them roasted). While your potatoes cool enough to handle, place a cast iron skillet in the oven to get hot.  
Add roasted sweet potato, butter, brown sugar, condensed milk and eggs to a mixer. Mix until smooth. Add lemon extract* and mix until just incorporated.
Pour into unbaked pie crust.  Place unbaked pie (tin pan and all) in hot cast iron skillet. Bake at 305 degrees for 50-60 minutes, until just set in the center.  
Let pie set and cool on the counter. Slice and enjoy with a dollop of whipped cream.
*Lemon extract can be substituted with any other spices. Change it out for vanilla, ½ teaspoon each of cinnamon and nutmeg or try ½ teaspoon almond extract and dust the top of your pie with powdered sugar. Add a little cinnamon to your whipped cream for a little something special. Make it fun and make it your own.