When Kelly Rice agreed to be a subject for a local photographer's personal project, she had no idea that a freezing day in November would produce a photo that would go on to be internationally published. The photo was published in what is described as the "largest and most influential yoga brand" magazine: Yoga Journal.
Boasting "12 international editions spanning 28 countries," Yoga Journal has been described as the "Vogue of yoga." The German spring edition for 2018 reached out to Rice, a local yoga instructor at M3Yoga, about the photograph she on her Instagram account. The photo, which features Rice in a jaw-dropping, deep backbend called Dancer Pose, was actually one in a series of photographs taken by Dorothy Kozlowski, a Grady graduate of the University of Georgia who now works as a photographer.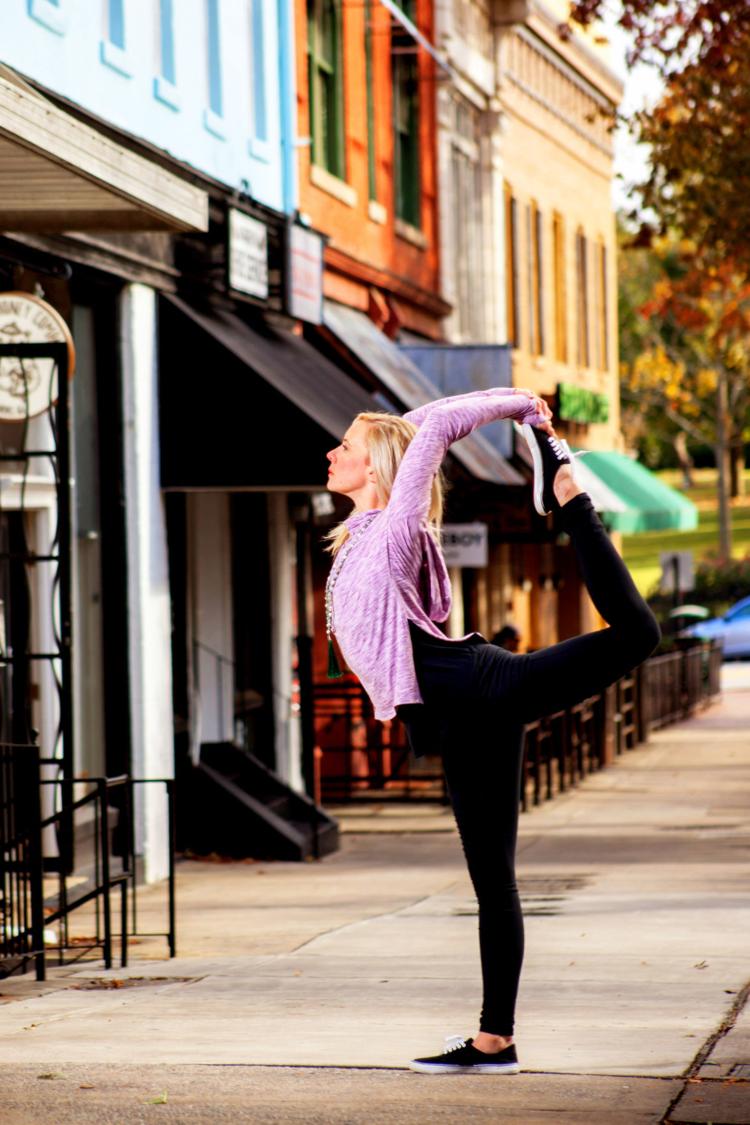 "It was a personal project I was doing. I've just been calling it 'Yogis Around Athens,'" Kozlowski said. "I have no creative name for it."
Kozlowski explained that she came up with the idea after practicing acroyoga, a combination of yoga and acrobatics.
"I had this idea that I wanted to do this personal project as a creative outlet for myself. I had been doing acroyoga classes and meeting a lot of people in the acro-community, which then melted into the yoga community," she said.
Her own background as a gymnastics coach of 17 years gave Kozlowski "an affinity for really beautiful forms" as well as an interest in "the extent of what the human body can do."
"I know that's not what yoga's all about, but there's something so beautiful about the shapes that come out of it. I knew I wanted to photograph something where I was photographing yoga or gymnastics or acro-shapes, and I started seeing other people's projects around bigger cities," Kozlowski said. "I saw something that was acro-yogis around New York City. I was like, 'This would be so much fun in Athens.'"
Kozlowski wanted to pair local yogis with traditional Athens landmarks, but she had some difficulty getting the project started.
"I have a lot of ideas but I'm really bad at [pursuing] them, so the guys at M3 were like, 'Alright, let's do this,'" she said. "And [Rice] was my very first one."
The actual image was one of many taken on a frigid day in November. It was so cold and windy, in fact, that Kozlowski almost called it off.
"It was so freezing cold that day but [Rice] wanted to do downtown. She was a freaking champ," Kozlowski said. "I honestly had no idea what she was capable of or what she was going to do. I was leaving that up to the yogis themselves, like 'Here's some spots but what speaks to you?'"
What Rice chose to do in the photograph that ended up being selected by Yoga Journal was Dancer Pose.
"Dancer is one of my favorite poses. I'm really good at backbends," Rice said. "They're heart-openers — they open and expand your chest."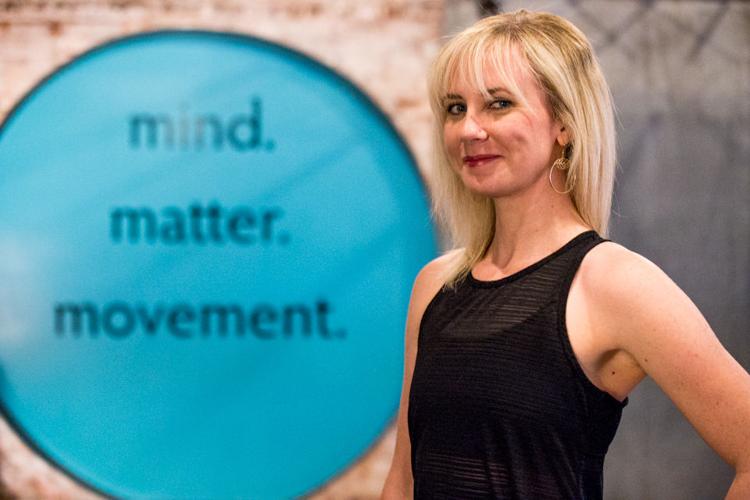 Because she was being photographed, Rice was forced to hold her pose for a very long time, Kozlowski said.
"The yogis themselves actually have to get into a mental state when they're in these poses, especially because I have to get them to hold it for a while. They really do have to find this different mental state to be in, even though we're in the middle of a photo shoot," she said. "It's neat to witness that."
The two finished the photo shoot, neither of them expecting to get anything more out of it, least of all international attention. But the actual selection of the photo for Yoga Journal was something of a "freak thing."
Rice has an Instagram account, though it doesn't "have a big following." When she received the picture, she decided to post it on her account a few days before her birthday. Though she was celebrating hers, Rice was also reminiscing on the death of a friend.
"He died of cancer. He was 33," Rice said. "I knew him my whole life [and] I was there for him the whole time. He died and it was hard."
Rice said that through this reflection, she thought and addressed how happy she was to be alive, despite the stigma of turning another year older.
"I was reflecting on the fact that I was turning 34 while my friend isn't here to turn 34. So I wrote a post about that and what it felt like as woman to turn 34 and how sometimes people don't want to say their age," Rice explained. "But I was like, 'I'm 34 and I'm happy to be alive because some don't get to turn 34.' And that was the post."
The pose Rice chose for the picture – Dancer Pose – was not only one of her favorites, but also symbolic for the moment.
"I chose that pose because you're grounded, you're standing up and strong, and your heart is just lifted. It's a very deep back, thoracic and lower lumbar pose — just opening the heart," she said. "That's why I chose it: for street yoga and for the caption."
From there, the process of the image getting chose by Yoga Journal was a combination of two things: sheer chance and stunning photography by Kozlowski.
"What happened was apparently Yoga Journal Germany was on Instagram and they looked through the street yoga hashtag. I don't know how they found mine with only 500 people following me but they did," Rice explained. "They really liked it and the colors."
However, Rice said that when Yoga Journal contacted her, she believed it was a scam.
"They contacted me and I thought it was a scam. I messaged the owner [of M3Yoga], Nick, and said, 'Is this real?' and he said, 'Yeah, I think this is real,'" Rice said.
Although Rice and Kozlowski got in contact with Yoga Journal and approved of the magazine's use of Kozlowski's image, they didn't know anything about the process or what would actually be printed.
"I didn't know for sure if it was going to be in the magazine until February. They didn't tell me anything," Rice said. "But it's in the very front of the magazine. What I did translate is that they did a feature for spring of the most beautiful pictures of street yoga from around the world."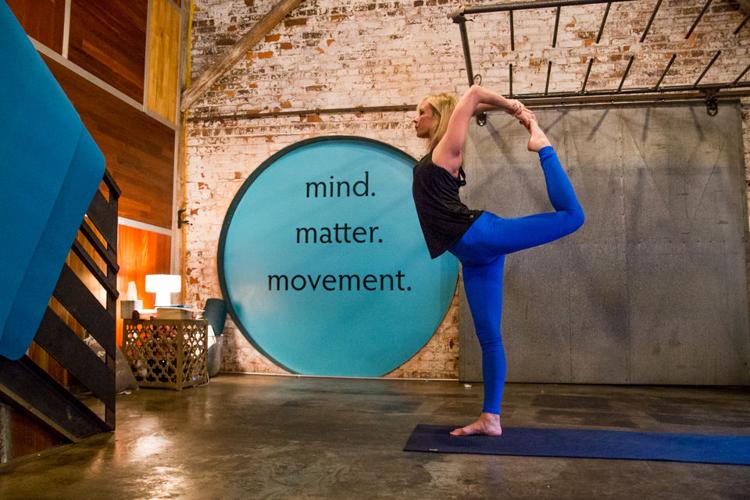 One of the most amazing things about the publication of Kozlowski's image is the fact that it's the only one from the United States. All the other photos featured are from various other countries.
"Me and [Kozlowski] are the only ones from America. There's ten pictures, and they chose one from America," Rice said. "They chose Athens, Georgia. It was just a shock."
Nick Combs, the owner of M3Yoga, said he was ecstatic.
"It's a really big deal, particularly since it's the only U.S. photo. The photo is amazing," he said. "When I found out Yoga Journal picked it up, I was super excited. I couldn't be more happy."
Despite her moment of fame, Kozlowski said she is continuing the project and is even considering the idea of producing a photobook, though the latter is a work in progress.
"It's just an on-going project. It's fun and I still have a whole list of people that I haven't scheduled a shoot with that I know are interested," Kozlowski said. "It is a fun community connection.
For Kozlowski, her love of both photography and Athens propels her forward and inspires her to continue creating.
"There are so many people that love this town and hold a deep nostalgia for it. Working for UGA and seeing how people react to images or stories from Athens really drives that point home," she said. "The reason I got inspired from a similar project done in N.Y.C. was because it's one of those cities that people recognize immediately when they see it and many have stories or memories attached to it. On a much smaller scale, Athens is the same way, and I wanted to bring those feelings and emotions into my project."