As a kid, Travis West, more commonly known by his stage name Dictator, always knew he would end up in music. For Dictator, it was something he kept coming back to, even during his days in high school, when the NFL dream was all his tunnel vision could see.
He grew up in the neighborhoods of Athens with a Walkman attached to his hip and headphones glued in his ears, always looking for the newest tracks to freestyle with his friends. Eventually, he began spending his evenings after school in the studio for hours on end.
"I guess it was always in me at some point in time," he said. "Ever since then, it's been eat, breathe, sleep music. No music, no life. I have it tatted on me."
Now, 15 years later at age 30, Dictator sports musical tattoos up and down his arms, showing how ingrained this scene is to his identity. He leans forward when he talks, eager to share his thoughts and flags down strangers in the street to chat with them as they pass. After 30 years in Athens, the name "Dictator" is far from foreign to most locals.
Dictator is one of the most established rappers in the Athens hip-hop scene, having been in and out of clubs for over a decade and mentoring rising rap stars such as Kxng Blanco. Blanco, an 18-year-old musician from the west side, is known in Athens as "King of the youth" and credits his consistency and perseverance to Dictator.
"He is a living legend," Blanco said. "He has done almost everything that you can do in this city. His movement is everlasting, that's why he can go to any stage and perform and somebody in the building is going to know who he is."
---
"It's deeper than rap for me. I want it to be known that I am are here for the people. I'll always be here making a difference for my people."
- Dictator, local rapper
---
Dictator's most recent album "Buddah," released in 2016, illustrates a more introspective side of Dictator. He reflects on the past decade and a half in the hip-hop scene, touches on his struggles with his mom being sick and shows more parts of himself to his listeners than he has shown before.
"I'm not a buddhist, but it means awakened one. I feel like, having just turned 30, I'm woke," Dictator said. "I see what is going on, I feel more in tune with who I really am. I don't think I have the whole grasp of it yet, but I am at that point where I want to slow it down and tell my story."
He used this album as an opportunity to open up about who he was, how he has grown through his career and what he was going through. He felt he owed this to his loyal fan base who supported him for so long.
He has fans who check on him on a daily basis and, after asking them to pay attention to him in his scene, put money into his projects and come out to his shows, it was time to enlighten them about the man behind Dictator.
"I just try to deliver. I want to make music that can last forever," Dictator said.
But the community of hip-hop wasn't always so inviting to Dictator or his other peers. When Dictator first started playing shows in Athens, back when North Avenue was home to different clubs, he said there was little room for a hip-hop scene in downtown Athens.
"Those people on North Avenue weren't letting us on stage over there. That's why we had to take over the urban clubs," Dictator said. "They weren't letting us come down here and do that and if they did, they wanted our music to be a certain way."
Because of this, he found himself playing to crowds in urban clubs on the outskirts of Athens. Dictator said this helped prepare him to withstand any reaction he could receive from crowds. He sees the value in serving the fan base and delivering compelling performances, whether there are five or 500 people in the crowd.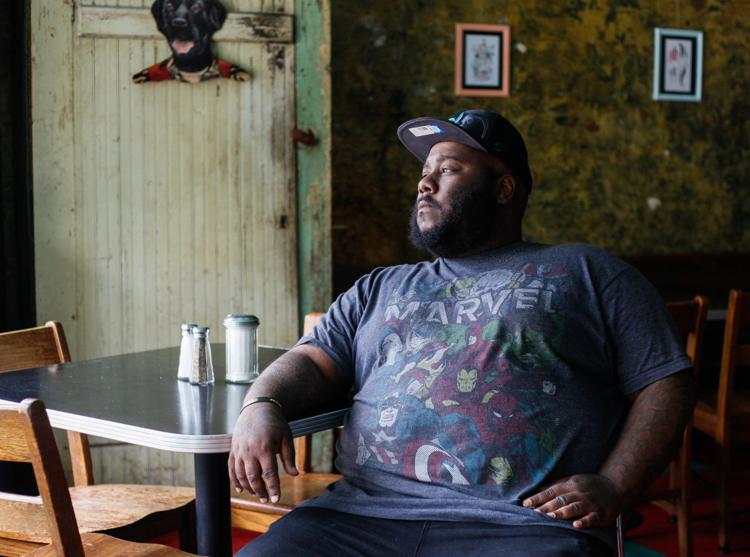 "I am out here. It's deeper than rap," Dictator said. "A lot of folks think it's all about music, but with me, it's not. I have nieces and nephews, I have little homeboys in the neighborhoods who ask me for a dollar when I ride through. I do it for them. I do it for the youth."
When describing the culture of hip-hop in Athens, the knee-jerk way Dictator described it was to say it was divided. Despite mentioning that he observes a positive upward tick in the hip-hop community in Athens, he still sees holes where local support is lacking.
"I love my city, I just feel like we need more unity," he said. "I'm not the only one who feels this way either. There are people in Athens who don't accept local talent like they should.'
In spite of this, Dictator makes a conscious effort to give back to the community he planted his roots in. Whether it is through sparking local talent like Kxng Blanco, or hosting his annual cookout which provides free food and drink to the community, Dictator's efforts transcend just his music.
"It's deeper than rap for me. I want it to be known that I am are here for the people," Dictator said. "I'll always be here making a difference for my people."