Farmers, woodworkers and bakers gathered April 2 at the first Downtown Culinary Showcase, a new vendor's market situated in front of City Hall that will run every Tuesday until October.
The Culinary Showcase is one of several events hosted by the Culinary Kitchen of Athens, an organization that provides opportunities for Athens entrepreneurs to expand their audience and grow their business. One such resource is a proposed "incubator space," a shared commercial kitchen to be located in downtown Athens. Small vendors would be able to rent space in the kitchen, easing the burden on retailers without their own commercial space.
"We really thought this was very important to focus on the vendors having a space that they could feel comfortable producing their products," Rashe Malcolm, director of the Culinary Kitchen said, referring to herself and her partners.
Many of the Showcase's vendors have cottage food licenses that only allow them to sell directly to consumers. Vendor's markets are sometimes the only opportunity cottage food businesses have to bring products face-to-face with customers. 
"It also gives us back that feel of being out in the open and having people walk by and purchase things, which for me is very reminiscent of Jamaica," Jamaican-native Malcolm said. "We showcase our talents, which is why we're calling it a Downtown Culinary Showcase."
Here are some of the vendors who will be selling at the market this season.
Eno's Baked
Jon Ramsden has baked as a hobby for over 30 years but just a few months ago, he decided to turn his passion into a business. Eno's Baked offers a selection of pastries that includes chocolate chip walnut biscotti and ginger banana bread as well as entire cakes for $12, all from scratch.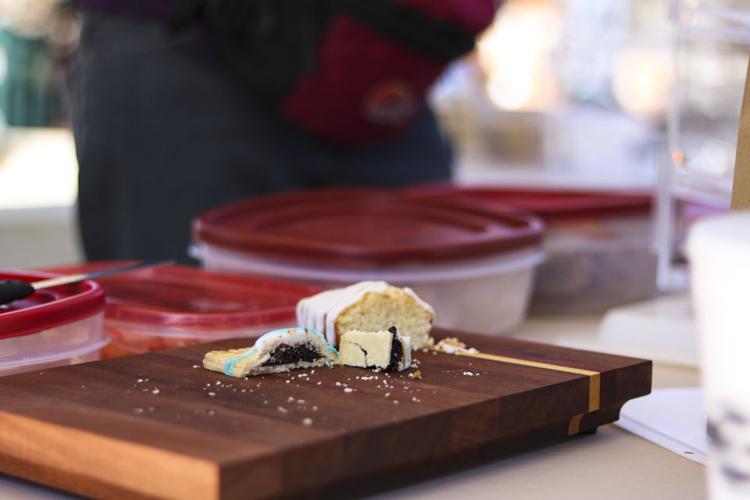 The Eno's Baked stall also offers Ramsden's $4 hand tarts which are filled with either strawberry or blueberry filling and covered with lemon icing. 
"These ain't no pop tarts," Ramsden said on the bakery's Facebook page.
Taterville Farms
Don Bundrick is one of the first farmers to offer produce early in the season. His bright orange farm truck, the "Tatermobile," displayed carrots and several varieties of lettuce.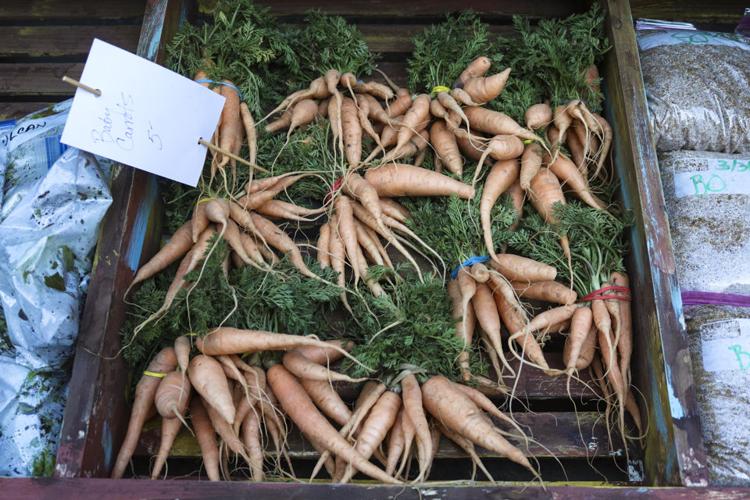 "We try to do as much heirloom variety as possible," Bundrick said.
Bundrick said he prefers to grow crops that naturally flourish in Georgia's climate instead of choosing genetically modified strains that might be harder. He said wants to bring back where people feel connected to their food.
Bundrick also sells $20 mushroom kits allowing customers to do some farming of their own. Users need only to layer the mushroom medium with coffee grounds, creating a mix that will soon produce fresh oyster mushrooms. 
VTasteCakes
University of Georgia graduate Jasmyn Reddicks' $3.50 vegan cupcakes come in traditional staples like double chocolate, but new flavors are always in the works.
"Her goal is when the seasons change to come out with new flavors," Wendy Reddicks, Jasmyn's mother, who runs the stall at the Culinary Showcase, said.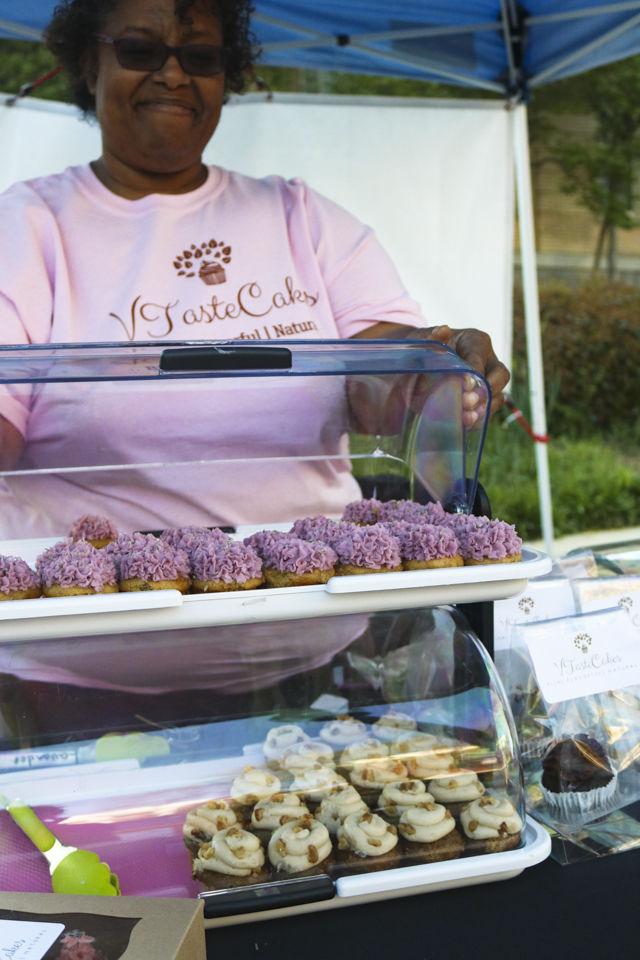 VTasteCakes recently introduced a lavender cupcake, and more fun flavors are soon to follow. Wendy herself is partial to a fall flavor, maple spice, which is $3.75 — a pumpkin spice cake with maple syrup and walnuts.
MEplusTEA
Precious Jones' $5 loose-leaf tea blends offer "pretty much anything you can think of in a tea," from strawberry and rooibos to Georgia peach. 
"If I don't have it here and it's a really good idea, I'll blend it," Jones said. 
She also sells a home remedy line of teas for allergies, pain and nausea, some of which are recipes she inherited from her grandmother. In addition to blends, Jones also offers honey straws and biodegradable bags to make a cup of tea on the go.
Biger Creek Farm
When John King and his wife couldn't find a vinegar they liked, they began experimenting with creating their own, infusing flavors like garlic and thyme. After developing each flavor, they would invite friends over to try it, who suggested the Kings should sell their kinds of vinegar. 
"This just grew out of our love of cooking and socializing," King said.
King uses the vinegars, which are $5 a bottle, on bread, with goat cheese, or even sprinkled over sautéed vegetables. His favorite flavor is garlic, which he also uses to slow-cook chicken in a Dutch oven.
Chalises
Adrienne Chappell offers an extensive line of natural bath and body products. All of the products are vegan, and many are made with herbs she grows in her own garden, including lemongrass, rosemary and lavender.
"I am so partial to all of our products, I don't buy things from the store that are in this line," Chappell said.
Her stall's display includes soaps, lotions, shampoos, pomade and even wine bath bombs.
"When you take a bath, you can think about dipping your body in wine and drinking a glass of wine with a candle — it's all therapeutic," she said.
Grands Designs
Mark and Rhonda Palmer, both born and raised in Athens, recently took their woodworking business full-time. The Palmers began with cutting boards, which start at $40, and now offer ornaments and magnets, each hand-cut by Mark and painted by Rhonda.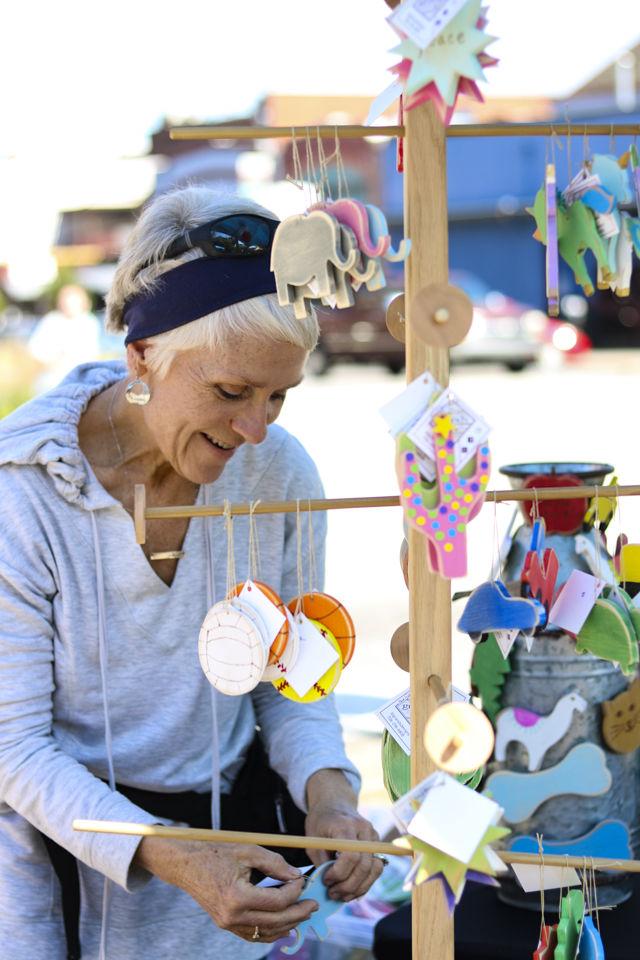 "One thing that's important to me is that the wood I use is sustainable," Mark said. "They're all local woods." 
His favorite woods to work with are cherry, maple and black walnut, which he says make great cutting boards because they're fine-grained but also durable. Mark often reminds his customers that the boards are functional as well as decorative. 
"They hold up — you're not going to ruin it by using it," he said.