As the second week of February rolls around, the Athens Showgirl Cabaret members mark their calendars for two events — its ninth anniversary as a troupe and the annual Newbie show.
The established drag troupe is looking for a new house and alternate members on Feb. 13 at Go Bar. The Athens Showgirl Cabaret is looking to give new kings, queens and performers an opportunity to get more involved in the drag scene.
Since their formation in 2010, the Athens Showgirl Cabaret has experienced all the ups and downs of the Athens drag scene — the troupe has watched performers come and go, seen new drag troupes form and have participated in various shows around town including Boybutante Balls, Athens PRIDE and Lambda Alliance's drag shows. The showgirls host annual Newbie shows provide the opportunity to join in on that same experience.
"Drag is a hard business to get into; the drag business and scene is very different in every town," said show director and troupe-founder Kellie Divine, known as Kelly Phillips off-stage. "I try to give everybody an equal opportunity to perform and get their career started."
A continued tradition
A Newbie show was the kickstarter for the drag career of Jenn Sparx, or Trevor Ramsey off-stage, an Athens Showgirl member. Since being in Athens for six years for graduate school at the University of Georgia, an Athens Showgirl Cabaret Newbie show five years ago provided the impetus for her performance persona. Sparx said for individuals interested in drag but unsure how to get into it, Newbie shows are ideal.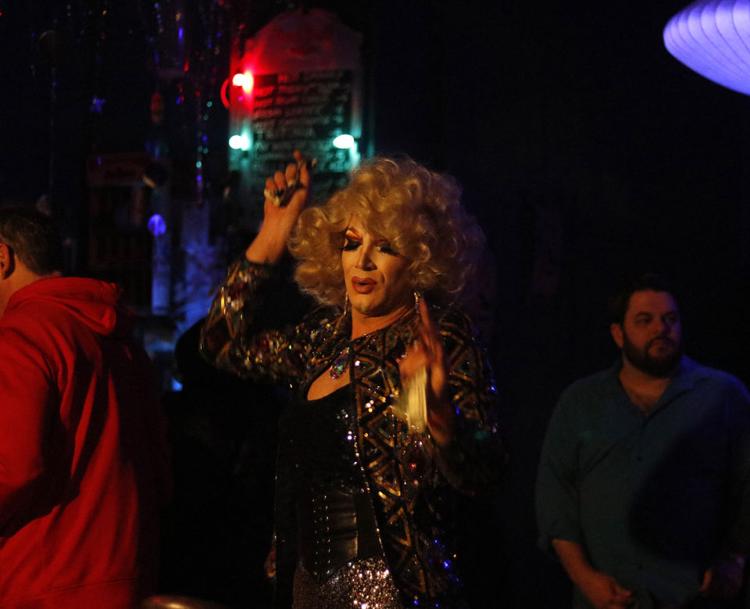 "[House members] do numbers during the Newbie show too, so we share a tent or dressing room with [aspiring members] and instantly can create that bond from the start," Sparx said.
How show night works
While this year's first Newbie show was on Feb. 6, there will be a four-week installment of shows, with new performers dressing in the style of two themes each night. Participants and viewers can expect to see the newbies perform one theme, with an intermission and a performance by different Athens Showgirl members, followed by a performance of the second theme.
The four-week installment is to ensure new performers know what they're signing up for, Jennifer Smiles said, who's performed with the group for three years. Smiles, known as John Burnette off-stage, also was thrust into the drag scene through the Showgirl's annual Newbie show line-up. Smiles compared the event to a "three-show warm-up with a finale."
"With new drag queens, it might take a little more to find who you are and what you're going to be doing," Smiles said. "Although we promote everyone coming, in the end, it is a show. We hold auditions and we make sure that getting into drag will fit with everyone who wins the competition." 
Not only did multiple members from the Athens Showgirl Cabaret begin their drag career with a Newbie show, but the troupe itself is familiar with being the new kids on the block. When the troupe started nine years ago, there were no resident drag groups in town. Divine, along with others, decided it was time to bring the art form to Athens.
Remembering their roots
Since the beginning, the drag scene and the LGBTQ community has expanded with numerous drag shows starting and through more widespread acceptance of different sexualities, according to Sparx.
"The drag scene has exploded," Sparx said. "When I started with them, we were the only drag group that was in town, and there were a couple of bars with drag events. It's really gotten big, and all of it despite not having a dedicated gay bar."
The interest of new queens and kings is essential in the continued growth of the drag scene. For Divine, who has been in the business for nearly a decade, generating interest begins educating upcoming performers. Divine said the goal for the Newbie show is to be an educational experience.
"A lot of my judges are older queens who have been in the business for over 10 years, so I try to give feedback to the entertainers who come to the competitions," Divine said. "You learn how the business works through older entertainers."