Instead of holding field trips to thrift stores and flea markets, Andrea Trombetta, a fabric design professor at the University of Georgia, gave her students the opportunity to utilize old prom dresses, postcards, plastic bottles and other common household objects to create their final wearable art project of the semester. While her students were working on their projects, Georgia was under a statewide shelter-in-place order.
Trombetta researches materiality and upcycling, which inspired the wearable art final project for her material futures class. This project allowed students to create wearable art using recyclable materials while utilizing technical skills learned throughout the semester, such as machine embroidery, quilting and pleating techniques.
"The limitations of being bound to their own shelter pushed students to utilize their own resources and work ethic, which helped them produce exciting and innovative work," Trombetta said.
As students are away from campus, professors like Trombetta in UGA's Fabric Design program had to alter their curriculum and project plans. Students and professors had to overcome the virtual limitations of presenting their art and adapt to projects without access to studio materials or trips to thrift stores and craft stores.
Fabric design professor Jennifer Crenshaw sent fabric supply kits to her students so they would not have to leave their homes to gather adequate materials. Students in her textile foundations class received materials to complete shibori and marbling projects, which are fabric dyeing techniques.
Elena Godiers, a senior fabric design major from Atlanta and a student in Trombetta's material futures class, designed a tube top using photos of her and her friends and a sheer cardigan.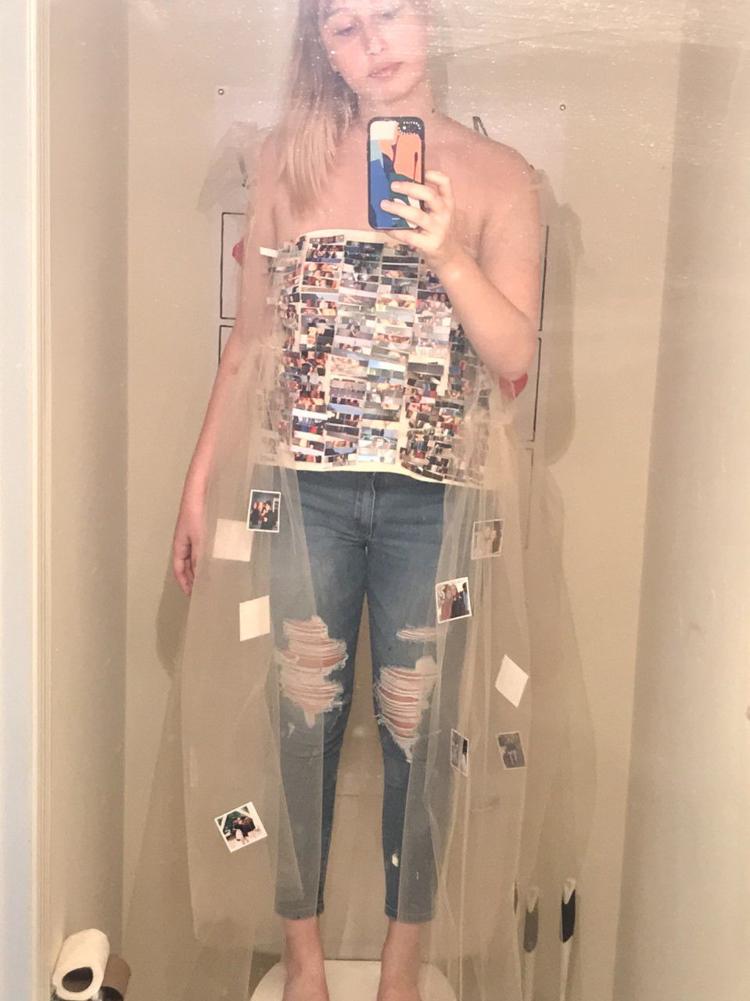 "It ended up being the perfect project for quarantine, now that fabric is harder to get and still expensive," Godiers said. "With enough experimenting it came together and became a lot of fun."
If given the chance to do this project again without staying at home, Godiers said she would like to go to Joann's to experiment with colored fabric and different textures.
"The shelter-in-place had a historical and emotional impact on the agenda and producing this final project," Trombetta said. "Students built work knowing they'd have to critique it via Zoom and rely on documentation of images and videos to properly catch the movement of the work live."
Sarah Landmesser, a sophomore fabric design major from Greenville, South Carolina, and a student in Crenshaw's textile foundations class, made a set of three makeup bags out of shibori fabric she dyed with supplies sent to her by Crenshaw.
"The supply kits were amazing. It was upsetting to know we were losing access to the materials and studio time that makes up so much of our classes," Landmesser said. "But Jennifer's supply kits made the world of a difference of finishing the class at home."
Frances Shomake, a junior fabric design major from Lawrenceville and student in Crenshaw's surface design class, which also received supply kits, said the kits were a great way for the class to continue projects that related to the original purpose of the class.
Shomake created a garden-like scene out of cyanotype fabric Crenshaw sent. Cyanotype is a photographic printing process using chemically treated fabric that reacts to light.
"By sending us these supplies, Professor Crenshaw gave us back a piece of the studio that we no longer had access to," Shomake said. "She relieved the stress of scrambling to find materials to complete our projects, which was a tremendous help."