The menus in Athens restaurants are starting to change along with the quick changing of the seasons. Grab your friends to try some tasty, fall-inspired dishes around the Classic City. We compiled a list of Athens restaurants that have fall dishes you don't want to miss.
The National
The National serves Mediterranean inspired food along with a quaint ambience, and has new fall dishes in store for patrons. The National's pan roasted salmon comes with creamy rice middlins, ratatouille dressing of zucchini, peppers, eggplant and tomato. 
"Chefs look forward to creating new menu items because the restaurant is driven by the changing seasons of Northeast Georgia," said Erin Wilson, general manager and partner at The National.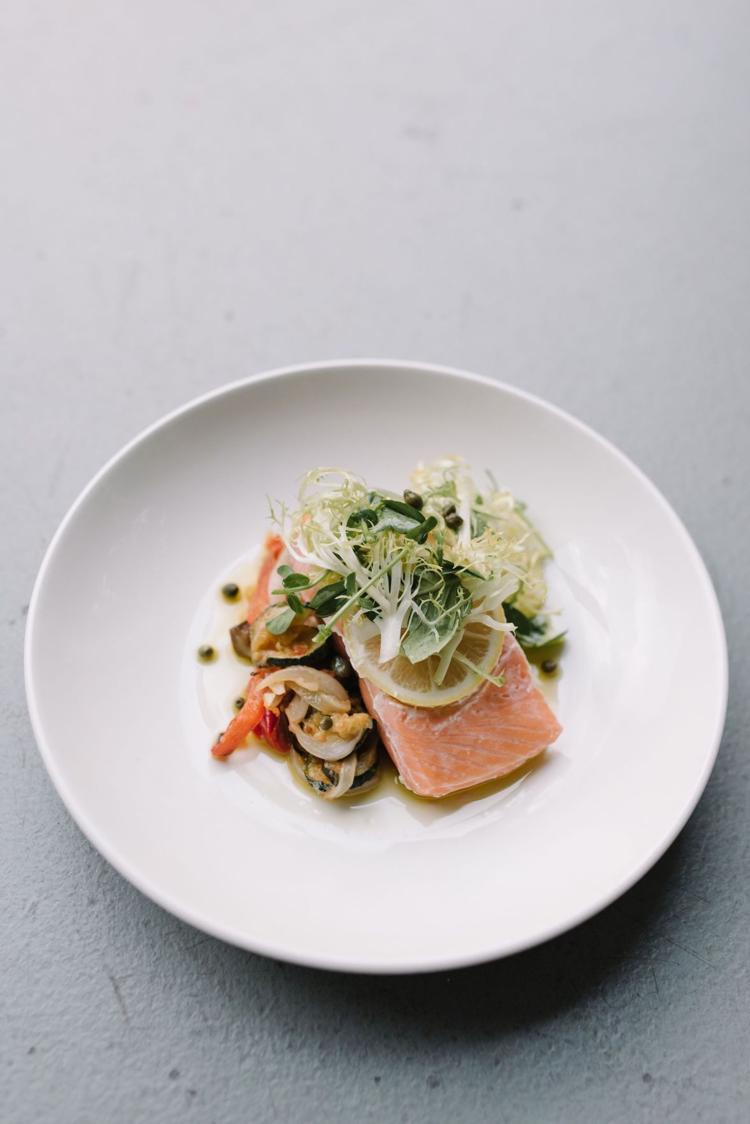 The Expat
The Expat is a French bistro with classic French and European dishes. A new dish the French restaurant is serving this season is Lapin Au Vin, or rabbit and red wine. Lapin Au Vin is red wine-braised rabbit with carrot gnocchi and braised shiitake mushrooms. This is one of The Expat's most popular dishes on the menu, and is thought of an "upscale version of chicken and dumplings," Jerry Slater, owner of The Expat said. 
Heirloom Cafe & Fresh Market
Heirloom Cafe & Fresh Market is a farm-to-table restaurant that likes to tell a story through its food. This fall, the restaurant will be serving a harvest salad which features kale, arugula, roasted winter squash, roasted beets, sumac toasted pumpkin seeds, Asher Blue cheese and a sweet mustard vinaigrette. 
"Roots, greens, and grains as well as heavier meat dishes are most prevalent on fall and winter menus," Jessica Rothacker, chef and co-owner of Heirloom, said. "They are heartier and make your feel fuller and comforted in the cooler months."
The Pine Restaurant and Bar 
The Pine Restaurant and Bar is a traditional, Southern cuisine and is known for its custom, wood-stoked oven which gives a distinctive, smokey flavor to its dishes. The Pine's house-made pasta consists of roasted chicken over pappardelle —a broad, flat noodle— sautéed cauliflower, brussels and spicy marinara. The pasta is made fresh daily, and all ingredients are locally sourced, Scott DeBernardo, the head chef at The Pine, said. 
DePalma's Italian Cafe
With a family style ambience, DePalma's Italian Cafe  has new fall dishes on its menu such as  braised beef short rib ravioli. This hearty dish also features wild mushroom cream sauce, asparagus and ravioli. 
"This is one of my favorite dishes on the menu and I think that wild mushrooms are perfect for fall and winter," David Cappi, the owner of DePalma's, said.