Three times a month, University of Georgia student Alex Suarez "paints" his face using heavy contour and puts on his six-inch heels as he transforms into Queen Alex Suarez for what will be another memorable drag performance.
Suarez is a junior art major with an emphasis in printmaking from Athens. When he's not going to classes at the Lamar Dodd School of Art in his everyday "gym shorts and a T-shirt" outfit, he's dancing and performing in front of a pumped-up crowd in a burlesque outfit and a fierce but flawlessly blended makeup look.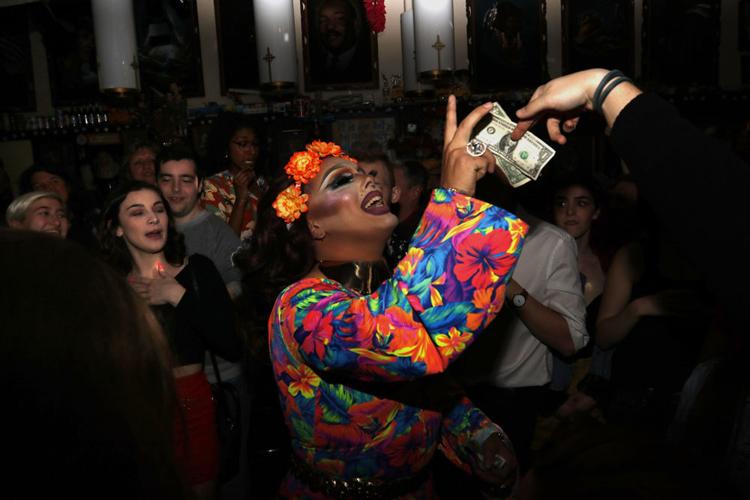 High-femme fashion and makeup
For Suarez, the world of fashion and makeup was a foreign concept until he found himself immersed in drag culture. Now, he's constantly inspired by drag queens, influencers and even locals, who have all shaped his personal style. 
"Drag definitely gave me inspiration in the fashion world because you always see drag queens recreating looks with different designers such as Alexander McQueen and executing and reintroducing older designs," Suarez said. 
However, Suarez's style isn't one coherent look in his closet. When considering everyday wear, he finds inspiration from thrift stores in Athens and sports more casual looks. On the other hand, when he's in drag, he's inspired by "gaudy and embellished" looks, which might include channeling Bettie Page burlesque vibes from the 1950s with bondage pieces, leather and harnesses as accents.
Some of Suarez's favorite accessories include gloves, chokers, heels and "anything that elevates the shoulders," such as shoulder pads. 
While fashion has played an important role in Suarez's life, his favorite part about drag has been his makeup progression. 
"I really loved the artistry of the makeup and how I can transform my face into anything I want," Suarez said. "Six months [into drag] ... I knew how to make myself look scary or make myself look beautiful."
Suarez loves high femme makeup in particular and always emphasizes heavy contour and high contrast, which is always blended to perfection. For most of his looks, he likes to make himself appear scary.  
"There's something about being able to paint my face and make these small adjustments and do all these things with colors to make myself look terrifying … It's the transformation I love," Suarez said.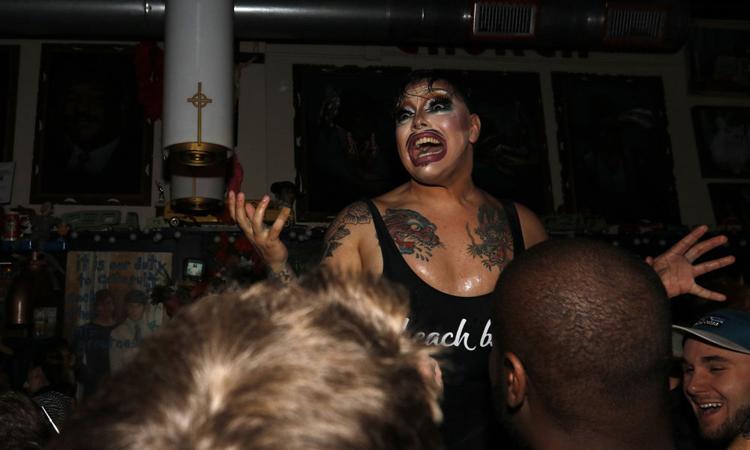 The Kourtesans and FEMME 
Suarez's two-year drag anniversary was just this past January, but two years ago when he first went to drag shows and met local drag troupe The Kourtesans, he never imagined he would actually fall in love with performing.
"I kind of just got thrown into [drag] without really having a plan, and now it's a big part of my life so I have no complaints," Suarez said.
---
"There's something about being able to paint my face and make these small adjustments and do all these things with colors to make myself look terrifying … It's the transformation I love." 
— Alex Suarez, also known as Queen Alex Suarez
---
Up until recently, performing at Sister Louisa's of The Living Room & Ping Pong Emporium was strictly a thing Suarez did with The Kourtesans, which recently celebrated its 100th show at the location, but now, he's bringing in a new troupe called FEMME that he started on his own in January.  
PHOTOS: The Kourtesans celebrate 100th drag show at Church Bar in Athens
Local drag troupe The Kourtesans celebrated their 100th show together with a "Golden Oldies" themed night of performances at Sister Louisa's Church of the Living Room & Ping Pong Emporium on Thursday, March 22. The current group was formed in July 2017 and has worked together since then to redefine the scope of drag performances.
Suarez created FEMME after building a relationship with Barry Brandon, who works with the This Free Life Campaign in Chicago and who is the owner of For All Humans, a "queer-owned creative and experiential agency," according to the agency's website.  
"When I started working with Alex for various events and booking him for shows, I realized that he was not only a great talent in drag, but he was really shifting and creating a lot of momentum for the queer community in Athens," Brandon said. "He has the ability to bridge the gap and navigate the creative space."
The troupe performs every first Thursday of every month, and its focus is on including a fresh mix of performers every month.
"We want to show people so many more different kinds of drag," Suarez said. "Now it's a surprise at these shows because you never know what you're going to see."
Every show, Suarez also has an open spot for a "baby queen" or a "baby king," someone who's never really performed before or is new to the drag scene.
Suarez hopes to continue with FEMME for as long as he's in Athens. To him, creating the group has never been about the money — it's about putting on the perfect show that excites and impresses everyone watching.
"People don't realize that local influencers and performers can really have that 'X-factor,'" Brandon said. "Alex not only understands that he's an artist, but he also knows how to deliver a performance or a look or an aesthetic. I'm excited to see how far he goes."
In the future, Suarez hopes to continue pursuing drag, whether it's full-time or a side gig. To him, drag embodies the purest form of queer expression and self-expression.  
"I'm the same person, whether I'm in drag or not," Suarez said. "However, I do go from being 5 feet, 6 inches tall to a little over 6 feet tall when I'm in my heels, which totally changes the ball game."