Fashion for Laura McAndrews isn't just about the art of creating outfits and expressing oneself in a creative way — it's also about its historical impacts on the world and the behind the scenes process of developing fabrics.
McAndrews' love for fashion was apparent long before she could even remember expressing interest in clothes.
"I'm a January baby, and I was born in South Dakota so it gets really cold," she said. "My mother always said that I cried as an infant whenever she put me in pants — apparently I always insisted on wearing dresses and tights." 
McAndrews is currently the assistant professor of product development and design in the department of textiles, merchandising and interiors at the University of Georgia. She can often be seen teaching in a bohemian-style, casual outfit that has black and gray tones.
---
From film to fashion
When she was 15, McAndrews watched the documentary "Unzipped" that covers Isaac Mizrahi's journey as a fashion designer when he launched his first fashion show.
"I remember watching it and thinking, 'This is it. I don't care if I'm the designer or the person running the runway, this is so what I'm going to do,'" McAndrews said.
While attending high school in Kansas, McAndrews took classes in fashion careers throughout her junior and senior year. She was involved in school fashion shows, and through these classes she discovered the various job opportunities in fashion. Since then, she knew exactly what path she wanted to pursue.
"My parents never believed [in fashion employment] because my mother was an elementary school teacher and my father was working in insurance," McAndrews said. 
McAndrews has earned four degrees since watching that film at 15 -- her associate's degree in fashion design at Parsons School of Design, her bachelor's degree in apparel merchandising and marketing from Kansas State University, and her master's and doctorate degrees in human environmental sciences with an emphasis in textile and apparel management at the University of Missouri. 
---
First Ralph Lauren, then the world
Instead of working primarily in fashion design, McAndrews chose a career path in textile and apparel management and worked for several fashion brands before settling at UGA. Her first job was with Ralph Lauren children's wear, where she was responsible for fabric research and development. She also worked for various other companies, including Gap and Anthropologie. 
"Obviously when I was younger, I loved putting on clothes and I loved that sort of superficial quality of the fashion industry," McAndrews said. "But once I started working in fashion, I started to love it more for its backstory."
Through learning more about the historical significance of fashion and how fashion has boosted economies in countries all around the world, McAndrews developed a love for the textiles and management side of the industry. 
---
"I love fashion shows and I'm a total consumer, but I also love the backstory of fashion and how [fashion is] about empowering women and giving a fair shake to everyone in the world."
— Laura McAndrews, UGA Professor
---
Historically, fashion as an industry allowed women to leave their homes and earn their own salaries. Additionally, the apparel and textiles industry helped develop the United States, Japan, Hong Kong, China, Korea and Vietnam, McAndrews said. 
"I love fashion shows and I'm a total consumer, but I also love the backstory of fashion and how [fashion is] about empowering women and giving a fair shake to everyone in the world," McAndrews said.
While working her multiple jobs, McAndrews was able to travel the world to observe factories and learn more about the industry. When she was finally burnt out from adjusting to different time zones and riding planes, she chose to go in a different direction.
"I had a conversation with one of my old professors at Kansas State and she told me that with all of my experiences and my personality, I could teach higher education," she said. "So I went to the University of Missouri to get my master's and then I got my doctorate and I ended up here." 
---
Design and diversity in the classroom
Outside of being an assistant professor of product development and design, McAndrews is also the faculty advisor of the Fashion Design Student Association (FDSA) and is also involved in the International Association of Clothing Designers and Executives (IACDE).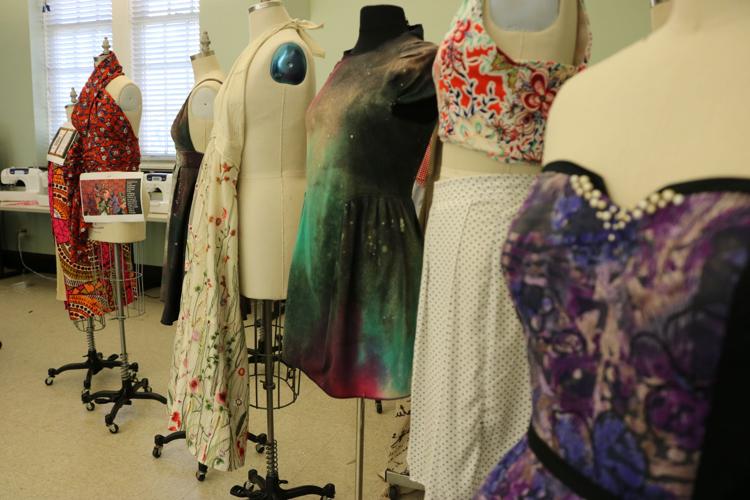 Alexis Arai, a junior fabric design major from Richmond Hill, took McAndrews' class in fundamentals of fashion merchandising and is also involved in FDSA and IACDE.
"The class I took with her consisted of a lot of lectures, but she makes them so interesting and fun that you still want to come to class everyday," Arai said. "She uses a lot of her own experiences in the fashion industry to teach and I think that's what [sets her apart]." 
FDSA is comprised of all types of students who are interested in fashion who put on a fashion show each semester to showcase student designs.
"It's such a diverse group of people — we have art students, journalism students, computer science students," McAndrews said. "The more diverse a group is, the more creativity there is."
IACDE consists of a group of designers and design executives based in Atlanta who reach out to students through luncheons and panel sessions to talk about the fashion industry and share their own stories working for the industry. 
McAndrews' favorite part about teaching is spending time with her students who are just as passionate about fashion.
"I never have to force learning because the students are really into it," she said. "They're some of the most creative students and the days I teach, I don't feel like I'm actually working."