In a small closet with no doors, plastic hangers are hung snugly, showcasing an abundance of colors, patterns and shapes. Button-ups, dresses and coats are packed tightly but neatly, as equally as colorful shoes decorate the closet floor.
The owner of the "rainbow" closet is Katelyn Bass, a junior fashion merchandising major from Suwanee.
"I don't have a lot of solid pieces or neutral tones because it isn't my thing," she said. "My closet is an explosion of colors, textures and patterns."
Fashion became a big part of Bass' life when she first started thrifting in middle school. Ever since she was young, she always gravitated toward one-of-a-kind pieces, and she never got into name-brand clothing.
---
"To me, wearing costumes isn't just for a stage — it's how I dress every day."
— Katelyn Bass, fashion merchandising major
---
"Miss Me Jeans were a huge thing for girls [back in middle school] … but they were never a thing for me because I liked wearing vintage and colorful pieces that no one else was wearing," she said.
Before Bass knew it, her wardrobe was almost entirely replaced by thrifted clothes.
"There's something really special about wearing [thrifted pieces]," Bass said. "The fashion I want to be a part of is something that you won't see anywhere else."
---
Theater kid to fashionista
While thrifting was one of her favorite activities to do, Bass also fell in love with theater.
Her primary passion during middle and high school was in the theatrical arts, where she first learned to foster her creative and artistic side. Her interests eventually led her to pursue a theatre major at Georgia College where she would study the art of costume design.
It didn't take her long to realize she was craving a more creative path that would allow her to fully express herself.
"Designing for the stage gives you a lot less freedom for colors and shapes because you have to fit the play," Bass said. "Which is why I butt heads with costume design because to me, wearing costumes isn't just for a stage — it's how I dress every day."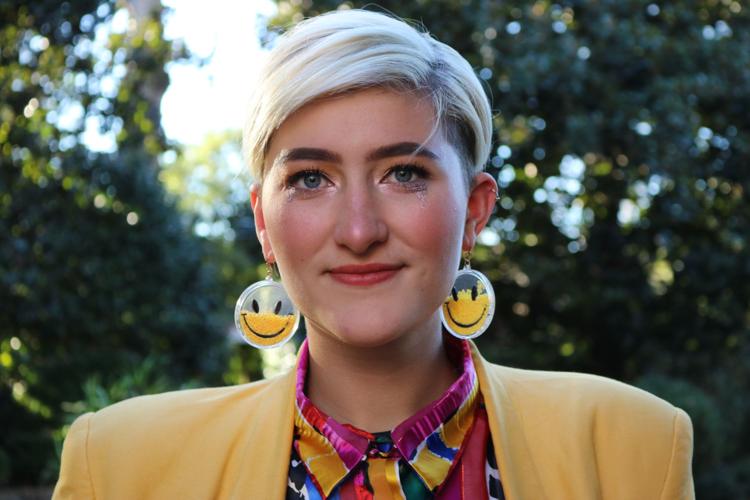 In search for greater freedom in design, Bass transferred to the University of Georgia to pursue fashion merchandising during her junior year.
After college, she hopes to work as a stylist for magazines and photoshoots, specifically editorial and more avant-garde shoots.
"I want to work on clothes that aren't a part of daily wear — pieces that are really bright and colorful," Bass said.
---
Drag as a fashion influence
One of the links between performance art and fashion for Bass was in drag. Growing up, she had a lot of close friends who loved and were involved in drag culture.
One of her close friends includes Luke Travis, a senior theatre major at Georgia College and drag queen from Duluth.
"We both have a huge love and admiration for the art of drag and Katelyn is my drag daughter," Travis said. "I took her under my wing and mentored her more in drag culture and performance, and she helped me with styling and fashion."
Although she has only performed in drag once, drag culture has remained a big part of Bass' life.
"I'm very much inspired by theatrical performance, and drag isn't just about a man dressing up as a woman anymore — it's a performance art," she said. "When I performed, I was able to mesh everything that I love and it was everything to me."
---
Blurring the lines
When picking out her outfit for the day, Bass applies the same process as when she goes thrifting.
"If I see a piece and I feel excited to wear it, I'll throw it on," she said. "I want to feel proud with the way I look, and it's not a superficial thing because it's about expressing myself."
One of Bass' greatest inspirations for her personal style comes from one of people's greatest fears: clowns.
"A lot of my favorite things in my wardrobe are colored suits, and I think I try to be inspired by clown costumes and makeup because I'm able to blur the lines of gender with them," she said.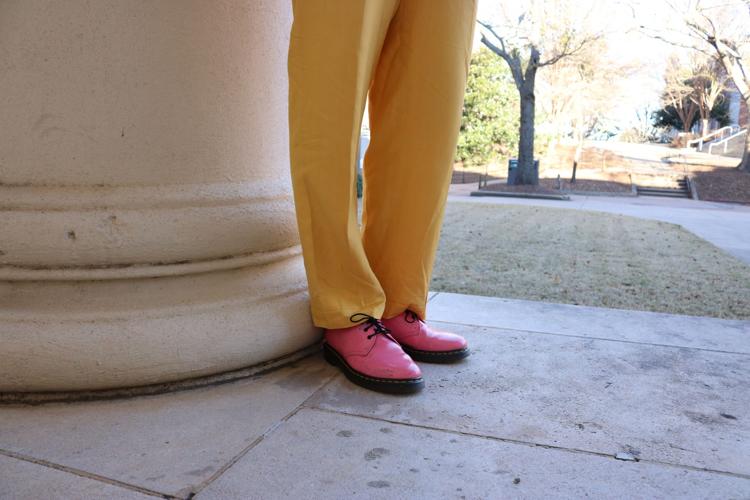 In the same way she's able to experiment with bold choices in drag, Bass enjoys pairing bright colors and playing with glitter on her face as makeup.
"It's like this ambiguous thing," she said. "I'm not one thing or another — I'm just a burst of colors and shapes and stuff."