Nested in a small spot on North Jackson Street is Community, a boutique that flaunts contemporary and sustainable fashion. In that boutique is a small team of fashion-passionate people who work every day to redesign and promote new pieces, including German-born store owner Sanni Baumgärtner, whose eyes light up at the sight of vintage clothing.
Baumgärtner always knew she loved fashion, and her interest in vintage clothes in particular started from a young age.
"When I was a teenager, I went through my mom's closet and picked out vintage clothes and … I would also wear my grandfather's coat or my dad's suede jacket," Baumgärtner said. "I loved incorporating vintage [pieces ever since] I first started experimenting with fashion."
Shift from music to fashion
As an exchange student at the University of Georgia, she majored in psychology with the intention of becoming a therapist. She moved back to Germany to finish her degree but found her way back to Athens because she grew attached to the music scene.
She was involved in several bands in Athens, one of which played German cabaret music from the '20s and '30s and another which played original, contemporary music that had a more pop music feel. Her career as a musician was what led her to pursue fashion.
In order to support herself as a musician, she started to buy and sell vintage clothes. This eventually led her thinking of owning her own store.
As a musician, she always craved to be independent, and she knew that having a business wouldn't work with wanting to be a touring musician. Eventually, she grew out of music and started to work toward her owning a store.
"For about six months, I [scouted] locations, and a place kind of came to me accidentally because the previous owner of that location was moving out and she knew I was looking to buy," Baumgärtner said.
Around the same time, she also became interested in sewing and learned to sew by redesigning vintage clothing.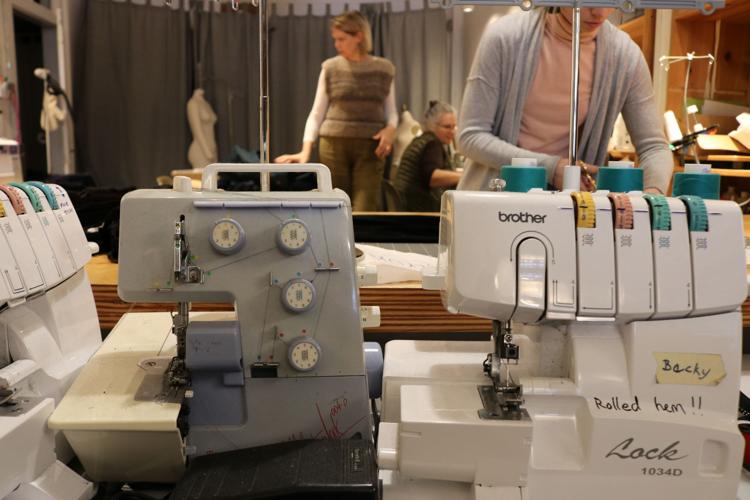 "That was how our clothing line was born," she said. "I opened the store and then we also started doing fashion shows in town with the Athens Fashion Collective."
The importance and meaning of fashion
For Baumgärtner, fashion was her way of self-expression and the only familiar thing to her in a somewhat foreign environment.
"My English was pretty good for an exchange student, but I was still really shy about speaking it because it was still a foreign language, so it was hard to express any personality," Baumgärtner said. "I came to the United States with two suitcases and a guitar — music and fashion were my tools of expression."
She describes her style to be a mix between current trends, with a consistent look that's on the casual and androgynous side.
"But [my style] also always changes a little bit because we always discover new sides of us and new trends that speak to us," she said.
The purpose of Community
The name of the store reflects Baumgärtner's mission for the boutique — to provide a place for local designers and to also promote sustainability.
"I want to have the largest possible impact on the local economy while [simultaneously] leaving the smallest possible footprint on the environment with our production and business," Baumgärtner said.
Baumgärtner is well known in the fashion community in Athens, and for good reason.
"Sanni [Baumgärtner] is definitely very involved in the community, and she's done a lot for Athens," said Hannah Trader, who helps manage the store and handle the different vendors at Community.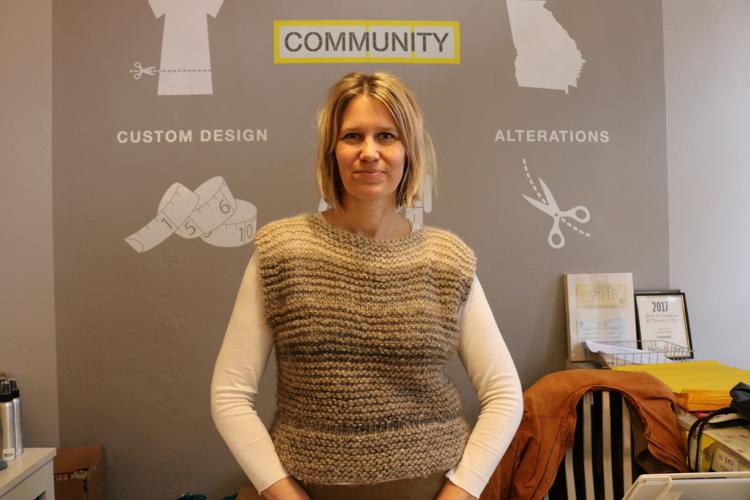 Baumgärtner's store not only focuses on sustainability through saving energy and recycling — she also works with used materials in every clothing line.
"All the production happens here at Community, so we have a lot of transparency as to how our clothing is made," Baumgärtner said. "We purposely have the sewing area be a part of the retail space so people can really see how we make our clothes." 
Development of redesigning concept
The store's concept of redesigning clothes came from a combination of Baumgärtner's love for vintage and contemporary fashion.
"When you walk into the doors of Community — all the clothes — that's just her style," Trader said.
The whole process starts at the thrift stores. When hunting for clothes, Baumgärtner usually follows a certain color scheme or tries to look for certain styles or materials for that season. 
Although some of the pieces are one-of-a-kind, she also tries to find similar pieces that can be redesigned in the same way so they create a single, uniform product.
"We've been taking a lot of men's sweaters that have '90's patterns and cropping them in the same way so the similar style can be found in different sizes and multiple quantities," Baumgärtner said. "So basically, they become a product even though each one is still uniquely one-of-a-kind." 
Most of the sewing that comes after the design process is done by part-time redesigners and interns.
Future hopes and dreams
Baumgärtner said she hopes to continue to serve the local community and also bring fresh and different collections to the store.
"One of the collections we did in the past was inspired by the colors of Georgia crops such as peaches, muscadine, cotton and pecans," she said. "We try to do a special collection once a year that has a story behind it." 
The store owner also hopes to expand the store's clothing line and spread the message of community service and sustainability. 
"Right now we're starting to move more into wholesale," Baumgärtner said. "There's two stores in Atlanta that carry our line and we're trying to reach out to different cities."