In 1980, a couple of college students created an organization in Cambridge, Massachusetts to help fight world hunger and spread a message on anti-nuclear activism called Food Not Bombs. In the 35 years since its creation, Food Not Bombs has swept the world with chapters all over the Americas, Europe, Africa, the Middle East, Asia and Australia.
The organization has made itself a home right here in Athens. The Athens chapter has been working hard to fulfill the mission of Food Not Bombs for three years now.
"There are hundreds of local chapters. We all make our own decisions, but because we all have a mutual goal under the banner of Food Not Bombs, we work in solidarity with each other," said Christine Zito, a member of the organization.
Members meet twice every month, on the first and fourth Saturdays. Food Not Bombs collects excess food from local food providers, and then they prepare, cook, and serve the food to the Athens community. Zito and Joshua Lane, another member of the organization, said Earth Fare and Daily Groceries Co-Op are two major local food contributors.
"We get donated food from grocery stores and other food providers that would throw out food just because it's passed its height flavor," Zito said. "Instead of it getting thrown out, we take it, cook it and serve it."
On the weekend of the event, Food Not Bombs collects food from the various providers, and then, volunteers cook the meals on the Friday before the event. With each food pick-up of assorted ingredients comes a new creative challenge to figure out what to make with them.
"We just try to figure out what we are going to do with this random hodgepodge of ingredients that we have, because there is never really a clear idea of what to make," Lane said.
Lane described it as a "really low-stakes 'Chopped.'"
Zito added to this experience and said the fun part about Food Not Bombs comes from the spontaneity of the job and the plethora of various ingredients.
"We never know what we are going to get until the day we're cooking," Zito said. "We always have to be really flexible."  
Though they focus on donated food, Food Not Bombs also appreciates monetary donations in order to go out and buy some staple foods not typically donated from the food providers.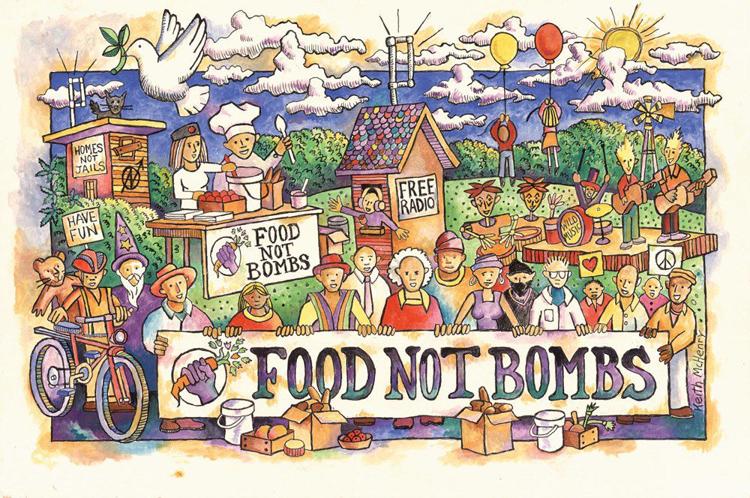 "We ask for donations, and when we get those, we will use the money to buy staple foods," Zito said. "We have to go out and buy things like rice or potatoes."
On the Saturdays of the event, Food Not Bombs starts serving around 11 a.m. when downtown and around noon when serving alongside the Athens Really Really Free Market, an organization that provides free clothing, toys, and many other free items.
Each event is typically around two hours long, consisting of families and Athens locals coming to enjoy the free and healthy food. The informal setup of the program builds comfortability for all people coming to eat.
"You get to know a lot of the people that are experiencing homelessness downtown," Lane said. "It is a good experience for both us and the population we serve considering that people experiencing homelessness are ignored and not typically acknowledged."
The simple act of sitting, eating and talking brings together people that typically would not interact otherwise.
"It's an informal setup that addresses a lot of key problems in our community," Zito said. "It addresses food waste, it addresses homelessness, it addresses a disconnect with people in the community — it brings people together."
One of the key phrases of Food Not Bombs is "solidarity not charity," aiming to bring together communities. A crucial factor in the uniting aspect of the program is the horizontal setup of the it, meaning that there is not one formal leader.
Everyone who is a part of the organization makes the same decisions. Zito explains that this has lead to many people joining Food Not Bombs after they were previously served.
"There is more of a face-to-face way of interacting with people instead of it being so top-down," Zito said. "They can participate. It feels more like how you would feel going to a friend's house for food instead of a soup kitchen. There is more humanity to it."
Food Not Bombs has built up a following over the past three years. Zito and Lane explained how they typically get fifteen to thirty people each Saturday and a couple people that show up every single time. The two members laughed about how some of the regulars have started critiquing the food.
"We got a food critic," Zito said. "If we get good donations we will get excited. We are like, 'Oh, we're gonna show them. Oh, this is gonna be delicious.'"