The Athens Area Humane Society partnered with Classic City Clydesdales Farm to host the first Fun on the Farm Festival on Saturday, Nov. 11. The event raised money and awareness for the nonprofit humane organization which works to alleviate euthanasia of animals through adoption and spay-neuter programs.
The Fun on the Farm Festival provided loads of activities and entertainment for visiting families and locals. Located in Watkinsville, the Classic City Clydesdales Farm is home to a variety of animals, and the pet-friendly setting for the festival welcomed families and their furry friends.
Shannon Martin, who owns the Classic City Clydesdales Farm with her husband Mark, spoke about their love of animals in all shapes and sizes.
"We have eight dogs that live in our house and sleep in our bed that are a huge part of our lives," Shannon Martin said. "We have 35 horses that we interact with on a daily basis, but I can tell you if they are feeling bad just by looking at their faces." 
Cronweld Leon, the social media and outreach coordinator at the Athens Area Humane Society, said the events at the festival highlighted the similarities between the humane society and Clydesdale Farm.
"Aside from the vendors, we have the petting zoo, hayrides, pony rides, and then a little event or game called bovine bingo," Leon said. "Basically bovine bingo is [when] you buy a ticket for a square and then they'll let the petting zoo animals loose. And the first square where an animal 'does their duty' is the winner!"
There were plenty of animals to "do their duty" since the Martins' petting zoo is home to many different animals which they have taken in over the years — some from less-than-happy circumstances.
 "We have a couple of smaller Highland cow babies in there from time to time, we have alpacas in there and Ossabaw Island hogs — we have Zebu, which are kind of an Indian cow variety, we have Jacob sheep, we have Shetland ponies [and] we have mini horses and mini pigs," Shannon Martin said.
In addition to the interactive activities, there was also food, drinks and live music near the vendors' section of the festival.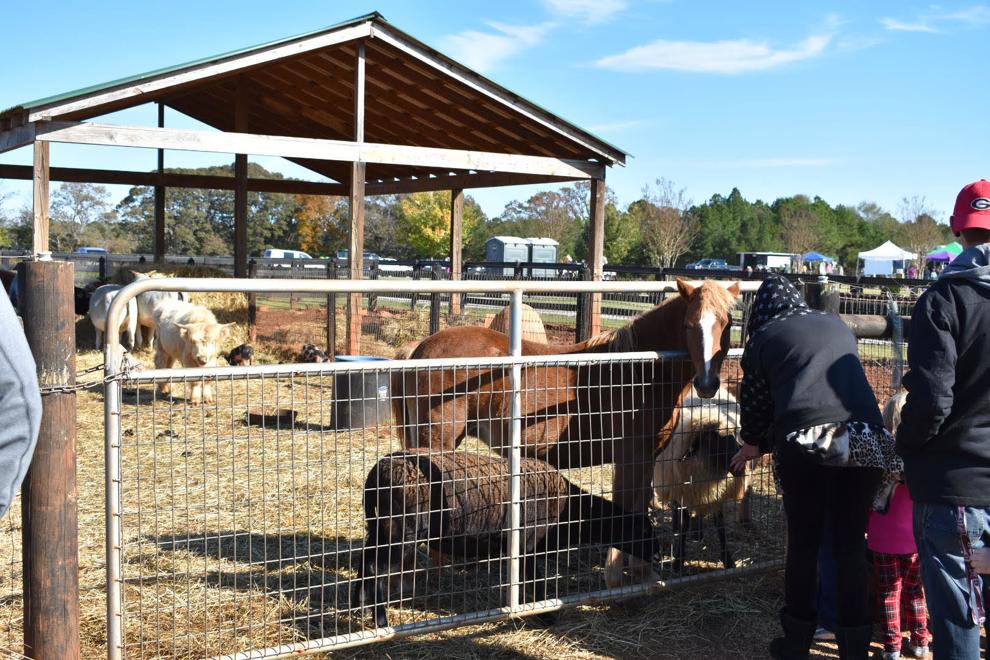 "We were lucky to get vendors and music and food. We are very fortunate to get all that to kind of fall together," said Jane Stewart, the executive director of the AAHS. "We have two different groups that are playing and Black Tie & BBQ came out to help us out. We have probably 11 vendors that are here."
In fact, vendors on a weekend in early November are a scarcity.
"Apparently Halloween and fall is a super popular time for festivals, so it also looked like we were overloading a lot of vendors," Leon said.
The vendors who were able to work at the festival came from the Watkinsville and Athens areas.
"We are the Athens Humane Society, but we are located within Watkinsville. Since the Clydesdale Farm is located in Oconee County, we definitely wanted to do a service to the local community by allowing Watkinsville vendors and businesses to come on out," Leon said. "We are all about shop local, support local."  
Despite being located outside the city of Athens, the University of Georgia still had plenty of representatives at the event. 
Jed Kaylor, the AAHS shelter director, pointed out the shelter's influx of volunteers from UGA. He noted one consistent volunteer group at the shelter and also present at the festival was UGA's student-run Dawgs for the Paws.
"They advocate for us on campus, come out and volunteer, and they're just kind of an awareness group for us on campus," Kaylor said.
Leon also celebrated the community coming together for the event and supporting their local humane society.
"There's nothing like the Athens area, and the UGA Bulldog Nation to have our back [is great]  — especially for a dog shelter," Leon said with a laugh.