One dedicated cyclist's burger-fueled ride along the East Coast will help benefit a homeless shelter for LGBT youth in Atlanta.
His journey and crowdfunding campaign called "Big Macs & Gays" begins on April 11.
David Paris is a former food microbiologist at Coca-Cola who will start his MBA program at the Terry School of Business this fall at the University of Georgia. After quitting his job a year ago, he discovered the Adventure Cycling Association, which prepares mapped biking routes all over the country.
Seeing a route in sunny Florida, Paris spent a month and a half traveling the state by bike and immediately was hooked.
"With a car or plane you only end up there, but on a bike you see every part and become more familiar with your surroundings," Paris said. "When I did this trip in Florida I never felt better in my life."
Surprisingly, Paris had never done long distance biking before quitting his job a year ago. His trips would usually reach six or seven miles around Atlanta.
Now, he has decided to make the most of his time before getting bogged down with his MBA program, and benefit the homeless shelter Lost-n-Found while doing so.
"I think one of the things you learn when you do a big bike trip like this is to let things go," Paris said. "It's so cool to have a moment to think about nothing but what you're doing in the moment. I'm excited to get started in my MBA, but that'll be the last thing on my mind when I'm doing this trip."
From the very beginning, Paris decided he wanted his journey to support a charity of his choice. Having come out as gay in high school, Paris has strong connections to the LGBT youth Lost-n-Found.
"It was a natural choice to go to a charity helping gay youth," Paris said. "Lost-n-Found kids are sometimes kicked out of their houses for being gay, they have way more to deal with. I'm happy to help them."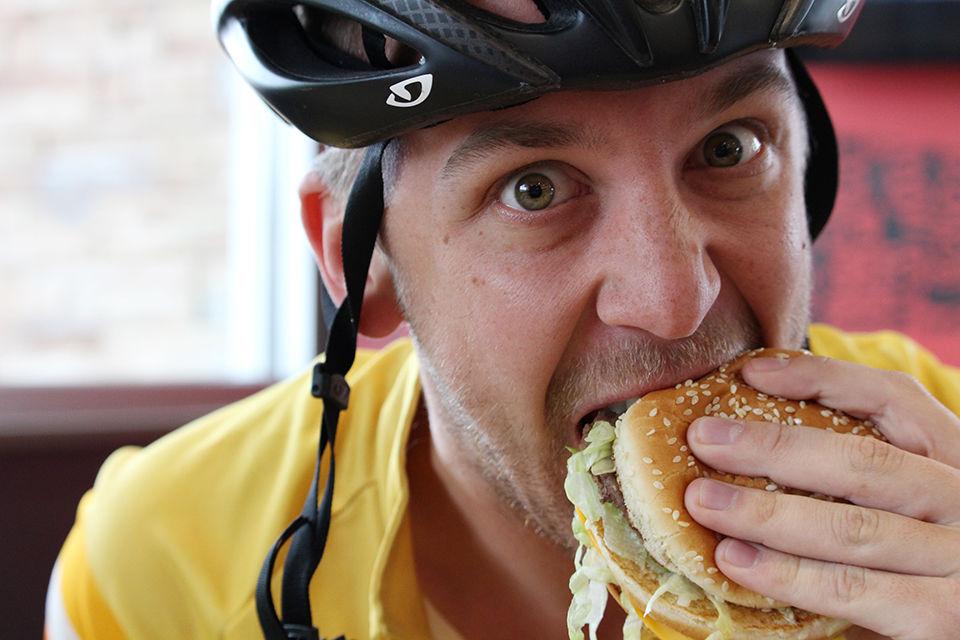 Paris is setting a new distance goal for each money milestone, and has already raised over $1,000 which will get him to New York. Further goals include $4,000 to go from Florida to Maine, and $7,000 to go all the way to Canada.
Paris' East Coast route will primarily be on-road, although he will keep to roads less-traveled to avoid heavy traffic. The exact path isn't completely planned out to allow for flexibility and exploration as he goes, but Paris will average 40 to 50 miles a day.
Lost-n-Found
Mike Rupert, a volunteer coordinator for Lost-n-Found, explained that there have been more requests like Paris' to donate money through small personal campaigns within the organization's five year run. About half of Lost-n-Found's revenue comes from donations—often through marathon-runners and cyclists—and the other half primarily comes from its thrift store.
Rupert said that on behalf of the organization, he is tremendously grateful to be the beneficiary for the campaign.  
"Having participated in some marathons, I know it takes a lot of commitment, stamina and dedication to do something like this," Rupert said. "He's willing to put so much of his blood, sweat and tears into what we do every day supporting youth in Atlanta."
Primarily volunteer-run, Lost-n-Found supports youth ages 13 through 25 at the Youth Center, and provides transitional housing for young adults ages 18 to 25. Running a six-bed shelter in Atlanta, the organization also operates a 24-7 hotline and offers lunch, showers and counseling to homeless youth through its drop-in center.
Packing light
Executive Director for BikeAthens and cyclist-enthusiast Tyler Dewey understands the wear and tear Paris' journey will include, having once biked from Seattle to Minnesota. This nearly month-long journey had Dewey biking about 60 miles a day.
"For a biker packing all their own gear, they usually allocate about three months to go cross country," Dewey said. "It depends on if you're riding 'self-supportive' with a sleeping bag and gear. [With] all that weight generally you'll ride a little more slowly."
Luckily for Paris, he plans to couchsurf throughout much of his journey, staying with locals in each area he passes through.
Paris met Maria Pugliese during his 1,500 mile perimeter trip through Florida, using a website called Warmshowers, which provides long-distance cyclists with a free homestay experience. Providing shelter, food and showers to tired bikers like Paris, this national program is essential to cyclists low on fuel and cash.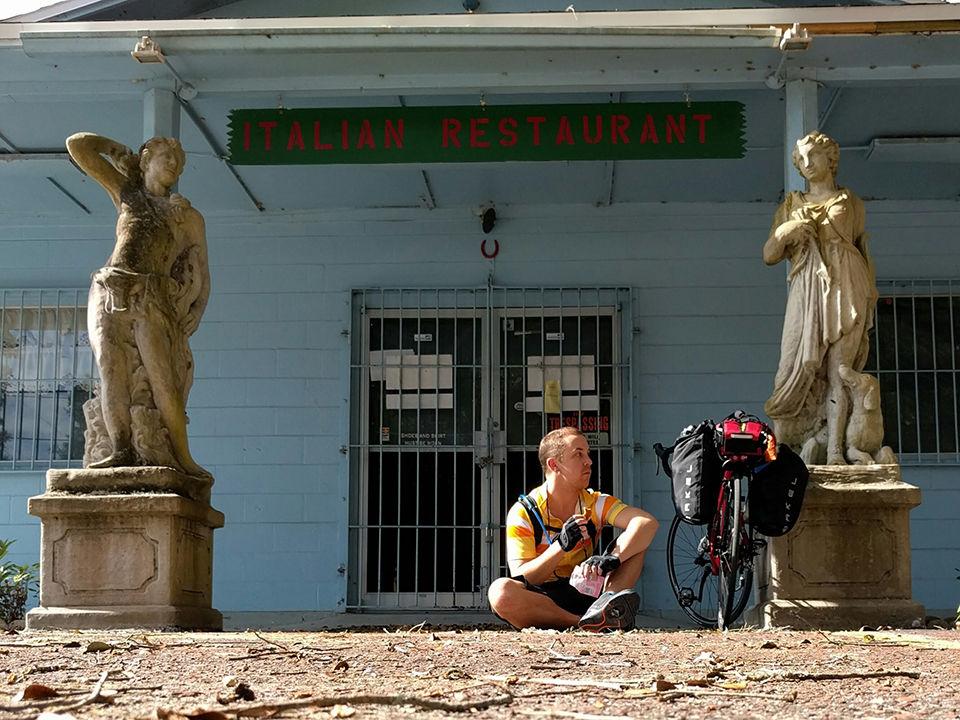 Pugliese, a former competitive mountain bike racer, was Paris' first and last host during his early 2016 Florida trip, taking him into her previous home in Palm Coast. The pair bonded over pancakes and a mutual love for biking, which they enjoyed together during Paris' trip back up the Florida coast.
Pugliese, who biked with Paris up to St. Augustine, said he has enough street-smarts to tackle many of the challenges a trip like this could throw at him.
"Touring is not easy, there's always hazards you can encounter," Pugliese said. "It's almost like the old Frogger game where you have all the obstacles you have to avoid: potholes, flat tires, even dogs."
When Paris isn't staying with hosts like Pugliese, he'll be sleeping in a tent packed up on his bike. In addition to this, the small packs he carries will include as little as possible to reduce weight.
Each holds roughly 15 pounds, which for Paris will include biking clothes, shoes, one pair of "normal clothes" and a toothbrush. Even these supplies, which may seem minimal, will slow him down.
Comfort food for cheap
Paris, who described himself as completely broke, will also be packing light in terms of food. Preparing to purchase the cheapest and most plentiful food he can find, Paris expects to fuel his journey with burgers and chicken nuggets from fast food restaurants found along back roads.
"A lot of my trip is in between very populated places. The only restaurants around will be fast food joints," Paris said. "When you're cycling like this you cannot eat enough food, you have to have calories. This is the one chance I have of eating this much fast food and it not killing me."
Dewey said he agreed that getting as many calories as possible is vital to combat the abundant physical activity. In his own experience, Dewey said that as long as a cyclist stays hydrated and fed, their bodies adapt very quickly to the many miles they go in a day.
"The number one thought when someone goes that distance is 'What am I gonna eat next?'" Dewey said. "When you're doing a long tour or cross-country trip the food is as much psychological as it is physiological. That style of comfort food, like burgers, can really raise your spirits."
The 80 percent of money raised not paying for burgers will go toward Lost-n-Found programs such as purchasing lunches and supplies for the youth center and rent for shelter. Paris' donations will also provide funds for weekly meetings with youths, providing them with backpacks full of water, food and toiletries.
Inspiring others
Through both helping the homeless youth of Atlanta and getting to explore the riches of the East Coast, Paris said he hopes to get a lot out of his journey. As a fellow cyclist who encourages bike transportation through the BikeAthens organization, Dewey understands the love Paris has for travel via bike.
"Doing a tour like this is the ultimate form of transportation," Dewey said. "It's a wonderful way to see the country. You're out there at a very relaxed place and develop a very intimate connection with the places you're riding through,"
Dewey said if he had the time, he would love to tackle a journey of this magnitude.
"I only made it like halfway across the country. I'd love to be able to finish the journey and finish the other half," Dewey said. "On a bike is one of my favorite places to be, whether I'm going to the post office or across the country."
Pugliese said Paris' cause and devotion to doing what he loves is inspiring, and she hopes to return to both competitive and leisurely biking as well.
"I really think this is his passion, and I envy that because I wish it was something I could do," Pugliese said. "He's inspired me more than many of my other guests to want to travel on my bike someday and tour the United States."
Do check out Paris' campaign, and to donate to his cause, you can visit his fundraising website here.