Nestled at the end of a snaking side hallway of Hotel Indigo, a quaint exhibit awaits those who wish to experience art at any hour of the day or night. In Athens' only 24/7 art gallery, shows of varying themes are rotated quarterly to include a wide range of local artists from all backgrounds.
"I try to have a variety of artists in the show, from younger artists who are just starting out, returning artists who are just beginning, to the consummate professionals who are well represented in the field of art. Each of the shows I try to do a lot of mix and match," said Didi Dunphy, the art director and curator of Hotel Indigo's gallery.
The exhibit currently installed at Hotel Indigo is called the Magical Mystery Tour, which exposes the viewer to nightmarish dreamscapes, dripping stacks of ice cream cones and a variety of expressive fantasy elements compiled in a thematic way.
"All of these artists create a reiteration of this crazy, fantasy environment where we are seeing ourselves playing in this surrealistic landscape," Dunphy said.
A nighttime foray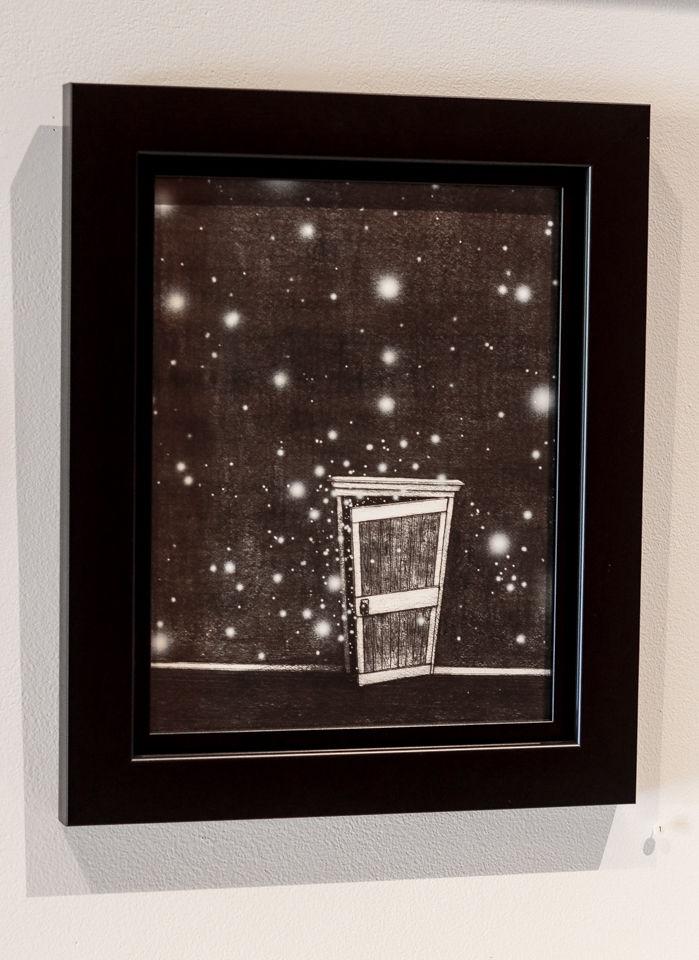 Jacob Wenzka is a University of Georgia graduate who just launched a children's book he illustrated called "The Girl Who Kept Night in Her Closet." His illustrations, which are showcased in the exhibit, depict a nighttime foray into fun and fiction and open the viewer up to an expansive night landscape with accentuated high tones and whites against black to capture the contrast of a night sky.
Dreamscapes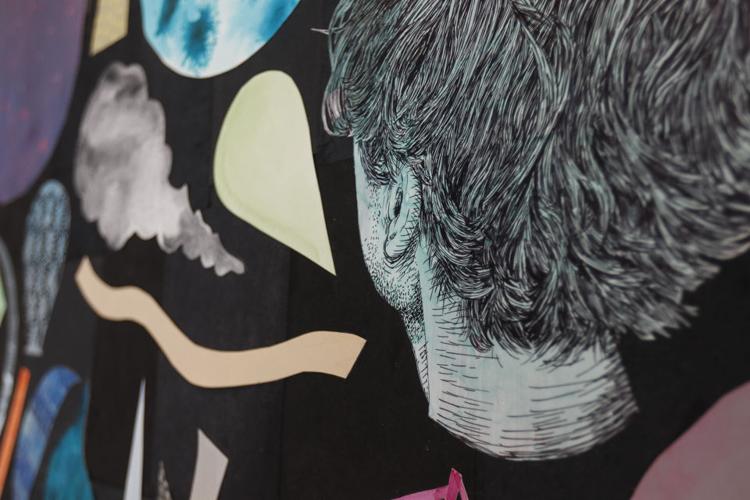 Brian Hitselberger is a professor at Piedmont College who also has pieces from his collection "Seeing in the Dark" displayed at Indigo. Hitselberger's works illustrate his dreams through a use of different mediums, from paint to cut-paper shapes to hands reaching into the center of the artwork. These pieces take the viewer on a journey through his pleasant dreams as well as his nightmares, accentuating the chaotic, multi-textural elements within dreams and reality all the while.
Coming to life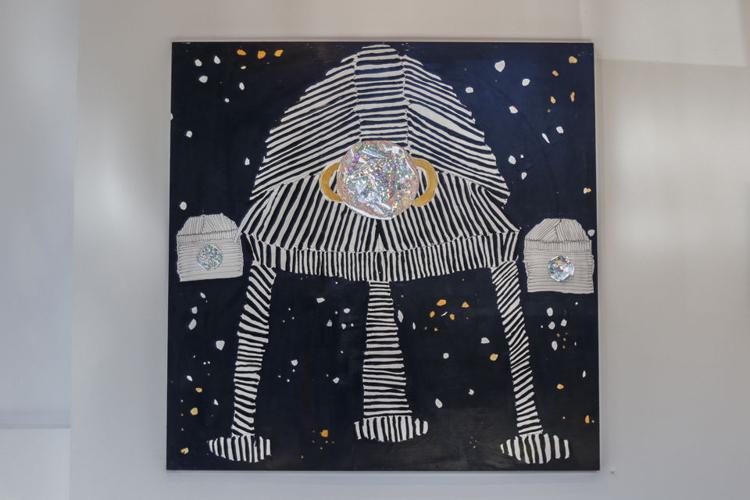 Jaime Bull, an artist who received her master's degree in drawing and painting from UGA in 2013, is forging a strong art career in Athens, samples of which can be viewed in the Indigo exhibit. Bull focuses on taking a familiar, everyday object like a stool or chair and then setting it into an unfamiliar world full of movement, spacious entanglements and warped environments. Through this, these inanimate objects are given a sense of animation.
"Bull does these kind of raucous drawings and paintings combining both sculptural elements and fictional elements into a sort of cavalcade of stacked creatures and objects," Dunphy said.
Vertigo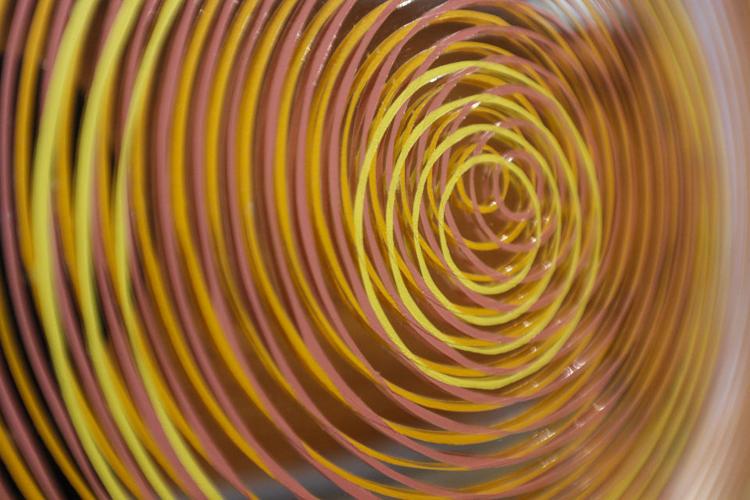 Dana Haugaard is one of the most unique artists within this showcase when it comes to style. His works of art mainly feature concentric circle target drawings on reflective materials. According to Dunphy, Haugaard's pieces reminded her of the dreamscapes from the Alfred Hitchcock film "Vertigo." This artwork ties together the movement from other pieces of surrealism while also engaging the viewer through the way the reflective materials catch the eye.
Ice Cream, You Scream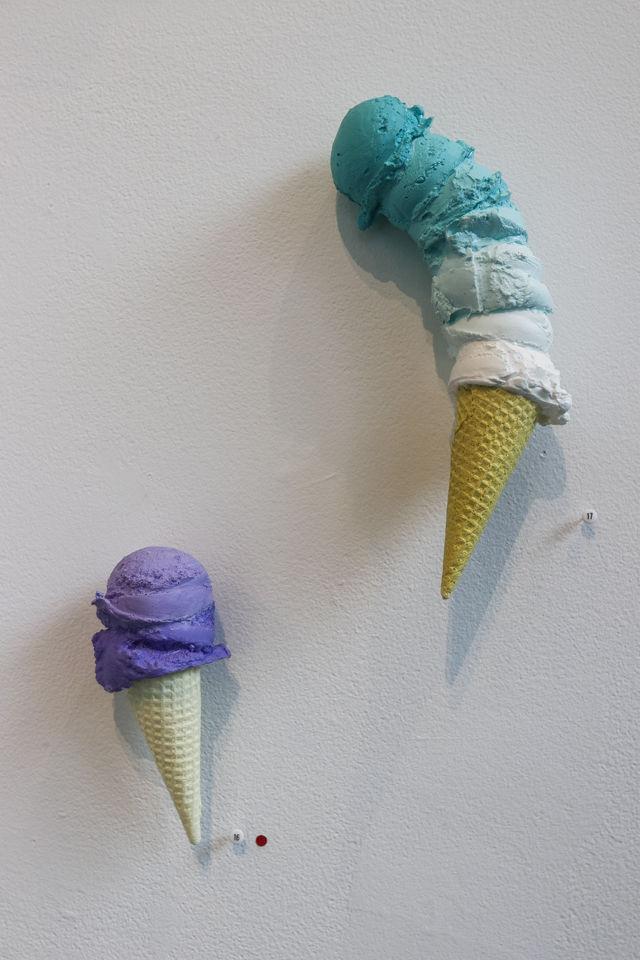 Jourdan Joly can be recognized by his iconic towers of dripping, brightly colored ice cream scoops. These whimsical plastic sculptures are inviting, fun and hyper-realistic. They immediately lure the viewer into the exhibit and put them in a serendipitous mood as they prepare to venture deeper into the depths of the dreamscape exhibit.
As the whimsical and light-hearted flirt with the darker, more nightmarish elements of the human psyche, self-exploration and analysis of the subconscious is encouraged as the viewer journeys through this intimate exhibit at Hotel Indigo.
"I think when people go see art, they are participating in a social dialogue, a political dialogue, and I think it is important to get out and see the physicality of the objects," Bull said.