Ranging in age from young kids to older adults, the Art Heist at the Georgia Museum of Art encouraged collaboration through completing puzzles and codes to solve a mystery on Saturday night. Using the museum setting to its advantage, the object of the game was to discover which of the five employees stole a work of art from the second floor exhibition.
According to Taylor Lear from the Georgia Museum of Art, the idea for the event was inspired by a similar event that was held at the Old Governor's Mansion in Milledgeville a few years ago.
"They talked about [the event] at a conference we went to in January, and I just thought it was really interesting and we could do something similar and adapt it to the museum setting," Lear said.
Beginning in the Education Room on the first floor, participants sat at round tables and served themselves food from Heirloom Cafe.
At 6:15 p.m., after everyone had finished eating, the game began with museum employees — including Lear — introducing themselves as various characters working in a museum. These characters included the artist, curator, shop manager and more.
Leading everyone upstairs, the crowd divided into eight predetermined groups of four or five people each to start solving the first puzzle. Hunched over tables covered with long black tablecloths, groups quickly rearranged letters typed on slips of paper to form a clue. Upon completion, another puzzle was handed to the groups in literal puzzle form: an envelope containing puzzle pieces to be arranged which, upon completion, would lead to the next clue.
Some teams talked amongst themselves quietly while others discussed their ideas more loudly.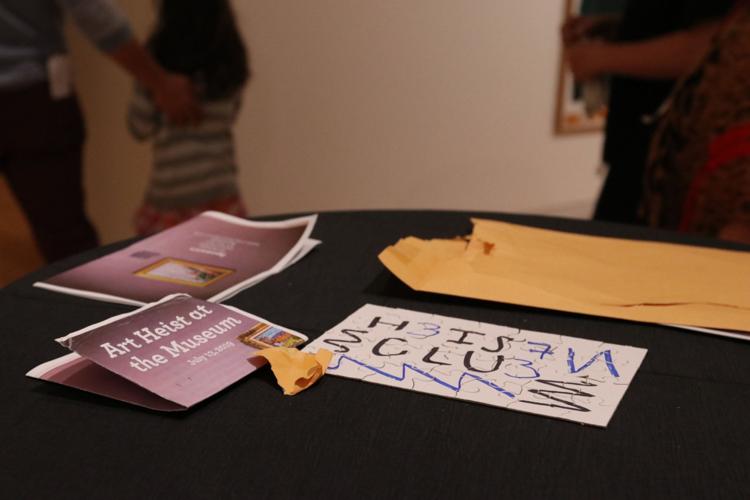 Throughout the night and in between each puzzle, the museum employees stayed in character: each employee dramatically accused another of stealing the art and deceiving the group.
Other obstacles and clues included a phone with an unknown passcode, a timesheet, a text conversation, a lock and the final clue — security footage of who stole the art.
After solving half of the puzzles, the attendees reconvened in the first room where they previously ate, this time with more tables filling up the room. The work downstairs created a quieter environment, as the groups had to do multiplication without their phones to piece together more information.
The winning group of the night was team seven, each of whom won catalogues and event tickets. Everyone who participated took home a mug and sticker.