On the outskirts of downtown Athens, Sister Louisa's Church of The Living Room & Ping Pong Emporium is an established name for Athens locals, students and out-of-towners. Whether patrons visit for the frequent exhibition of  drag shows or find themselves there the majority of the week — becoming what owner Jon McRae might call a "Parishioner" — you can find throngs of people dancing to classic pop hits from today (and decades before), or observing eccentric art confronting topics like Christianity and sexuality.
Since opening in October 2014, Church has become a part of the downtown Athens bar scene with time — though the years came with the usual trial-and-error of developing a long-lasting business, they also came with the opportunity to develop a solid mission in being accepting toward all.  
"When people walk into Church as Parishioners, the staff makes them feel like they're already regulars," McRae said. "We don't judge people based on their appearance, their gender, their race, or their sexuality — we treat people based on their behavior. If you play by the rules at Church and you are nice, then we treat everyone the same."
This welcoming atmosphere is evident to frequent visitors like local Heather Sobik, who has been going to Church bar for over a year.  
"It's a judgement-free zone," Sobik said. "Everybody's accepted — the ownership, the bartenders, the bouncers and the crowd ensure that you feel safe here."
---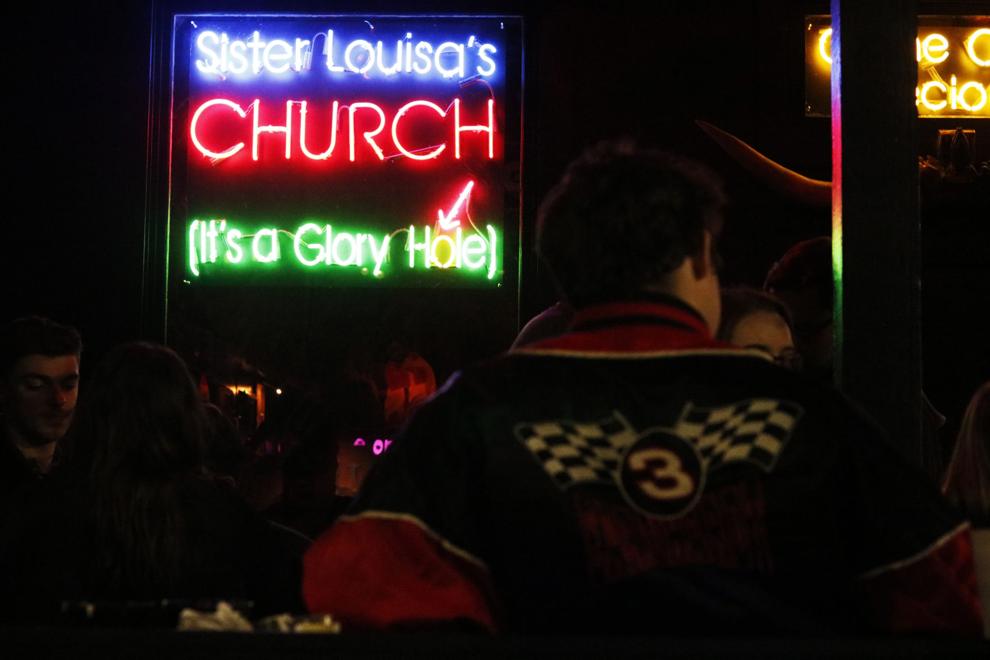 Eclectic art and Atlanta origins
Though Church has been in Athens for over four years, its beginnings originate in Atlanta. The Atlanta location just celebrated its eighth anniversary and also houses Sister Louisa art by Atlanta owner and Athens proprietor Grant Henry. Henry's art depicts various religious and historical figures. While perhaps shocking at first, McRae said the art isn't meant to be divisive, but rather attract like-minded people.
"It's such a weird space when you walk in, and I think people are comforted by being in a place that's weird like they are on the inside," McRae said. "The art is disarming. It screams, 'Trust me, you can be weird here. You can do whatever you want or say whatever you want as long as you aren't hurting someone else.'"
---
 "Church is not a bar where you go to get away from life, it's a bar where you go to get into life."
— Jon McRae, Sister Louisa's Church owner
---
While Church is a successful business now, opening an Athens bar with an Atlanta reputation provided some challenges.
"There [were] people who were excited about [Church] at first, but a lot of people didn't know what it was going to be," McRae said. "There was some pushback from the community — it's hard to be from Atlanta and open a business in Athens. You need to do it authentically, but there was a risk of it seeming like a franchise."
---
 The importance of a good bartender
Despite the learning curve, Church has prospered — McRae gives a lot of credit to his staff and their ability to create a good bar first and focusing on the fun and friendly vibe second.
"The staff connect with who they are authentically and the crowd feeds off that and gives it right back," McRae said.
Bartenders Thomas Fletcher and Megan Sparks have been working at Church for more than a year. Since working there, they've strived to extend the same welcome to the crowd that they felt when they first attended.
"Church's whole thing is to be inclusive and to promote acceptance," Fletcher said. "It's what we're trying to create as we take care of the bar. It's like a church — there's a congregation [and] it's full of different types of people."
Though the bartenders and bouncers facilitate that acceptance, the community and Parishioners are who determine whether or not the bar is successful.
"The community wants a welcoming atmosphere," said Sparks, a fifth year student at the University of Georgia studying painting. "It starts with intention from the staff, but if people don't want it, then it won't stick around. Church is always a party — the music is always loud and there's always something happening. There's a group of people in Athens that want that to be there."
---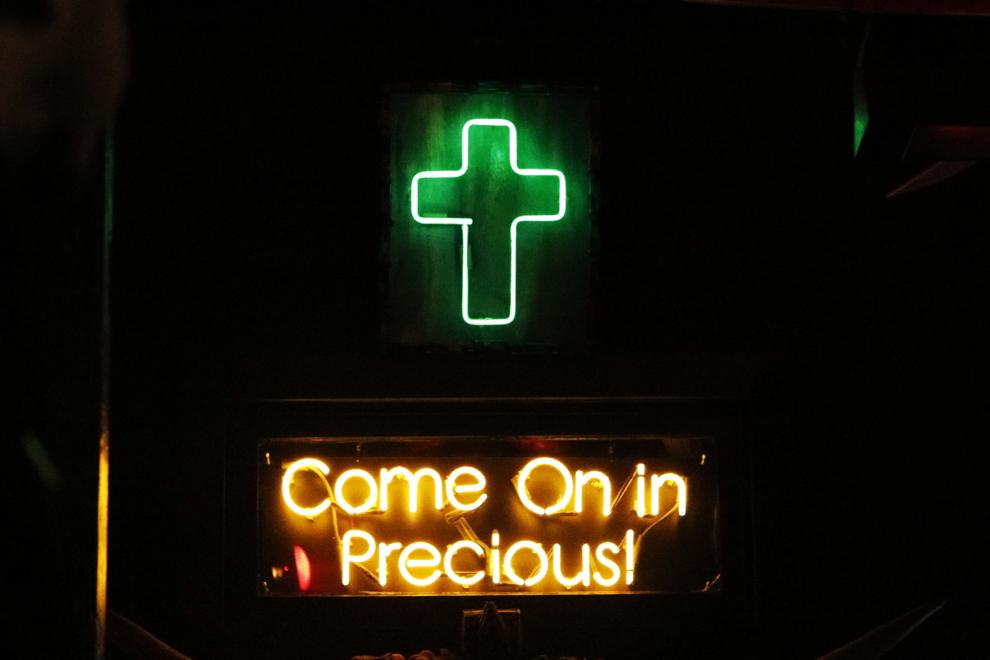 A Church beyond definition
As Church is a sponsor for Athens PRIDE and the Boybutante AIDS Foundation Inc., Sparks said it's no secret that the bar strives to welcome queer-identifying people. Still, both Sparks and McRae said Church strives to create a continued welcoming atmosphere for the larger Athens community.
"It happens that people who love Sister Louisa art, who love the positivity in our staff, and who can view and engage the bar as an art project tend to have open-minded views about sexuality," McRae said. "But there's no sign anywhere that identifies Church as a gay or straight bar. I'm not sure if you can really put a label on it, but we want people to not feel judged on anything besides their kindness and positive behavior."
McRae also elaborated that Church isn't the type of bar patrons use to escape the troubles of the average life, but rather the opposite.
"Church is not a bar where you go to get away from life, it's a bar where you go to get into life," McRae said.