Finding the strength to "be brave" and creative in a time of strife is what helped Kimberly Brown-Clark create her own personalized leather accessories shop, Leather and Heart. 
Brown-Clark started Leather and Heart in 2018 after she was diagnosed with breast cancer in 2017. After the diagnosis, Brown-Clark told herself she couldn't just sit around. So, she created her first piece: a leather cuff that said "Be Brave."
Brown-Clark chose the phrase because she said she needed encouragement from herself rather than from those around her to battle the disease. Before Brown-Clark's  own diagnosis, her sister, Zelda Corbie, had also been diagnosed with breast cancer. Corbie never victimized herself when it came to cancer, and seeing her sister's attitude inspired Brown-Clark. 
"It was from her experience that I said 'I'm brave, I can do this,'" Brown-Clark said. 
After designing more pieces, Brown-Clark decided to put her designs on Etsy. Corbie said it was "slow trucking" in the beginning, but she knew her sister would succeed.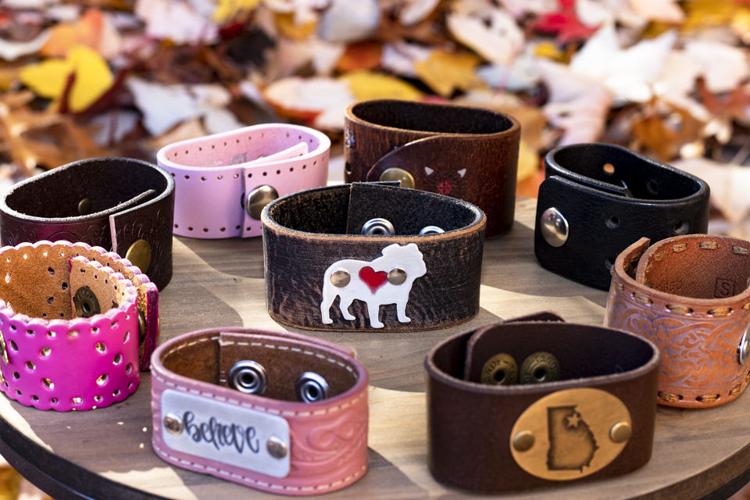 "I said, 'When this blows up, you've got to be ready because it's going to blow up.' And it did," Corbie said. 
Once the online shop took off, Brown-Clark knew with people "loving on [her] this hard" it would be impossible for her to fail. 
Corbie said her sister has always been crafty and driven. She puts  "110%" into everything she does and adds a personal touch to each of her products, Corbie said.
Through the messages she puts on her pieces, Brown-Clark uses her platform to tell other women that they're capable of succeeding. In this way, the business has shifted from its origins as a coping mechanism to a way to empower others experiencing hardship.
Two of Brown-Clark's favorite creations are pieces she's made for breast cancer survivors like herself. The first piece said "She believed she could so she did." The second piece was a present for a customer's mother-in-law who was a survivor which said "Don't be afraid. Just believe." 
Brown-Clark loves making these pieces because they hit close to home for her.
"I hope … the person wearing the jewelry understands the meaning behind it and knows that I put my heart into creating something that's meaningful for them," Brown-Clark said.