After two years of tumultuous restrictions and obstacles due to COVID-19, the 30th annual Noche Latina hosted by the University of Georgia's Hispanic Student Association was a welcomed return to normalcy in Tate Center Grand Hall.
Beginning in the summer of this year, the Noche Latina co-chairs and committees came together to decide on the theme and plan the event in terms of decor, food, logistics and more.
Return to normalcy and 'Generaciones'
"It was super rewarding to be able to come back to what we had before, " Emelynn Arroyave, the president of HSA and a junior international affairs and social work double major, said. "As president, I wanted to rekindle that bond of the community and that excitement around HSA that was kind of lost last year."
Because the last Noche Latina was an outdoor drive-in event due to COVID-19 restrictions, this year's executive board and committee members had to adjust back to the normal setup of Noche Latina.
The theme of this year's Noche Latina was "Generaciones." The purpose of this theme was to showcase the evolution of Latinx culture throughout the different generations but also shed light on the taboo subjects that are often left unspoken about.
The theme was chosen by the co-chairs of Noche Latina, one of whom is Alexis Gonzalez, a sophomore microbiology major.
"The theme came about when we were thinking about our traditions and the things we love about our culture that have stood the test of time. However, we also thought about the aspects that we didn't like such as machismo, the stigma against mental health and colorism," Gonzalez said.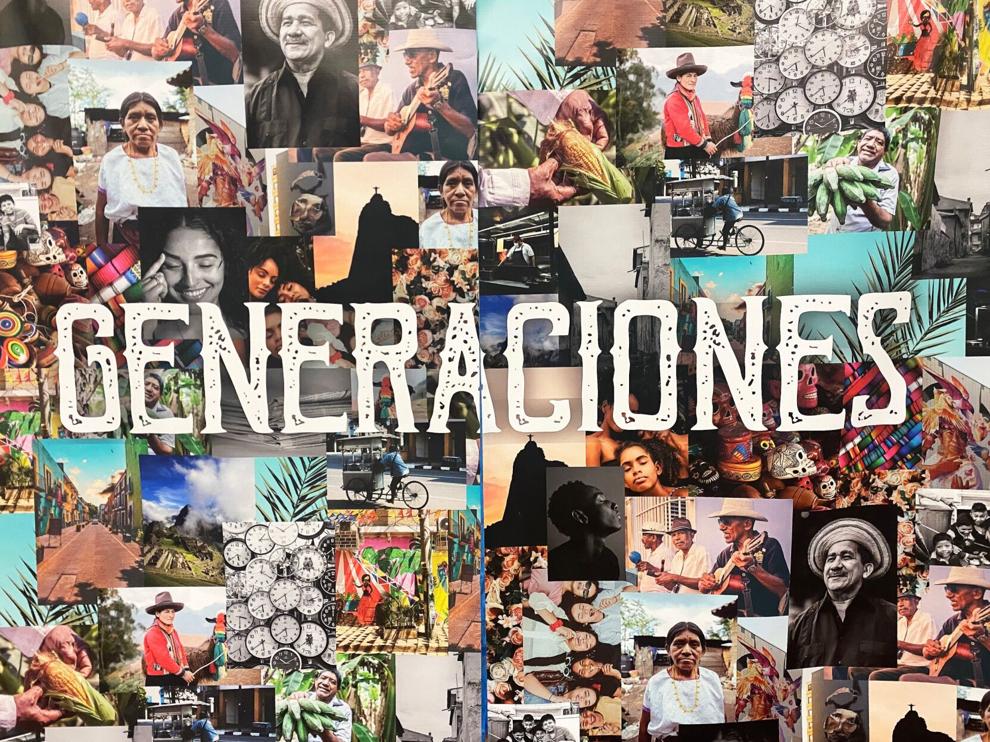 The event started off with a delicious spread of food consisting of several traditional items like plantains and empanadas. As guests were finishing up their meals, the two hosts of the event, Dessi Gonzalez and Serena Dasaro, came on stage to get it all started.
After the theme was introduced, the hosts announced the first act of the event, a performance of Baile Folklórico, a traditional Mexican dance style that symbolizes the heritage and cultural diversity of Mexico.
Machismo
The first serious topic that the event addressed was machismo. Machismo is characterized by a sense of exaggerated masculinity and self-reliance which stems from generations of rigid gender roles and the idea that men are dominant over women, according to the Merriam-Webster Concise Encyclopedia.
Members of HSA performed an original skit about a family in which the parents treated their daughter much differently than their son. While they expected their daughter to do work around the house rather than schoolwork or date, they tolerated the womanizing and delinquent ways of their son because it was considered "manly."
By the end of the skit, the parents, especially the father, came to understand the toxicity of machismo culture.
"We now see female breadwinners, female politicians and female CEOs. This is definitely growth in a positive way towards gender equality, but for older generations this is seen as wrong. Sadly, this is seen in a lot of Hispanic households," Dasaro said.
Colorism and the Afro Latinx community
Aklla Sumaq, an Atlanta based Peruvian cultural association, performed two traditional dance numbers for the audience. One of these dances is called Festejo, which was created to celebrate the emancipation of slaves and is typically performed to Afro-Peruvian music according to an article from the Black Music Research Journal.
The event continued with a skit about colorism. Colorism refers to discrimination within a racial or ethnic group towards those with darker skin tones.
This skit was followed with a poem recitation from Alexis Gonzalez that discussed being Afro Latina, an often ignored portion of the Latinx community.
The poem entitled "Hair," written by Elizabeth Acevedo, started off strong. Gonzalez read, "My mother tells me to fix my hair. And by 'fix,' she means straighten. She means whiten."
Senior international affairs major Amalie Rosales said this was her favorite part of the event.
"In Hispanic culture, we don't necessarily celebrate our African roots. It was really nice to be recognized on stage like that," Rosales said.
Another topic discussed was the issue of mental health. There was an skit which demonstrated that the older generations are not as understanding of the mental health challenges that many young people are going through. The skit showcased the older people attributing these issues to being over dramatic or out of touch with religion.
'Home away from home'
After a musical performance by Chris Hernandez, there was a celebration of Latinx culture in its entirety with dance performances by members of HSA in the style of cumbia, merengue, salsa, bachata and more.
The night concluded with a fashion show in which HSA members strutted across the stage wielding flags that represented their Hispanic heritage.
Noche Latina is one of the biggest events of the year for HSA and a crucial part of celebrating and sharing their Hispanic culture with the university, as students of all backgrounds are in attendance.
"Hispanics only make up 6% of the population [at UGA], and that can be a very alienating experience. HSA really acts as that refuge or home away from home for Hispanic students where they can come and feel connected to their home and their culture. Noche Latina is just that on a huge scale, but it's also about showcasing our culture to the rest of the community," Arroyave said.