To say the word "girl" is to evoke an image different to every person on Earth. To some, she is a bubbly blue-eyed toddler just learning to walk. To others, she is dark-skinned and brightly clothed, walking through a crowded street of people. For others, she is a shy student eager to attend her first day of school in a new village. And to others still, she is almost fully covered with just her simple features peeking out.
Despite how they may look, where they may come from or how much they know, all girls are united by the distinct challenges they all share to some degree. For decades, the hardships of being female went unnoticed, leaving women with little support in gaining sustainable worldly equity.
However, on Dec. 19, 2011, a noteworthy change was made. The United Nations adopted a resolution to declare Oct. 11 as International Day of the Girl Child. According to the UN, the day "focuses attention on the need to address the challenges girls face and to promote girls' empowerment and the fulfillment of their human rights."
International Day of the Girl Child is acknowledged all around the world, and Athens is one city that isn't missing out on the celebration.
---
"The main thing we really want is just to have a space where people can connect with one another and see themselves on a panel."
- Rachael Dier, student
---
Athens' International Day of the Girl event is hosted by The Letter Project at the University of Georgia, a collegiate chapter of the international Letter Project initiative. The organization connects women and girls around the world through a system of encouragement received via handwritten letters.
Whitney Saxon is the original founder of The Letter Project, which she runs out of Charlottesville, Virginia. Saxon derived the organization from discoveries within her own faith.
"I just all of a sudden had this idea like, 'We should bring back snail mail and write letters to girls who are struggling,'" Saxon said. "I bet that other women would want to volunteer in this capacity."'
Saxon wrote about her idea on her blog and within one week, 200 women signed up to volunteer. The Letter Project now spans six continents and is made up of 2,100 writers located in 32 different countries.
The International Day of the Girl event presents itself as another occasion of empowerment. The event, held at Tate Student Center, will feature four panels comprised of accomplished women such as Dawn D. Bennett-Alexander, an associate professor of employment law and legal studies for the UGA Terry College of Business; Ali Gerlach, a UGA alumna and current academic advisor for the Exploratory Center, and Cathy Marszalik, a professional photographer in the Athens area.
Each of the panel has its own topic: "Women in Male Dominated Spaces," "Platforms for Women by Women," "Finding Safe Spaces in Higher Education" and "Staying True to You."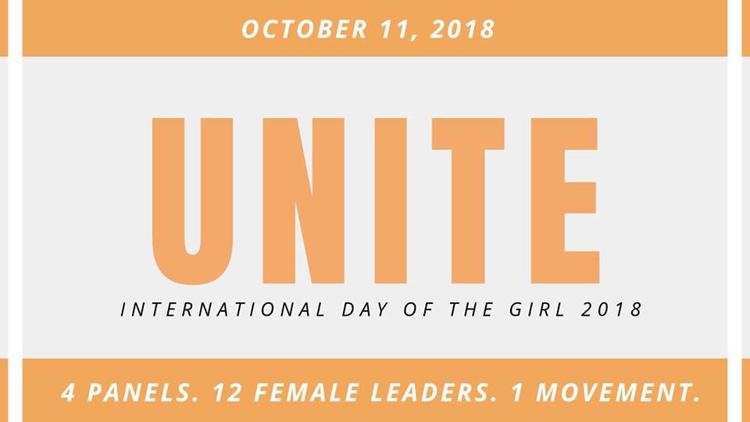 Rachael Dier is a senior English major from Alpharetta who served as the curator for this inaugural event.
"The main thing we really want is just to have a space where people can connect with one another and see themselves on a panel," Dier said. "That's kind of why we sought out to get a diverse group of women to come in and talk about various topics."
Dier hopes the panels' topics are beneficial for women in attendance.
"A lot of the topics are some things that are really serious and really resonate with a lot of women," Dier said. "We just hope that they take away that they're not alone in whatever they're feeling or whatever they're experiencing."
The event also offers participants a chance to interact with the panelists at a reception following the panel. For those who may not feel confident or comfortable asking questions in a large public setting, this facet allows them to ask questions on a more personal level.
Both The Letter Project and the International Day of the Girl event seek to create a network among women and girls that can foster resources, support and encouragement.
With actions like these, the push towards making women feel more empowered with greater equity seems to be adding force with every day. With the end goal being that one day, the word "girl" will evoke more than an image of a pretty face, but rather that of a strong, confident, and independent trailblazer who cannot be defined in just four letters.