Jessica Rothacker, owner and chef at Heirloom Café & Fresh Market, greatly enjoys biting into a ripe peach during the summer.
"I just really love the flavor," Rothacker said. "For the pure joy of eating a nice, juicy peach over a trash can or sink with it dripping down your arm … that's one of the best things about summer time."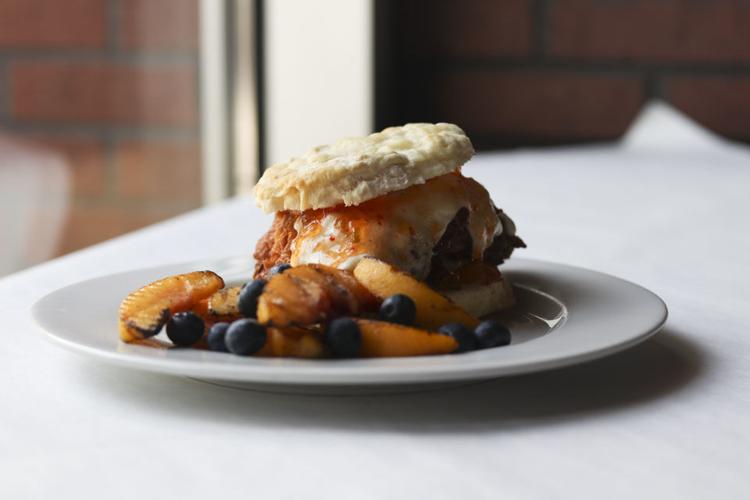 Although peaches were only introduced as the official state fruit in 1995, they've been grown in the South since as early as the 16th century, after Franciscan monks introduced them to St. Simons and Cumberland islands according to the New Georgia Encyclopedia.
Due to its long history, it's no wonder chefs across the centuries have incorporated peaches into breakfast, lunch, dinner and dessert plates, while also adding their own personal twists.
Three Athenian chefs in particular strive to leave their own mark on both the local food scene by offering seasonal dishes and drinks that incorporate peaches.
Mama Jewel's Kitchen
Kelley Padgitt is the owner of Mama Jewel's Kitchen on Baxter Street and said now is a good time to use peaches, as its three-month season in Georgia is winding down.
Padgitt said she loves the versatility of the fruit and hopes people can "be creative" with its textures by grilling or putting them over salad or pork.
Customers can also get a taste of Padgitt's own imagination through one of the restaurant's best-sellers — The Ooey Gooey.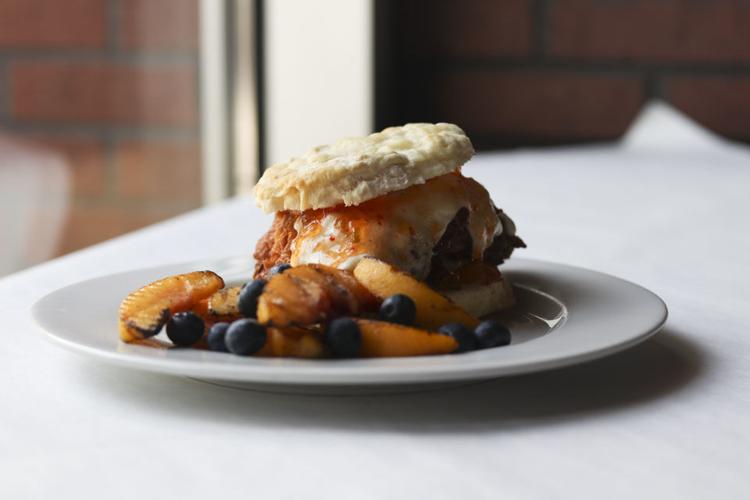 A buttery biscuit, crispy fried chicken and creamy Brie all work together to offset the slight spice of Mama Jewel's jalapeño peach jelly.
The Grit
Toby Cole, the general manager and chef at The Grit, also prefers the fusion of sweet and spicy, and incorporates the striking taste into the restaurant's peach chutney, which the Prince Avenue landmark serves on occasion.
The Indian-inspired dish is made with spices, vinegar and brown sugar, which compliments the fruity taste of the peach to form a "delicious" dish.
"I really like spicy and exotic foods … [and] sort of salty, savory, spicy things paired with things that are sweet and fruity," Cole said.
For those who enjoy purely sweet foods, Cole said The Grit also sometimes serves peach pancakes for both breakfast and brunch — with peaches either incorporated into the batter itself or made as a fruit compote to eat on top the stack. The Grit also offers peach ice cream and pie.
Yet despite the many peach dishes The Grit offers on its expansive menu, Cole said they're a "once in a year type of deal" due to the relatively short season and the space the fruits takes up while they ripen.
Heirloom Café & Fresh Market
Consistency is also one of the challenges Rothacker said she faces in using peaches on her seasonally-based menu.
Factors such as weather often impact the crops, thus limiting the supply of the fuzzy fruit.
Despite the difficulty in acquiring them, Rothacker incorporates peaches into many of the restaurant's dishes.
Cold and refreshing, customers over the age of 21 can order Heirloom's peach Old Fashioned which combines peach and rosemary puree with bourbon.
Another fresh pick offered is their summer salad which pairs lettuce, cucumbers, roasted corn, tomatoes, feta cheese, chickpeas and peaches, topped with a ginger tahini dressing.
Fans of savory dishes can also try the Herb Dutch Baby, an herb pancake served with pickled peaches, a mozzarella-and-cream cheese mix called burrata, lardons, micro green salad and sorghum syrup.
Rothacker's mother's recipe for peach cobbler — made with ginger, cinnamon, brown sugar, a biscuit-like topping and served with vanilla ice cream and pistachio crumble — is available for those wanting to indulge in something much sweeter.
"It's just a nice, really fresh, bright flavor so it can make any dish kind of special that way," Rothacker said.