Kelbourne "Kelly" Codling walked around the meeting room at the Athens-Clarke County Library with a big smile on his face, shaking every person's hand in attendance and greeting those he knew personally with a heartfelt hug. Sweet and spicy aromas began to waft around the room as he got samples from his restaurant, Kelly's Authentic Jamaian Food, set up for audience members to enjoy.
At 6 p.m., the buzz of the room had come to a stop and all eyes were fixed on Codling. He made a brief statement on how he hadn't a clue why his parents decided to name him Kelbourne, and then proceeded to open the floor up for questions about his new book.
Codling's memoir, "True Believer," tells the story of his life from growing up on a farm in Jamaica — where his mother and grandmother taught him how to cook — to his journeys all over the United States and finally to how he ended up in Athens, Georgia, where he has been for the last 20 years.
He wasn't always cooking jerk chicken at Five Points, however. Codling bounced around Athens with his restaurant a few times until one of his customers handed her father's space on South Lumpkin to him.
Codling couldn't believe that he was being offered a spot in such a prime location. "She said, 'yes, that's my dad's place, and I told him to give it to you because Five Point have too many … sandwiches, we need real food,'" said Codling as the audience chuckled in response.
When signing the lease, Codling's only instruction was to pay rent. "I've been over here now for 12 years," he said, motioning in the direction of Five Points. "I make sure that I pay my rent, pay my bills."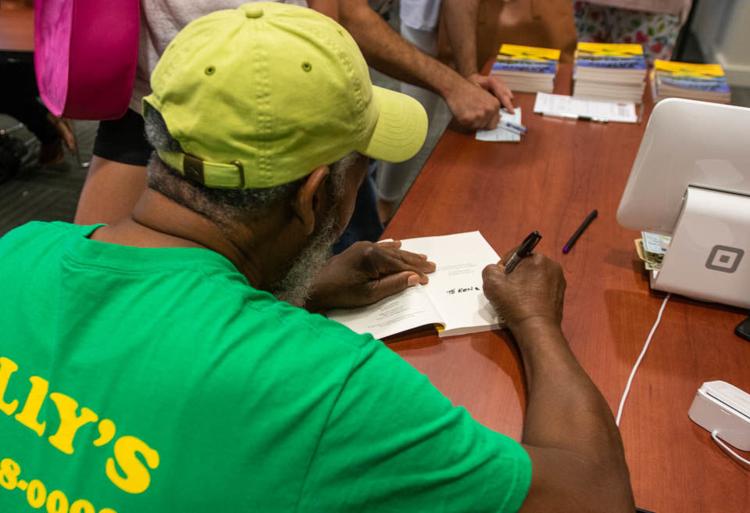 Codling has gotten quite a few big breaks during his time in the United States, not only here in Athens. Even in Texas when he was working as a paint mixer and then a painter, he got where he is today largely due to the kindness and encouragement of people he's met along the way.
He also credits his success to his faith in God. When Codling first started working for himself, he said he heard a little voice that spoke to him and said, "You want to work for yourself? Okay, make me the foundation and I will take you places you don't even dream of."
Years later, Codling ended up in Athens — a town he never knew existed outside of Greece until life pointed him in this direction. The title of Codling's book is a reference to this leap of faith and the places it has taken him along the way.
"True Believer," complete with a few of Codling's favorite recipes, can be purchased at Avid Bookshop in Athens as well as on Amazon for $15.