Athens has many eclectic places to chill with friends, but Kempt is introducing a new concept of lounging in the midst of a creative space. After a summer of renovations, Kempt moved into the historic Athens building located at 175 N. Lumpkin St., with a new wave of trend-forward menswear.
The grand opening took place on Saturday, Aug. 24, from 11 a.m.-8 p.m., with door prizes, discounts and giveaways. Not only were clothing items featured at the party, but local Athens' fooderies, including Normaltown coffee, breakfast from Athens Bagel Company and snacks from Marti's at Midday, made appearances as well.
Kempt is blending sleek and simple with school pride in many pieces, such as red and black T-shirts with minimalistic designs. One of its brand's promises to offer denim that entirely "suits your style or body." The grand opening will offer this opportunity at 10% off the entire purchase for just trying on a pair of Mavi denim.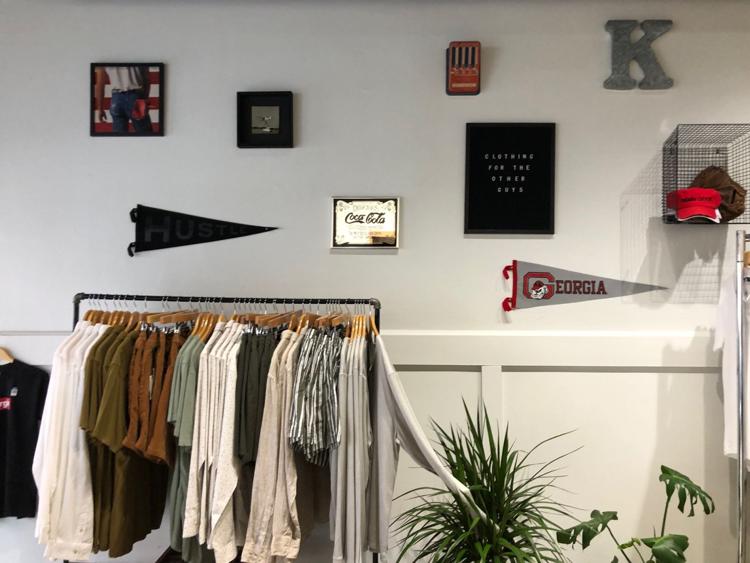 Kempt is honing in on the wild spirit of Athens by grabbing the attention of those who both love fashion and those that are just looking for a cool place to visit with friends.
"It comes from being the opposite of the meaning unkempt, or messy," owner Ryder Chosewood said. "So Kempt is the opposite of that. Put together, squared away. One of the first things we picked for the store was the name."
Chosewood grew up in Lilburn, Georgia, and studied fashion merchandising at the University of Georgia, where he graduated in 2017. Chosewood said he wanted to return and give back fashion to the place where he fell in love with it.
"Long term, I knew I wanted to do a men's store but after moving here from New York, I realized that Athens had a real demand," Chosewood said, "I fell in love with Athens, and it was just kind of a right time, right place thing."
The store itself is fitted with leather chairs and unfinished architecture to provide the modern vibe that Chosewood hoped to achieve with his company.
Kempt's featured brand is Banks Journal, according to intern and current UGA fashion merchandising major, Heath Allen.
"We wanted smaller, niche brands that people have not heard of. Not something you could find at Macy's was the vibe we were going for," Chosewood said.
According to its Facebook page, Kempt is not only committed to providing trend-forward fashion, but also a place that is "a safe space for people of every background, orientation, and identity."
"Kempt just looked like something I wanted to jump in and be a part of," Allen said.
The target customer is not only college students but anyone who walks into the store. Chosewood believes that anyone that comes into the store can find something that they like and feel comfortable in.