Perhaps the most iconic image of any PRIDE event is the vivid and brightly-colored rainbow flag that symbolizes community and peace. On Saturday, Sept. 8, M3Yoga hosted an open-invite Rainbow Flow yoga class in correlation with Athens PRIDE, and featured plenty of this iconic image.
Class-goers proudly strutted around in rainbow-colored shirts, leggings and tank tops, and decorated their arms and faces with PRIDE stickers and temporary tattoos. Some even had PRIDE-themed mat carriers and sweatbands.
Nick Combs, who taught the Rainbow Flow class, is the co-owner of M3Yoga.
"I, myself, am a gay man. My partner and I own M3Yoga so PRIDE is really important to us, just as individuals of the gay community," said Combs. "Yoga has been really beneficial with helping me be in touch with myself, and I think it's just a wonderful thing to offer to our community and to give back to Athens PRIDE."
Soon the yoga studio, an open, industrial-style room with high ceilings and natural light, became a vision of a rainbow itself as yoga mats unrolled on the floor, covering the dark surface.
Classmates were encouraged by Combs to introduce themselves and mingle, promoted by the words, "It's all love here."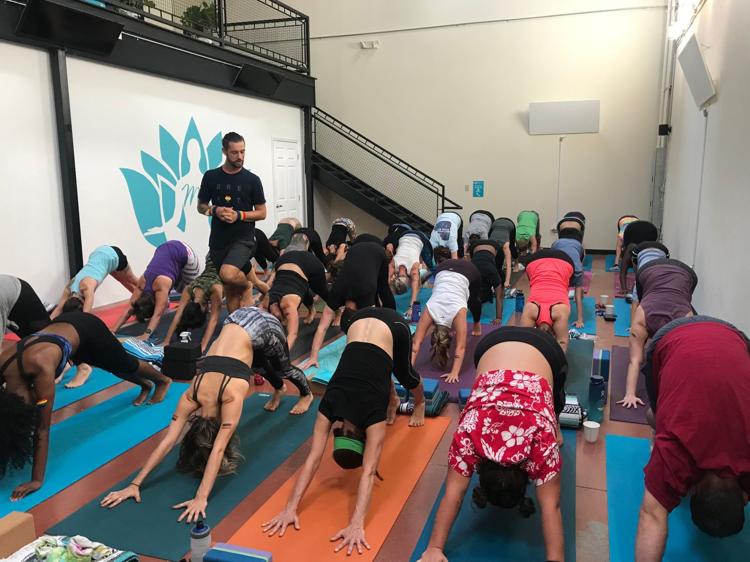 Even before class began, the atmosphere was warm, filled with hugs, smiles and friendly greetings for new members.
"I think as a business, we're in a unique place to where we can offer these kinds of things and actually put ourselves in a stance for something. Our mission statement is built on inclusivity and that is super important to me. Making people feel included in any way, whether it's a marginal community or no, is important," Combs said. "Certainly, I think being in the South it can be hard for a lot of people — when they're coming to terms with being gay in particular — and not everywhere in Georgia is like Athens, so I think it's really important to give people a safe place."
The Rainbow Flow class was free for all. M3Yoga simply asked the participants of the class to make donations that would benefit Athens PRIDE.
"All of our donations go right to them," Combs said. "I think it's just another way to kind of bring ourselves closer as a community that may not necessarily involve the bar scene, because a lot of times that's not everyone's jam."
The class offered a diverse turnout, bringing together all ages, genders, body types and skill levels.
---
"Yoga has been really beneficial with helping me be in touch with myself, and I think it's just a wonderful thing to offer to our community and to give back to Athens PRIDE."
-Nick Combs, co-owner
---
One student new to Rainbow Flow was University of Georgia freshman Jordan Herrell, who is an undecided major.
"I found this through a rabbit-hole search," Herrell said. " I was looking at stuff on the UGA Health Center website for classes and then this came up."
Another student was Tatiana Sharp, a former Athens local who now lives in Houston.
"I went to the first [Rainbow Flow] last year. It was one of my favorite yoga events," Sharp said. "Nick is a great teacher with a wonderful energy. It's just great to see everyone come together to support PRIDE I couldn't think of a better way to spend my Saturday afternoon."
Sharp was visiting Athens for the weekend and was excited to find out that she would be in town for the Rainbow Flow class.  
As the class got underway, the energy shifted, allowing the participants time to let go of their worries and enjoy an hour away from everyday life.
"It's very lighthearted and celebratory," Combs said. "I think that that's a cool thing that yoga offers us."