In between four dark gray walls — adorned with LP vinyl, a bookshelf full with gloom-inducing novel covers, metal posters and deer and ram skulls — sits a singular worn-in leather couch, where Joe Eldridge films his YouTube series "Morbid Couch."
This doom-and-gloom inspired space houses Shadebeast Records. Located in the Chase Park Warehouses and open 11 a.m.-6 p.m. on Saturdays, Shadebeast is a heavy metal record shop containing the music of underground and independent metal artists. Focusing on serving the "underrepresented" metal community, the shop contains music from artists who aren't as well known to mainstream listeners.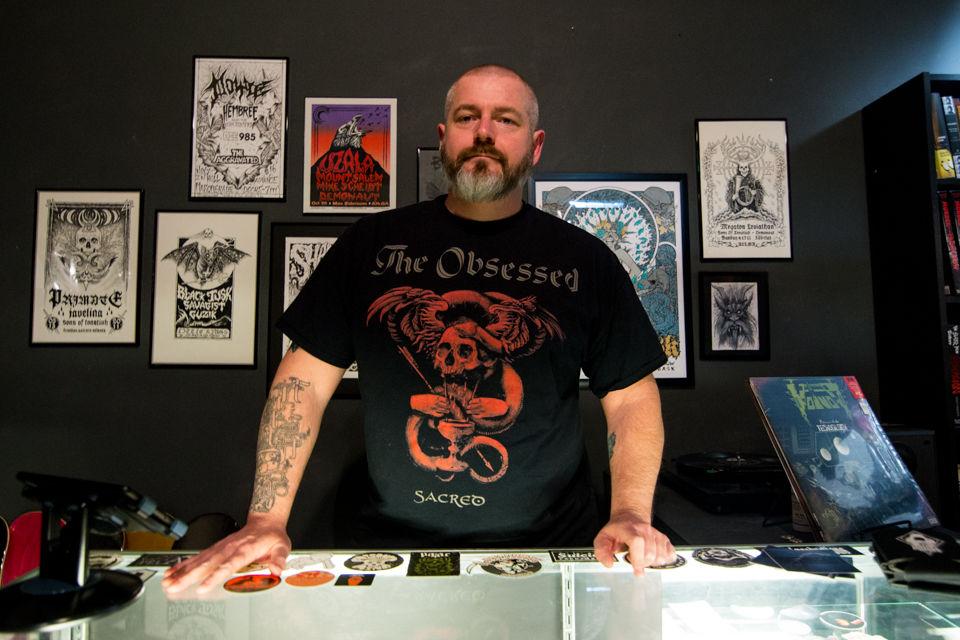 Besides selling the music and records from those represented artists, Shadebeast focuses on being a good steward to the tight-knit metal community in Athens. Eldridge, the owner and creator of Shadebeast, does this by sponsoring metal shows in Athens, by hosting the music of Athens-based metal bands and by maintaining an active Shadebeast clothing line.
"The independent, underground metal scene is underserved so we want to be devoted to that," Eldridge said. "We want to support the community we're a part of."
In the eyes of John Ray, who hosts the podcast "Ratio Podcast," Eldridge has achieved this goal.
"Shadebeast simply existing is a big deal for metal fans who come to town who are looking for a community and can't find one," Ray said.
Online shop to Chase Park
While the physical location opened in November 2017, Shadebeast was an online business first. Eldridge noticed the interest and popularity of the website where he sold music and Shadebeast streetwear and decided to devote a spare room in his house to selling his merchandise.
He wanted to see whether or not there was enough interest in opening a physical store, and finally decided to move to Chase Park when his wife told him that he "needed to get the store out of here."
When Eldridge was looking for a physical shop, he wanted somewhere where people would have to seek them out. That way, people coming to the shop would be interested in a conversation about the music, whether they were a heavy metal savant or a beginner looking to understand more about the genre.
Shadebeast has a distinct advantage; as the shop isn't Eldridge's main source of income, he can allow the store to act freely in the community as a space concerned about promoting less well-known bands rather than as a shop which is only concerned with profit.
Eldridge describes the store as a labor of love. He isn't concerned with profit — the money he makes from selling the store's merchandise goes into replacing what he sold with new music.
Eldridge's daughter, Sophie Eldridge, encouraged her father to open the store when he was considering opening the physical space. Sophie Eldridge is a senior screen printing major at the University of Georgia, and she designs the T-shirts and streetwear for the company.
"It makes me happy seeing him so enthusiastic," Sophie Eldridge said.
Because the store is something her father views as a hobby and as something that's important for the community, it makes her happy to see him so passionate.
Comfort of familiar faces
Shadebeast is a part of the metal community beyond Eldridge's shop. By maintaining an active social media presence via the "Shadebeast Social Club" page on Facebook, Eldridge takes recommendations from residents from beyond the Athens-area about which bands to keep in their store. Daniel Shroyer, a member of local band Mandible Rider, feels like helps him into the community as he's busy most days and nights.
And this is effective, especially in a small, devoted community. Metal fan Olga Fouche, a junior entertainment and media studies major, has been attending local shows since she came to Athens three years ago. Fouche always sees "familiar faces" at metal shows she attends and said the nights where she goes to metal concerts are the ones where downtown Caledonia Lounge is most busy.
In a small, familiar community, anchored by common-known metal names like Savagist, Guillotine, Mandible Rider, Husk and other Athens-based bands, maintaining a steady record shop and reputation of sponsoring metal festivals has given Shadebeast the opportunity to grow.
To further benefit the metal community, Eldridge plans on starting a metal summer showcase at The World Famous in downtown Athens, beginning in July. Each showcase, an idea which Shroyer conceived, will host Athens-based band, a band who is having trouble getting booked, and a band who is touring through Athens.
This is consistent with Shadebeast's goal to represent underrepresented bands and to "raise the visibility of Athens to see metal shows."
---
Correction: A previous version of this article stated that John Ray was a member of Savagist, when he is not. The Red & Black regrets this error, and it has since been changed.