Stress-free cycling along a historic path is becoming more of a reality every day thanks to the prospective Firefly Trail stretching 39 miles through Northeast Georgia, and starting here in Athens.
Ground-breaking...literally
The trail has been in development for over seven years, and will be part of a corridor winding through Clarke, Oglethorpe and Greene County. The name "firefly" comes from the sparks flying from old wood-burning engines of locomotives following the Athens Branch of the Georgia Railroad.
Mark Ralston has been a part of the Firefly Trail, Inc. since its inception nearly seven years ago, serving both as current vice president and as the public relations chair of Firefly Trail, Inc. As an avid biker since he was young, Ralston joined the group when it was a simple gathering of citizens wanting to "make something happen."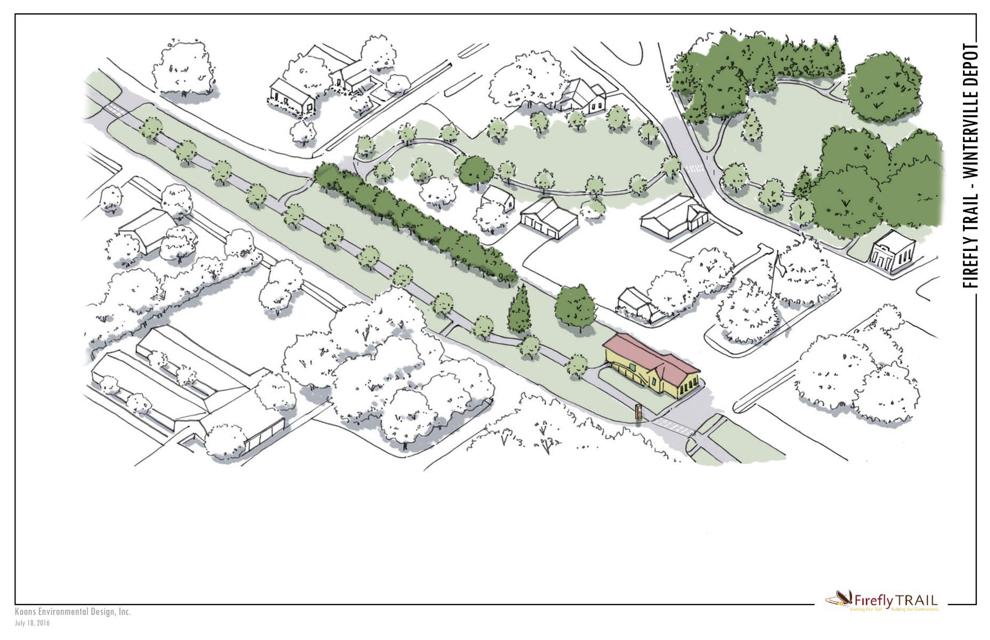 Ralston enjoyed the Silver Comet trail in West Georgia, and was eager to push for the construction of a similar trail closer to home.
After years of lobbying behind the scenes, development and planning, Athens Clarke County recently broke ground on the first mile of the trail. Costing $5 million and including two major bridges, this is the most expensive and complex part of the entire trail, and runs behind Mama's Boy restaurant from East Broad Street to Old Winterville Road.
The cost of the trail has come "a penny at a time," according to Ralston, primarily through sales taxes, private donations, fundraising opportunities and both federal and state grants.
Friction
Almost all trails, regardless of size, location or price, receive opposition from members of the public during construction. The Firefly Trail is no exception. Facing critique from Athenians and other communities located along the line, Ralston explained that much of the apprehension about trails is unfounded.
"A lot of it is because people aren't familiar with them, and it's fear of the unknown," Ralston said. "There is a concern about loss of privacy, especially in rural areas. People really value that sense of privacy."
---
"There is a concern about loss of privacy, especially in rural areas. People really value that sense of privacy."
– Mark Ralston
---
Micah Morlock, manager of Georgia Cycle Sports, said that because the trail is being built on new ground, many people are upset with the construction's impact on their properties.
"It's a difficult project that they've taken on—I wouldn't have done it because it's so daunting," Morlock said. "There's no railroad there any more so they aren't just replacing a trail where there used to be rails. They're literally digging up people's backyards to do this."
Concerns of criminal activity are also common. Many landowners whose property will border the pathway of the trail worry that people will use the trail as a way to break and enter their homes or trespass on their properties.  
"The good news is, in almost all of those cases, there's no real reason to be concerned," Ralston said. "Generally when trails are built, crime actually decreases because there's more people out, more eyes on the ground, and that discourages criminals. People are using the trail to use the trail, not to look at somebody's rose garden."
One major supporter of the trail is cyclist Tyler Dewey, the executive director for the nonprofit organization BikeAthens, founded in the late 90s. Using education, advocacy and community service to meet transportation needs in Athens, Dewey and those working at BikeAthens are very hopeful about the transformative services the Firefly Trail will provide.  
"It's difficult to get out of Athens on a bike—the roads are very stressful," Dewey said. "If you have an off-street trail, people can come stay downtown where we have hotels and all the great music venues and restaurants, bring their bikes, and then ride out safely and comfortably to enjoy the benefits of Winterville. They can use that as a gateway to explore this part of Georgia."
Health benefits
Rail-trails are built along the routes of abandoned or outdated railroad tracks. Because trains require level and low-grade areas to run, trails built along these out-of-use tracks are flat and easily accessible for users of all ages and abilities. These trails, safely out of the way of vehicle traffic, are designed not only for bikers, but also pedestrians and hikers as well.
"We hear a lot from people who say 'I want to ride my bike more but I don't feel safe sharing the road with cars,'" Dewey said. "All of the sudden when you have the Firefly Trail ... you have this wonderful facility where people can go out and ride their bikes without the threat of motor vehicle traffic."
The Governor's Office of Highway Safety and the University of Georgia's Survey Research Center combined efforts in 2011 with an organization called Georgia Bikes to release a survey looking at Georgia residents' attitudes toward bicycling issues. It found that 81 percent of survey respondents reported they would ride their bikes within the community more frequently given safe places, like bike lanes and multi-use paths.
The foot-traffic is one of the highest selling points of trails like Firefly and the Silver Comet, as rail-trails offer major health benefits to those who use them. Improving cardiovascular systems, reducing risk of heart attacks, decreasing obesity and increasing general health are a few of the health benefits rail-trails have been documented to provide.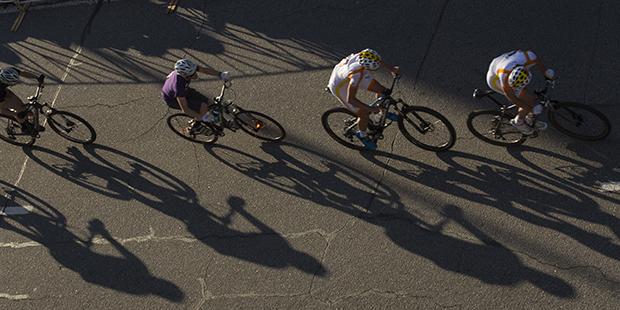 "Many of us think it's a healthier form of transportation. When you get out there and get active, you lower risk of heart disease and obesity—you're just in better health," Dewey said. "More bikes and more walking creates a stronger sense of community. When you're on the street face-to-face, you can actually interact with someone as a person."
In addition to recreation, the trail is predicted to be used for occupational transit as those who live within a short distance can safely ride their bikes to and from work.
"I think it will be used more than people realize," Dewey said. "It will be used by people who want to come from Winterville to downtown and vice versa, people will use it to get to and from work. Families can come down from Winterville and have brunch at Mama's Boy with no traffic and it's safe."
Economic gain
Rail-trail corridors, in addition to providing multi-use, safe paths for recreation and transportation, also provide areas of safety for plants and animals and are typically well-kept. This improves the aesthetic of trails that often offer incentives to those living or working around them.
Ralston reported that the national gas station chain QT has announced they want to install a gas station at Lexington Road in Athens specifically because it interacts with the Firefly Trail.
"They have a reputation as being a good trail partner, and would bring things like outdoor seating, food and water for people using the trail," Ralston said. "Trails also provide an environment that a lot of businesses like to be around. It'll bring jobs to an area of Athens hurting for jobs."
The historic Athens Branch of the Georgia Railroad, abandoned in 1984, stems off the still-active Augusta-to-Atlanta line beginning in Union Point. The Firefly Trail, like the rail line, will pass through the towns of Woodville, Maxeys, Stephens, Crawford, Arnoldsville and Winterville on its way to Athens.
Many of these smaller towns have dried up economically in the wake of the railroad's abandonment and will strongly benefit from the revitalized economy the trail could offer.  
---
 The average trail user would spend
$13 per day
Source: Georgia Department of Transportation
---
According to a study by the Georgia Department of Transportation measuring the total economic benefit of the completed Firefly Trail, estimates predict the average trail user to spend $13 a day on the trail and in surrounding areas eating and shopping.
Numbers of trail users per year are projected to reach around 1.13 million, meaning the total annual economic impact of the trail would round out to nearly $14.7 million.
Rail-trails, as Ralston explained, are also a tremendous amenity for nonmotorized transportation.
"You can hop on your bike and a few minutes of easy pedaling later you can be in downtown Athens. That makes it an attractive resource," Ralston said. "You have that smooth, level, off-road corridor that makes for great transportation."
Other than reducing traffic congestion, less cars on the road also inadvertently helps local businesses.
"When you spend money the way people on bikes spend money, it typically stays in the local community," Dewey said. "When you spend money filling up a tank of gas, that money is leaving the community, but on the types of trips people use for bikes it stays in the local economy."
The future
The current estimate of price for the 38 miles stretching from Old Winterville Road to Union Point is around $13 million. According to the economic impact study, construction activities will not only create over 150 jobs, but will also generate tax revenue of about $50,000 at the county level.
Within the Athens area, high land values also increase the price of property acquisition. Paving for rail-trail projects typically cost $1 million per mile in urban areas, Ralston explained, but in rural areas the dollars can go a little further.
---
"If it actually gets completed, I think it would change the whole community."
– Micah Morlock
---
"They are way ahead of where I thought they would be. The fact that they're breaking ground already gives me confidence that they can finish it," Morlock said. "If it actually gets completed, I think it would change the whole community."
According to Ralston, the section of the Firefly Trail running through Athens is projected to be finished in September with a grand opening later in the fall. Mirroring the projected completion date is the Maxey's mile, while the Union Point segment is projected to be finished next spring. Given the length and complexity of the trail, however, the completion of the full 39 miles could be another 10 to 15 years.
"We have to target which areas we want to finish first—show people how it will look and how it will function," Ralston said. "We're building a groundwork of support and people saying this is what the community needs."
You can take a look at the full proposed trail via Firefly's website.