Being a full-time college student isn't easy, but what about studying as a full-time college student in addition to also being a part-time model? University of Georgia freshman Adeline Seiferth has been modeling since her senior year of high school, and she has continued pursuing it as a college student despite the demands of transitioning into her first year of college.
"I make it work because I love what I do," said Seiferth, a human development and family sciences major from Cumming.
In high school, Seiferth was on a competitive volleyball team where she was a dedicated player. Even though modeling wasn't the biggest thing on her mind, people consistently talked to her about the possibility because of her height and body shape.
"Everywhere we went people kept saying, 'You need to get her into modeling,'" Sandy Seiferth, Adeline's mom, said.
Seiferth signed with Ursula Weidmann Models in Atlanta her senior year of high school to give it a try. Since then, she has modeled in multiple shows at the AmericasMart in Atlanta, such as the Vows Bridal Show. Seiferth has also walked at the Corps de Ballet Fashion Show for Neiman Marcus. From modeling Prada to Jimmy Choo and Gucci all within just a year and a half, the freshman has been immersed in the modeling world and is beginning to understand the pressures that come with the industry.
"I didn't realize how hard it actually is," Seiferth said. "A lot goes into one picture and that's what people don't realize."
Seiferth talked about how she didn't know how serious some of her photographers would be and how she had to learn how to adjust her modeling to fit the photographers' personality. She has to constantly think about what the best angle is and how to match her poses up with the idea that the photographer has in their head.
"Photoshoots' theme and mood vary vastly so it is important that models know how to change form and give a range of emotions," said Chrisean Rose, a modeling photographer who took photos for Seiferth for the agency's website.
Additionally, photoshoots tend to be an all-day job, making it difficult for Seiferth to balance classes and school.
"You definitely have to schedule everything around modeling," Seiferth said.
Seiferth tries to schedule her classes in such a way that she can be done by at least 2 p.m. Although photoshoot jobs tend to take up the whole day, runway shows usually take place at night, giving her just enough time to make it to Atlanta from Athens when she has a job booked. She hopes to change her schedule next semester so that she will have all her classes either on Tuesdays and Thursdays or on Mondays, Wednesdays and Fridays.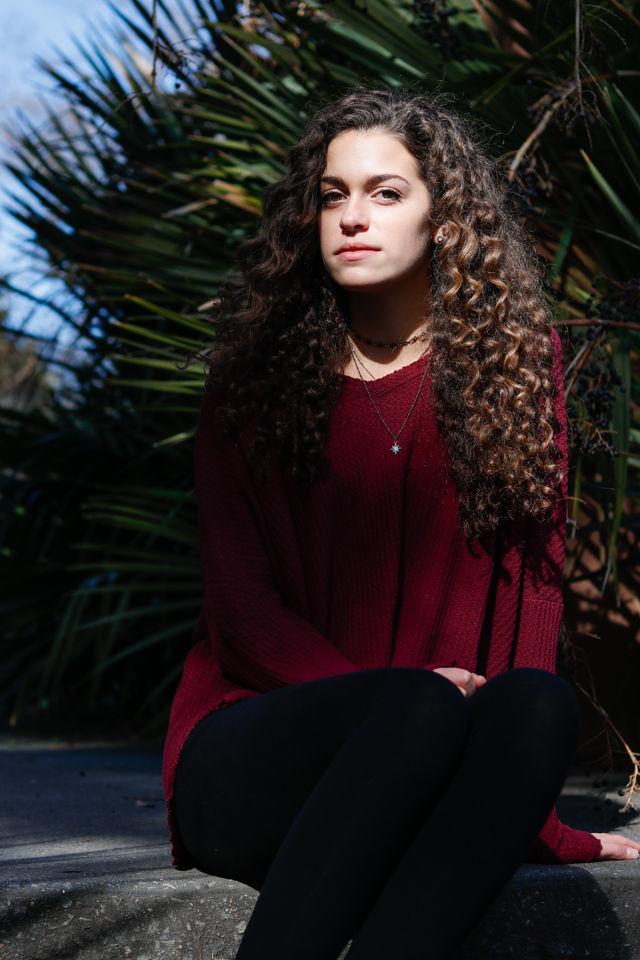 Seiferth is also focused on living a healthy lifestyle in order to stay in shape. She said that runway models tend to be on the smaller side, so she tries to work out for at least 50 minutes each day, if not more.
"I definitely think that going into modeling has changed my mindset more towards caring about my body image, but you just have to kick that out the door and focus on your health," Seiferth said.
Seiferth talked about how it is very easy to get obsessed with having the perfect body in the modeling world, and while it has made her more conscious of what she eats, she doesn't want to get caught up in doing anything that would push her body over the limit.
"It's more about what's the best shape you can be in for yourself. You can't compare yourself to these other girls who are stick-thin because your body is shaped in different ways," Seiferth said.
Seiferth's mother admires Adeline's confidence and how she accepts her body for the way it is, rather than constantly trying to fit a certain look.
"She doesn't want to get obsessed with [her body image], and that's probably going to limit her to some degree, but she's totally fine with that," Seiferth's mother said.
Rose said models will often have to adjust their physical appearances for photoshoots, whether it be changing their hair or changing their body. He mentioned how one of the models he recently had a photoshoot with is in the process of trying to gain weight because she didn't quite fit the measurements for being a plus-size model.
"I think the most challenging thing that models face is constantly being told they are not good enough and having to change their physical appearances," Rose said. "I wouldn't say this goes unnoticed, but it is the norm."
Considering how brutal the industry can be, Seiferth's mother admitted she was somewhat hesitant at the start. Once she saw how well her daughter handled rejection, however, she let go of those reservations.
"I just think she's balanced. Her spiritual foundation is strong, and she knows what she wants to do and just goes after it," Seiferth's mother said. "She's just confident, and I love that part about her."
Seiferth is planning on going to graduate school for nursing. On top of that, she is also a member of the Alpha Delta Pi sorority, and is involved with UGA HEROs and the Freshley student ministry. While school is still Seiferth's top priority, she plans to do more modeling over the summer.
"I definitely do want to keep pursuing it and if anything big did happen then I definitely would want to go that route," Seiferth said.