When Sami Rouchdi talks about music, he smiles. And when he's performing, he has that same smile.
It's an easy smile, an almost comical contrast to electronic bass music he's become known for around Athens, which is anything but easy listening.
With the click of a key and a turn of a nob, Rouchdi, who DJs under the moniker SLZRD (pronounced Slizard), turns his audiences into waves of movement as they dance and headbang to his mixes, which include influences from funk, dubstep, hip-hop, rap and everything in between.
"When I'm on stage, I basically feel the most like myself," Rouchdi said. "I have no anxiety. I'm just up there doing what I love to do."
It's a flashing genre predicated on computer noises that don't fit into the '80s rock vibe people associate with Athens. It doesn't have the grunge of rock 'n' roll or the charm of twanging country, and the rave-style shows definitely don't match the aging brick and peeling facades that characterize downtown Athens.
Before Rouchdi, there was a whole community of misfit music fans, hearing they were in a city hospitable to any artist willing to give it the old college try, but not seeing any representation of their favorite headbanging genre.
Since Rouchdi has started performing around the city, this has all changed. All he needed was some resourceful bass heads, a social media presence and a stage to show his skills.
"There's been a demand for bass in Athens, and now there's so many people trying to make it happen that it's impossible to ignore, and it's blowing up," Rouchdi said.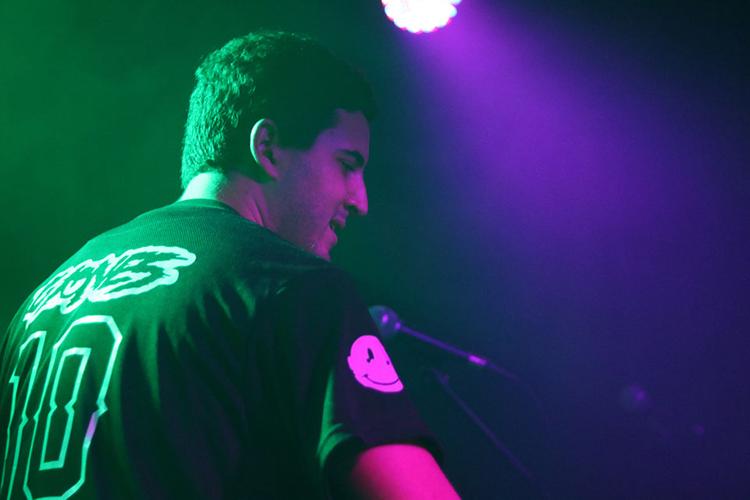 The old college try
The Athens legacies remember their first shows in a downtown bar or at a friend's house, playing mostly for free beer and name recognition. The key to these shows? Keep saying yes.
That's exactly what Rouchdi has been doing the month of April. He's played one fraternity party after another, punctuating these outdoor events with shows at Live Wire or appearances at underground after-parties.
It's only been a little over a year since Rouchdi played in front of his first audience, and his name hasn't stopped appearing on different line ups for all sorts of crowds.
But amid these performances, Rouchdi had a 2019 plan — to produce a new song every week. With all this new music, he said he'll start looking for a theme among the tracks and release an EP or LP.
"At this point, it's a full-time job," Rouchdi said. "It doesn't feel like work. I'm just kind of doing what I love."
New tracks, including remixes, mashups and originals, are consistently appearing on the SLZRD Soundcloud, such has his most recent original, "raingurl flip," a dynamic upbeat dubstep track.
Alternative bass EDM is the only way Rouchdi can nail down his genre, saying that he puts a little bit of everything into his tracks. This style defines his sets and allows people to recognize his sound almost immediately.
"No two songs of mine have had the same process in making them," Rouchdi said.
---
"There's been a demand for bass in Athens, and now there's so many people trying to make it happen that it's impossible to ignore, and it's blowing up."
—Sami Rouchdi, SLZRD
---
His confidence on stage is almost contagious. Friends go up to him and clap his hand mid performance. He guides the audience with his hands to signal a beat drop and smiles even wider when everyone losses themselves headbanging.
How could he not? These aren't just fans, they're friends. They're the people who have pushed him onto this stage, or in some cases, made the stage for him.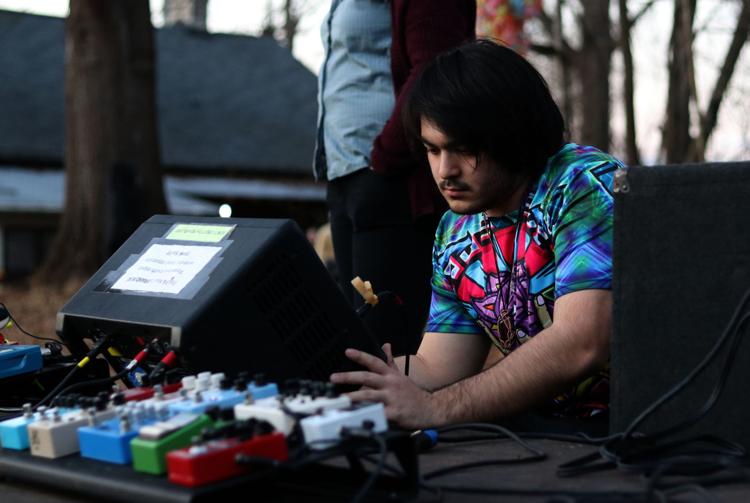 With a little help from my friends
University of Georgia senior Edward Mortimer, or Mort among friends, is the unofficial king of the underground bass scene in Athens, and knew Rouchdi had talent before SLZRD had even started. So he did what any good friend would do and threw him on a stage.
Mort and Rouchdi hosted an after-party for the Georgia Theatre's Manic Focus show in Mort's backyard in January 2018. Despite rain moving the party indoors, about 50 people, including the openers of Manic Focus, made the show a success.
"I had been trying to convince Sami to actually go out for gigs more ever since that first party," Mort said. "I recognized that he was super talented, but he was not really trying to push himself into playing gigs like that … and then I was like, 'Fuck it, I'll just give him the gig.'"
Now, the parties are tradition, and Mort continues to showcase more of his friends on this backyard stage, though always leaving a slot for SLZRD.
"The parties have always been me and Sami doing it together," Mort said. "He has the clout. He's the established guy, so we just started getting more people to come out."
Rouchdi credits these after-parties as what caused him to break out as SLZRD in Athens.
"I didn't think [Athens] would be as nearly as receptive as it is, especially considering the type of EDM that I play," Rouchdi said. "I figured most bars and fraternities would just be cool with mainstream electronic music."
Later that year, Rouchdi went from the after party to opening for Manic Focus in October at the Georgia Theatre, which he describes as the best night of his life.
"I've seen so many artists that I really, really look up to on that stage," Rouchdi said. "It was really cool being up there, and my mom came, so that was fun."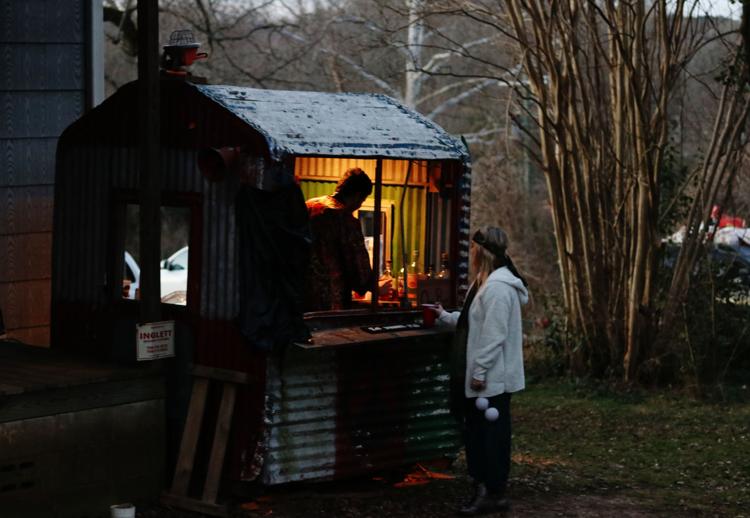 As SLZRD's name has grown, Rouchdi credits some of this success to his girlfriend Abigail Wardlaw, an artist who goes to Georgia Southern University. Wardlaw makes posters for the after-parties, helps design SLZRD merchandise and posts about Rouchdi's music on social media to create a fandom outside of Athens.
"It's what he's wanted to do and I helped him get to that point," Wardlaw said. "I didn't even realize I was helping that much until we look back at it now."
Not your dad's beats
Rouchdi's love for electronic dance music had a rocky start. After his brother Amine Rouchdi introduced him to dubstep, he recoiled instantly.
But then Rouchdi gave it another try and found himself in his high school parking lot blasting the syncopated beats — windows rolled up so he wouldn't get weird looks.
Amine Rouchdi said it took only another week or so for his brother to realize these "robot noises" were much more.
"Once I found bass music, I became really inspired to make music and mix in a specific way," Rouchdi said.
The name SLZRD came from a high school whim when he heard the the lyric, "When we drink, we do it right gettin' slizzard" in the song "Like a G6" by Far East Movement and thought it would make a good DJ name.
Rouchdi would mix his own tracks from the safety of his room while attending shows around Atlanta and Athens, drawing particular influence from G Jones and Bassnectar. He practiced a repertoire of sounds he could use to make his audiences feel the same way he does when watching his favorite artists.
His brother DJs as Dopamine, and the duo often share the stage together, most recently appearing in a back-to-back set at Live Wire Athens in mid-April.
Amine Rouchdi said they usually don't practice their sets together. Instead, their styles naturally compliment each other. Rouchdi's carefully thought-out flow along with Amine Rouchdi's more free-willed track combinations create a seamless dynamic while the brothers are on stage.
"We've gone through a lot of experiences that have brought us together out of necessity, and music has definitely been one of them," Amine Rouchdi said.
While Amine Rouchdi lives and DJs in Atlanta, he's noticed the strong support his brother and the underground EDM scene has in Athens.
"I honestly think the Athens scene can compare to Atlanta," Amine Rouchdi said. "It's smaller but not by that much. There's opportunity to stand out much better in Athens."