Three of the biggest multicultural services and programs organizations came together for their first joint event in history.
The Hispanic Student Association, Asian American Student Association and Indian Cultural Exchange hosted a collaborative meeting in the South Instructional Plaza on Wednesday night called "The Big 3 Identity Collab." The hour-long event held presentations from each organization and icebreakers that emphasized the similarities between each group.
HSA member and junior Erendira Lucas said it was "comforting" to see that Asian Americans and Indian Americans face struggles similar to those of the Hispanic community.
"We're not the only ones struggling to fit in — you know, they are too," Lucas said.
The three organizations decided to collaborate when they realized the ways they could learn by coming together and the natural connections between the leaders of the different groups.
"We just needed to get our community together," AASA president Annie Li said. "The board has some sort of close relationship this year. It's not always like that."
Before the meeting began, food brought by each of the organizations adorned a front table, ready to be enjoyed by the attendees. AASA brought rice crackers while the Indian Cultural Exchange provided Indian biscuits called Parle-G. HSA came with boxes of concha, a sweet bread.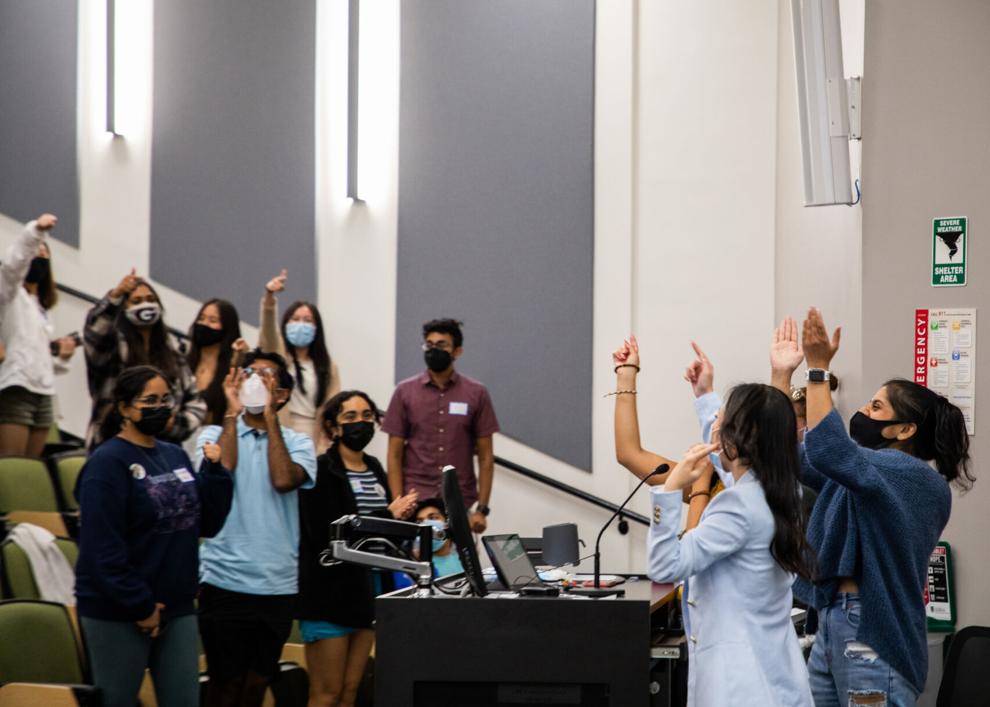 Soon enough, icebreakers began. Statements were read and members would stand up when they felt one applied to them, allowing for the different organizations to relate with one another. One statement that read, "Stand up if you've ever been stereotyped based on your cultural identity" had almost everyone on their feet.
"I think the most impactful thing for me was how common our cultures are when it comes to what we struggle with, whether it comes to mental health, family or culture and how we're able to bond with how to deal with it as collective group," said Anusha Jain, a senior and president of the Indian Cultural Exchange.
A representative from each organization stood at the podium to give a presentation from the perspective of their respective culture.
"The most important thing for us was to hold a PowerPoint where we can talk about the difficult topics that are normally not brought up," Li said.
AASA spoke on the impact collectivism has on cultural identities from the familial, societal and internal levels.
Touching on topics like the model minority myth, AASA representatives rounded out their presentation with ways to take care of one's mental health while also keeping a closeness to their families and cultures.
The Indian Cultural Exchange touched on the feelings associated with exhibiting one's culture as part of a minority group living in America during their presentation, while HSA representatives defined terms such as "machismo" and "marianismo." Both involve stereotypical gender roles, machismo for exaggerated manliness and marianismo for purity and femininity.
A theme of mental health reared its head in each of the presentations as the three organization presidents rounded out the meeting by telling attendees that it's okay to "take up space" and reminding them that they were always available should any of the members need someone to talk to.
"It can be very isolating as a person of color, a student of color. Being able to have this space and them demonstrating that to us was good to see. It's good to be reminded of that," Lucas said.