Rabbit Box Storytelling is returning to the Foundry on Jan. 13 for a night full of shared memories, laughs and possibly even some tears.
"Marci White was the original founder, and she saw storytelling in other communities and thought Athens was a great place to bring it back and start a storytelling organization," said Elise Stangle, director of Rabbit Box and Athens Native. "She started a group together and, at first, they met pretty informally in places like Avid [Bookshop] and The Globe, and that was in 2012."
The organization also meets twice a year at Sandy Creek Park, but after maxing out space at The Globe, Rabbit Box reached out to The Foundry to find their new home.
"[Rabbit Box] sounded really interesting and we were looking to expand our programming pallet and not just do music," said Troy Aubrey, President of The Foundry Entertainment.
For the main events, six to eight storytellers will prepare their stories based on the month's theme – January's theme is "Kindness of Strangers." After four storytellers share, audience members are encouraged to put their name in a hat if they are inspired to share their own tale. At the end of the break, a name will be drawn, and the person chosen is asked to come up and share a story of their choosing. Afterwards, the other four original storytellers will finish out the night.
---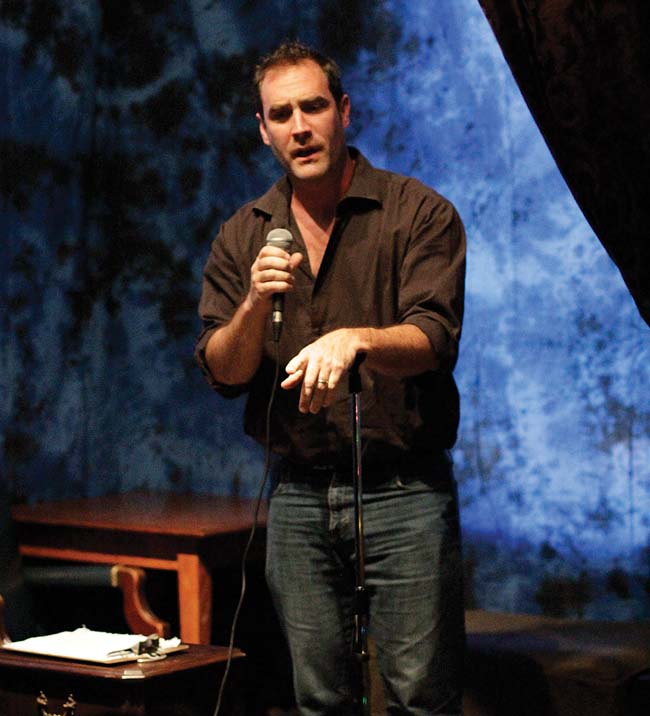 Photo by Lindsay Boyle
---
Similar to the events themselves, the days in between are very laid-back and easygoing with Rabbit Box.
"[Doing Rabbit Box] is very part-time and we have more of organizational meetings – we don't really have practices," Stangle said. "The storytellers are just anyone who volunteers, so we're not a troupe or anything. [The staff] offers coaching on an individual basis whenever someone is available and wants it."
Whether the storyteller memorizes their story or tells it naturally is completely up to them.
"Some people just remember the highlights and go in between totally naturally, but I like to have a little more structure than that," Stangle said. "Sometimes the theme sparks the story and sometimes people have a story they want to tell and wait for the right theme."
Rabbit Box has not only been influential in helping University of Georgia students connect with Athens, but it has also brought a lot of publicity to The Foundry.
"Not everybody is into the live-music entertainment scene, so we're definitely seeing some new faces every month," Aubrey said. "[Rabbit Box] changes the theme every month, so depending on the theme, we'll have a new, different set of people in the door."
With the exception of a few paid staff members or contractors, Rabbit Box is entirely run by volunteers from the Athens community. Some University of Georgia students might be surprised to see familiar faces onstage when they come to a night with Rabbit Box.
"UGA folks are definitely involved – we'll have professors and students sometimes," Stangle said. "I see how the students don't know much about the town outside the college sometimes. Rabbit Box is one way to get to know the community outside of campus."