Beau Shell received the best gift on his 15th birthday.
Shell, also known as Lil' Ice Cream Dude, officially opened his store - Cool World Ice Cream Shop - with a ribbon-cutting ceremony on Sunday, exactly seven years after the birthday wish for an ice cream cart that started it all.
The shop was packed with family, friends and locals who braved the rain to support the young entrepreneur on his first day of business and, of course, to enjoy the tasty treats he sells.
Before cutting the ribbon, Shell gave a short speech thanking all those who had supported and continue to support him and his business.
"I've seen almost all of y'all's faces and I was really happy to see that y'all are still loyal and really, really faithful customers," said Shell. "I'm just so happy that every one of y'all took y'all's time to come down in the rainy weather, get packed up in this hot room, and still want to purchase my ice cream."
PHOTOS: Lil' Ice Cream Dude celebrates 15th birthday with Grand Opening
The Athens community helped Beau Shell, also known as Lil' Ice Cream Dude, celebrate his 15th birthday with the grand opening of his very own ice cream shop, Cool World Ice Cream Shop in Athens, Georgia on June 9, 2019. Shell started his journey about eight years ago selling ice cream out of his parents' garage to then a small trailer to now a full brick and mortar shop. Although the rain kept coming all throughout the afternoon, friends and family waited outside to get their chance to not only buy a scoop, but to also congratulate the birthday boy. 
Growing pains
Opening up a brick-and-mortar store isn't all smiles and poses for the camera. Shell faced financial difficulties, even after fundraising $20,000 to open the shop.
"I didn't really want to have a crowdfunding campaign every other month," said Shell about getting his store up and running. "I'd rather try to find a different way or try to get my own capital from working the mobile side ... but it was really a lot, just to get enough capital to open it."
Shell and his family were about to give up in January 2019, Shell said. Their general contractor had left them and they did not know how to move forward.
"Then God just kinda came through for us," Shell said. He and his mother, Vickie Shell, got a permit to be their own general contractors. Mike Hodges, president of Athens Blueprint and Copy, actively recruited people willing to help, including Alan Reid, owner of Team Epoxy Floor Coatings, to do the floors.
The floor itself is antimicrobial and slip-proof, "perfect for an ice cream shop," said Reed. He acquired $2,000 worth of flooring donated from River City Wraps in Virginia.
"I think that kid's gonna do big things," said Reed about his decision to donate his time and resources to Shell's shop. "He's gonna help people."
After the floors were finished, a few more people started helping and donating services, and it became a snowball effect of generosity.
Surrounded by support
District 9 County Commissioner Ovita Thornton attended the grand opening and said she has known Shell since he was the "little" Lil' Ice Cream Dude seven years ago.
"I've gone to his event at the Ciné, I go to everything he has," said Thornton. "He is the next Fortune 500 person."
Fitness trainer and life coach Zeus Luby drove over an hour from outside Snellville, Georgia, to be at the grand opening.
"He's a fantastic kid … I follow him on social media, I'm friends with his parents, I see the stuff that he's doing and it's super positive," said Luby about Shell. "I mean, he's a phenomenal example and I want to support everything he has going on."
Shell realizes that he has more responsibility now that he owns a store.
"It made me realize from fifteen years old and on you're gonna be stressed," he said.
Vickie Shell was quick to calm his worries. "You're not gonna be stressed, Beau," she affirmed. "You're always going to have your parents and your family here."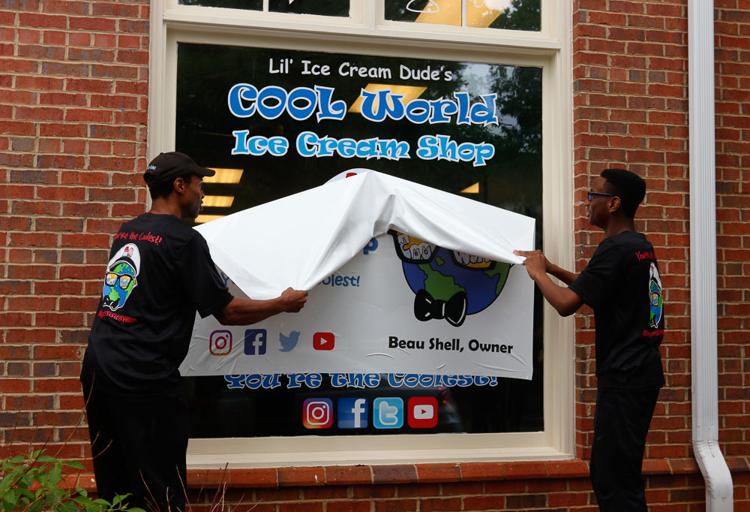 Big plans for a bright future
Shell hopes to offer a collection of Cool World merchandise in the future in addition to his book, published in 2018. As of right now only has plans for a T-shirt design.
Cool World has three open spots left for custom ice cream flavors, an honor granted to substantial donors to the business.
Thornton created a flavor titled "Justice for All" and Telisa Yancy of  American Family Insurance produced "Late Night Dreamer."
Shell also hopes to see his novelty bars and custom-flavored ice creams hit the shelves of local grocery stores and restaurants, but only if they are of high enough quality.
"We have to make sure our ice cream is so good, [consumers] drive for five hours," Shell said regarding businesses that he hopes will choose to sell his ice cream.
Cool World is also working towards selling lactose-free and dairy-free ice cream. In the meantime, they offer Italian ice and popsicles for those who are lactose intolerant or vegan.
Cool World will be open for business year-round, with an exception for a few weeks following the Christmas holiday. Customers can purchase Shell's ice cream every day of the week at 1040 Gaines School Rd in Athens, Georgia.