In September 2017, Brian and Paige Dixon were packing for a week-long vacation and decided to bring a puzzle. Solving puzzles was a frequent pastime for the Athens couple and they were growing bored of the options offered on the market.
"We were going through our nobody-makes-puzzles-with-art-that-we-like complaint," Brian Dixon said. Paige pointed at one of our paintings on the wall [and said] 'You know, that would make a good puzzle right there.' And I was like, 'Yeah, and this one here, if that was a puzzle, I'd put that one together, too.'"
The Dixons have collected art for years and they wanted to find a way to combine their passions for art and solving puzzles while also supporting their local community.
"Athens is an easy place to fall in love with art," Dixon said. "As long as we've been together, we've brought our art with us, and so our house is just full. I mean — we have a closet that's filled with art that we don't have room to put up. You know, we see something we like, we get it."
After much discussion, they decided to create The Very Good Puzzle Company, an Athens-based, online company that sells 1,000-piece jigsaw puzzles featuring the works of Athens artists for $24 each.
Pieces of Athens art
After the developing the company idea, the Dixons contacted Athens-based Artist Lou Kregel to see what she thought of the plan.
"I started to kind of explain it to her and she was like, 'No, no, no. wait. I'm in. You don't have to explain it. I get it. I'm in,'" Dixon said.  
Dixon said that the company struggled initially to find a way to produce the puzzles.
"I was just on the phone for days on end, talking to different people. A lot of the U.S. manufacturers wouldn't talk to us because we were small, so we decided… [to] get two of Lou's made and see if people like it," he said.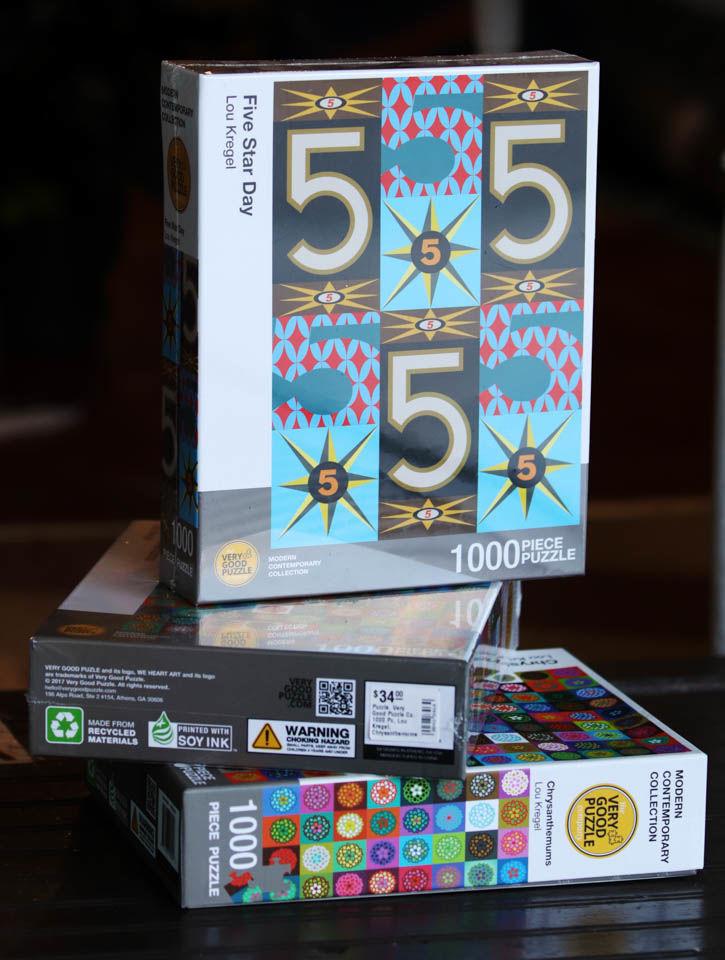 In February, the company released its first two puzzles, Kregel's designs "Chrysanthemums" and "Five Star Day."
"It was really great when I got my first puzzles, so I sent them to my family at Christmas," Kregel said. "The first time you ever see something you designed in a manufactured form, it's a really cool feeling, [seeing] something that you're intimately involved with."
The first full line of printed puzzles was released on Aug. 11 and features 16 designs by 12 Athens artists including Kregel, Lisa Freeman, Terry Rowlett and Sara Machen Fogle.
"We get to spread art to people who may not normally bring it into their home," Dixon said. "Art can sometimes be intimidating if it's just hanging on a wall somewhere, so [a puzzle] is this fun, tangible thing."
For this first line of puzzles, Brian Dixon said that he and Paige reached out to some of their favorite local artists to see if they would like to work with Very Good Puzzle.
"As we were putting it together, we kind of realized that it was a community project," Dixon said. "It's helped expand our art world, too, so it's pretty cool."
Artists or aspiring artists have the option to "Call For Art," meaning they can submit their work to potentially be turned into a puzzle.
"[The process] was super easy," Fogle said. "They contacted me and asked if I would be interested, explained what the project was all about. I let them pick up the piece of art and have it copied [and] a digital capture made. And that was really all I had to do—it was really uncomplicated."
A photo labeled with the name of the piece and the artist's name and contact information is printed on the front of each packaged puzzle. On the back of the box, purchasers can find a brief artist biography and a description of the featured artwork.  
"We wanted it to [look] like an art gallery,"Dixon said. "I designed the box to be like a painting hanging on a wall in a gallery."
The puzzles are made with soy-based inks and recycled cardboard.
"If it makes its way into a landfill, I want it to be able to break down," Dixon said. "I'm not trying to add junk to the world."
The Very Good experience
The company's mascot is a real, yellow-eyed, black cat named Daryl Dragon, Puzzle Cat. The couple rescued the cat after workers found him stuck in the air conditioning unit at Earthfare, Paige's workplace.
Shortly after his adoption, Daryl expressed a love for puzzles by stealing pieces and rolling around in semi-assembled projects, Dixon said.
"Now we set up a separate puzzle for him,"Dixon said. "We get a box that has missing pieces from a puzzle he's already tarnished before and set it up at an easy range for him to get at while we're doing the regular ones that we like."
Daryl's image appears on company tote bags, stickers and VGP's cat-video-loaded Instagram page @verygoodpuzzle.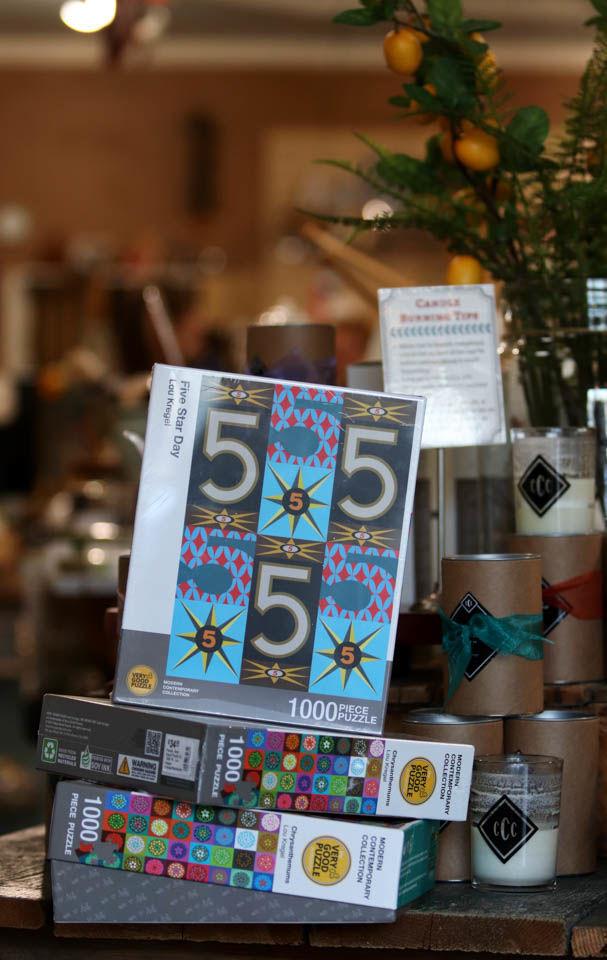 The puzzles are sold at select locations around Athens, such as Five Points location of Avid Bookshop, Frontier, an Athens-based gift shop and TREEHOUSE Kid and Craft.
"People love [the puzzles]," said Kristen Bach, owner of TREEHOUSE Kid and Craft, a toy store on Broad Street. "[My customers] want to support us, and they want to support a small business. When they see another small, local company opening, especially one that supports local artists, I think that they're really excited."
Bach said the store sells around five to 10 puzzles per week.
"[The puzzles] are such good quality," Bach said. "I've been really excited to see their process and watch them grow."
The artists receive a percentage of profits with each puzzle sale.
"We do ongoing, long-term royalties," Dixon said. "If it's a popular puzzle and it continues to sell, then the artist continues to get paid every quarter. We wanted something that could be good for the artist and the art."
---
"We get to spread art to people who may not normally bring it into their home."
-Brian Dixon, owner
---
Dixon said he has reached out and corresponded with other small, start-up puzzle companies in North America. While most of these companies expressed future goals of widespread mass-production, Dixon said he wants to maintain the small business vibe of VGP.
"We drive an old car that is very reliable, and it's paid for," he said. "I'm not looking for a fancy, new car. We just want to live and do good things."
Giving back
A percentage of the proceeds from each puzzle also goes to a charity of the individual artist's choice.
Fogle's charity is Circle of Friends Animal Society, an animal rescue organization in Athens.
"My tattoo shop, Chico Lou's Fine Tattoos, is actually named after my dog, Chico,"  Fogle said. "I try to use my platform to work with causes that I believe in and those are primarily animal rescues and groups."
Dixon said the company is currently working on a collaboration with local artists who studied at University of Georgia's study abroad program in Cortona, Italy, to create a new puzzle in celebration of the program's 50th anniversary. All of the puzzle's proceeds will go to Friends of San Filippino, an Italian nonprofit organization that aims to restore the San Filippino Chapel, a 17th-century Baroque chapel located in Tuscany.
In the future, Dixon said he hopes to maintain Very Good Puzzle's grassroots feel while also expanding the company's reach to feature different genres of art and the work of artists outside of Athens.
"I would like to think that we could go into another town and do the same thing, or just pick and choose [artists] we like, wherever they are," he said. "We wanted to build a business that doesn't confine us, physically, to a location."